Adam Kinzinger: Disqualify Donald Trump in 2024 for Asking Putin a Favor
Republican congressman Adam Kinzinger has called on Donald Trump to be disqualified from running for office again after asking "evil" Vladimir Putin for help unearthing dirt on Hunter Biden.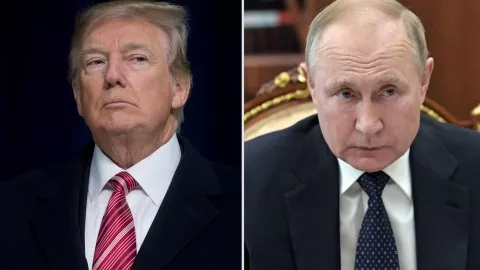 Kinzinger was responding to Trump's remarks which he made on Real America's Voice show Just the News on Tuesday night.
During the interview, Trump repeated unsubstantiated claims that Elena Baturina, the widow of the former mayor of Moscow Yuri Luzhkov, gave $3.5 million to a company founded by President Joe Biden's son several years ago.
"Why did the mayor of Moscow's wife give the Bidens—both of them—three and half million dollars? That's a lot of money," Trump said. "I would think Putin would know the answer to that. I think he should release it."
The remarks were seen as another example of Trump seeking help from a foreign advisory to unearth political dirt on his opponents, and attracted further scrutiny given they arrived at a time Russia is accused of committing war crimes during its invasion of Ukraine.
Kinzinger, a frequent Trump critic and one of only two Republicans on the House Select Committee investigating the January 6 attack, became the first sitting GOP lawmaker to publicly speak out against the former president for his remarks on Wednesday.
"No former President should ever ask an evil man like Putin for a favor... like Trump did just yesterday. This is absolutely undermining the national security of this country and should be disqualifying for any re-election," he tweeted.
"[Kevin McCarthy] must address this, as must every Republican."
Trump, who has not formally announced his intentions to run in 2024, doubled down on his remarks about the alleged payment to Hunter Biden, suggesting that "in time, Russia may be willing to give that information."
While McCarthy, the House Republican leader, has not publicly addressed Trump's comments, South Carolina's Lindsey Graham, one of the former president's top allies in the Senate, did comment on him asking Putin for a favor, but stopped short of fully criticizing him.
"That would not be something that I would do, no," Graham said when asked if the comments were appropriate, reported The Hill.
Hunter Biden's legal team have previously described the claim, which come from a disputed 2020 Senate GOP report, as false and there is no evidence the president's son engaged in any illicit dealings with Russia.
While President Biden has personally not addressed Trump's remarks, they were criticized by The White House on Wednesday.
"What kind of American, let alone an ex-president, thinks that this is the right time to enter into a scheme with Vladimir Putin and brag about his connections to Vladimir Putin? There is only one, and it's Donald Trump," White House Communications Director Kate Bedingfield said.
{{#isDisplay}} {{/isDisplay}}