John Travolta, Tim Allen, More Stars React to Kirstie Alley's Death at 71
A host of celebrities have paid tribute to Kirstie Alley, following the news that she has died at the age of 71, shortly after being diagnosed with cancer.
On Monday, the Cheers star's children, True and Lillie Parker, shared a statement on their mother's Twitter and Instagram accounts announcing that she had died following treatment in Tampa, Florida.
"To all our friends, far and wide around the world... We are sad to inform you that our incredible, fierce and loving mother has passed away after battle with cancer, only recently discovered," the statement read.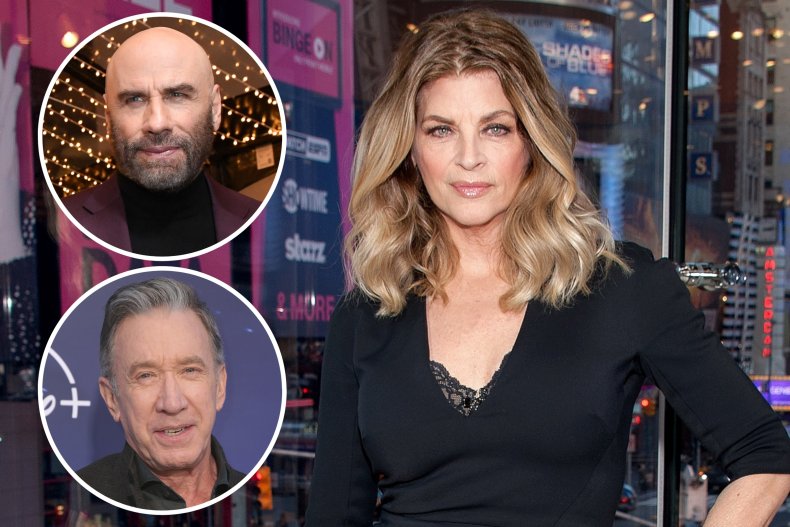 "She was surrounded by her closest family and fought with great strength, leaving us with a certainty of her never-ending joy of living and whatever adventures lie ahead," the statement continued. "As iconic as she was on screen, she was an even more amazing mother and grandmother.
"We are grateful to the incredible team of doctors and nurses at Moffitt Cancer Center for their care.
"Our mother's zest and passion for life, her children, grandchildren and her many animals, not to mention her eternal joy of creating, were unparalleled and leave us inspired to live life to the fullest just as she did."
As news of Alley's death circulated across social media, a host of celebrities shared tributes to the screen star, including John Travolta, who appeared alongside the actress in the classic Look Who's Talking film series.
Travolta shared two photos on Instagram of his fellow Scientologist, including one that showed the two laughing together in happier times.
Captioning the images, he wrote: "Kirstie was one of the most special relationships I've ever had. I love you Kirstie. I know we will see each other again."
Tim Allen, who co-starred with Alley in the 1997 film For Richer or Poorer, tweeted: "A sweet soul pass on in Kristie Alley. Sad, sad news. Prayers for all her family."
Jamie Lee Curtis, who co-starred with Alley in the Ryan Murphy TV series Scream Queens, shared a photo of herself with the late actress in a scene.
"I've just heard the sad news that Kirstie Alley has died," she captioned the post. "She was a great comic foil in @tvscreamqueens and a beautiful mama bear in her very real life. She helped me buy onesies for my family that year for Christmas. We agreed to disagree about some things but had a mutual respect and connection. Sad news."
Steve Guttenberg, another of Alley's many Hollywood co-stars, also paid tribute to the actress, sharing a screenshot of them appearing in the movie It Takes Two.
"Kirstie met me at her house with a tuna sandwich on my favorite bread. 'Steve, I know all about you and your love of rye bread. Eat some tuna,'" he wrote. "We were rehearsing It Takes Two, and every day she amazed me with her generosity of the tangible and with her soulfulness. The world is a bit empty without Kirstie."
Country music star Travis Tritt tweeted that he was "shocked and saddened" at Alley's death, while media personality Megyn Kelly wrote on that platform that it was "such sad news. A beautiful, brave, funny and beloved woman."
Stage and screen star Kristin Chenoweth wrote in a tribute of her own on Twitter: "RIP Kirstie. I loved you so. We will meet again."
When a follower responded by saying that Alley was a "big supporter" of former President Donald Trump and asked if she was, Chenoweth shot back: "Are you serious? No but that's NOT THE POINT. I lost a friend. The world lost a great talent. Unfollow me."
Alley's Cheers co-star John Ratzenberger shared his first Twitter post in seven months on Monday, when he said: "It's so sad. So very sad. God Bless you and keep you Kirstie Alley."
Taylor Lautner shared an Instagram Story post of himself and Alley in a Scream Queens scene, stating in an accompanying caption that it was "an honor working with and getting to know you Kirstie. RIP."
"Saddened to hear of the passing of @kirstiealley," tweeted screen veteran William Shatner. "Condolences to her family & friends."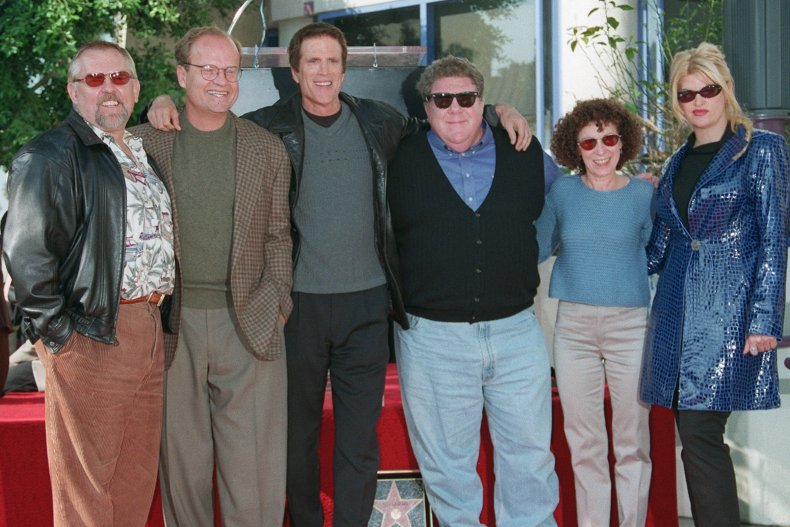 Actress and comedian Jackée Harry reposted a tweet from 2018, in which Alley called her "funny as hell," writing in her tribute to the star: "Whether you agreed with her or not, Kirstie Alley was an undeniable talent who brought joy to many—through the screen and with her warm, hilarious spirit. RIP, luv. You were one of a kind."
Valerie Bertinelli tweeted a "Rest in Peace" message in reaction to the news, while Scott Baio remembered Alley as a "talented sweet person. You will be missed. Sending my heartfelt condolences to your children and other loved ones."
Meanwhile, actor Diedrich Bader shared a decades-old memory of working with Alley, tweeting: "I worked w Kirstie Alley a couple of times many years ago as a guest on Cheers and she was very welcoming and fun to be around.
"I was just a kid w a small part and she was very lovely She was remarkably funny in everything I saw her do and really fun to watch rehearse. RIP."
In statements to People, Alley's Cheers co-stars also paid tribute to the actress.
"I was on a plane today and did something I rarely do," Ted Danson said in his statement. "I watched an old episode of Cheers. It was the episode where Tom Berenger proposes to Kirstie, who keeps saying no, even though she desperately wants to say yes. Kirstie was truly brilliant in it. Her ability to play a woman on the verge of a nervous breakdown was both moving and hysterically funny.
"She made me laugh 30 years ago when she shot that scene, and she made me laugh today just as hard. As I got off the plane, I heard that Kirstie had died. I am so sad and so grateful for all the times she made me laugh. I send my love to her children. As they well know, their mother had a heart of gold. I will miss her."
Rhea Perlman, who played Carla Tortelli in the classic sitcom, said: "Kirstie was a unique and wonderful person and friend. Her joy of being was boundless. We became friends almost instantly when she joined the cast of Cheers.
"She loved kids and my kids loved her too. We had sleepovers at her house, with treasure hunts that she created. She had massive Halloween and Easter parties, and invited the entire crew of the show, and their families. She wanted everyone to feel included. She loved her children deeply. I've never met anyone remotely like her. I feel so thankful to have known her. I'm going to miss her very, very much."
Kelsey Grammer, who also starred in the Cheers spin-off Frasier, kept his tribute short and sweet, telling People: "I always believed grief for a public figure is a private matter, but I will say I loved her."