KKK Says Pro-White Message Isn't Racist, Celebrates White Pride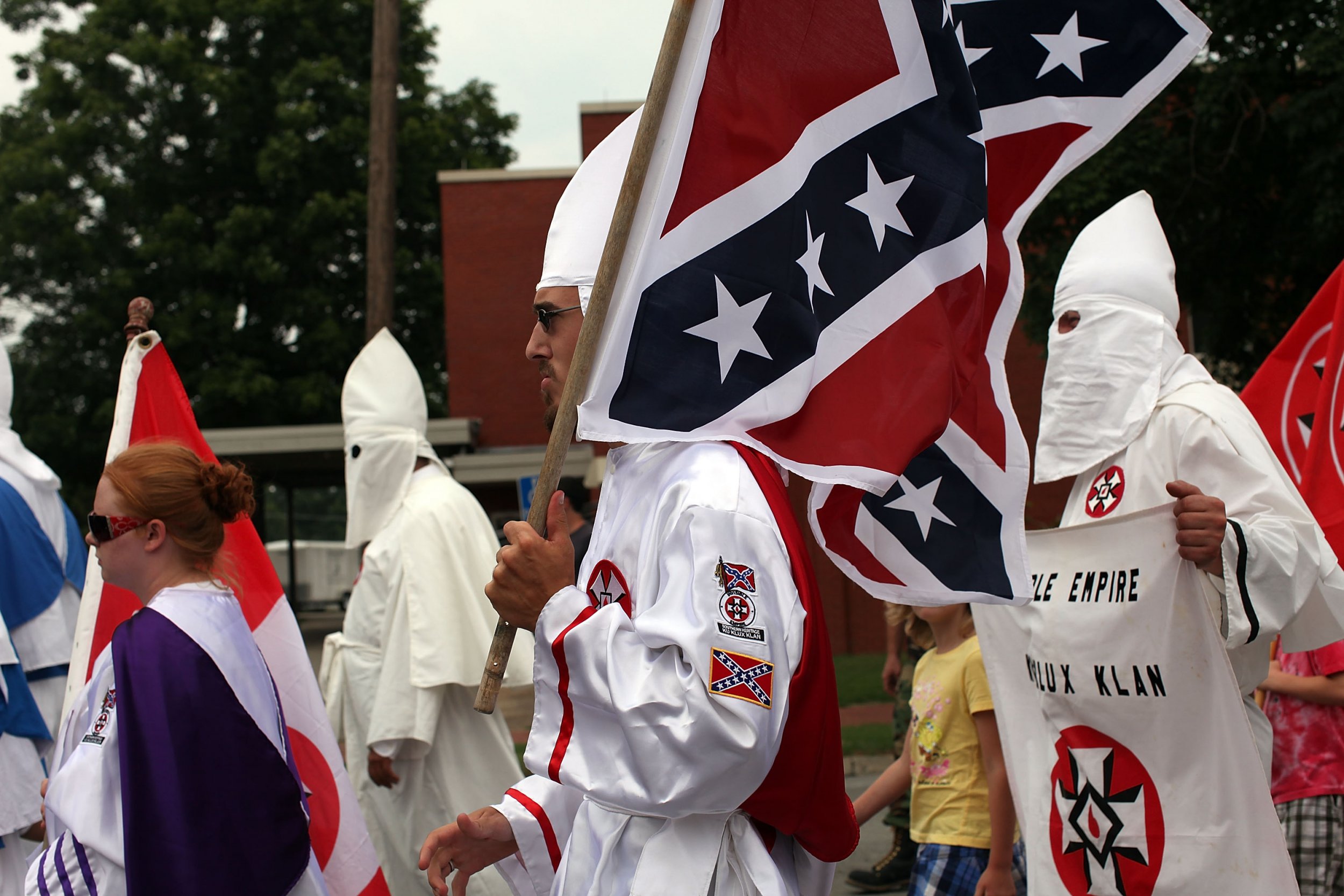 Turns out the Ku Klux Klan doesn't even take off for the holidays. The Klan, a Southern Poverty Law Center designated hate group, handed out plastic bags containing their fliers and peppermints to North Carolina residents on Christmas Eve.
Residents in the White Oak area of Garner discovered the baggies, handed out by the KKK's East Coast Knights of the True Invisible Empire, outside their homes on Sunday, according to The News & Observer.
The fliers inside the resealable bags, containing a business card, mints along with rocks to hold the bags down, questioned why the KKK is seen as racist.
"Why can't pro-white rights organizations exist without being labeled racist?" the flier read. "White pride doesn't mean hate! It's OK, you can say it! I'm proud to be white! There is no need to feel guilty because of the past!"
Fliers like the ones handed out in North Carolina on Christmas Eve have also popped up on driveways outside the state. Members of the KKK have been handing out fliers in and around Charlottesville, North Carolina. It's part of the Klan's effort to recruit new members.
In some towns, the Klan places fliers outside of school bus stops so students see them before heading to school. The fliers also include a hotline number where interested parties can call to learn more about the Klan.
Experts at the Anti-Defamation League say the fliers are an out-dated method the Klan uses to stay relevant. Carla Hill, an investigative researcher for the Anti-Defamation League, previously told Newsweek that the Klan is falling apart compared to a younger white nationalist movement grabbing headlines. But Klan members say they don't want to be a part of the younger movement known as the alt-right, which gained national attention following the violent riots that broke out in Charlottesville in August, 2017.
The new fliers showing up in North Carolina are part of the Klan's strategy to normalize white supremacy. Klan members say that fellow members no longer wear their distinct white robes and hoods, and that they do not associate themselves with violence, despite the years of violence the group waged against black Americans who were bombed and lynched. Now, members want to be able to express their white pride without being branded white supremacists— members prefer the term white separatists. They want a place where they can be with people like them.
"Why are other races in this country allowed these rights, as they SHOULD, but not the folk of European ancestory (sic)?" the flier reads.