White House chief of staff Ron Klain said on Sunday that former presidents Donald Trump and Richard Nixon are similar in that both wanted prosecution decisions to be made in the White House instead of the Justice Department.
TV host George Stephanopoulos spoke with Klain during an interview on ABC News' This Week about a report by The New York Times that alleged that President Joe Biden told his inner circle that he believes Trump was a "threat to democracy and should be prosecuted."
"He [Biden] has said privately that he wanted Mr. Garland to act less like a ponderous judge and more like a prosecutor. Is that true?" Stephanopoulos asked.
Klain responded that he has never heard the president say that or advocate the prosecution of anyone while also confirming that Biden has confidence in U.S. Attorney General Merrick Garland.
"One reason why Joe Biden got elected was he promised that we'd take the decision over who got prosecuted and what away from the White House and put it in the Justice Department," the chief of staff said.
He continued: "Only Richard Nixon and Donald Trump, in the modern era, believed that prosecution decisions should be made in the Oval Office not at the Justice Department. We have returned the practice that every other president, Democratic and Republican has had since Watergate, other than Trump, to let those decisions be made at the Justice Department," adding, that the "president has confidence in the attorney general to make those decisions, and that's where those decisions should be made."
Critics have been urging the Justice Department to investigate Trump for his actions connected to the Capitol riot on January 6, 2021, and to potentially prosecute him. Meanwhile, the former president continues to hold rallies in different parts of the country as he hints at the possibility of running again in 2024.
"We begin with the cases that are right in front of us with the overt actions and then we build from there," Garland said in an interview with NPR that was published on Thursday. "And that is a process that we will continue to build until we hold everyone accountable who committed criminal acts with respect to January 6."
It remains unclear whether Trump and his allies will be indicted over the January 6 events, but the House select committee pointed at some possible charges that the former president could face.
According to a court filing last month, the committee accused the former president and some of his allies of criminal conspiracy to defraud the United States.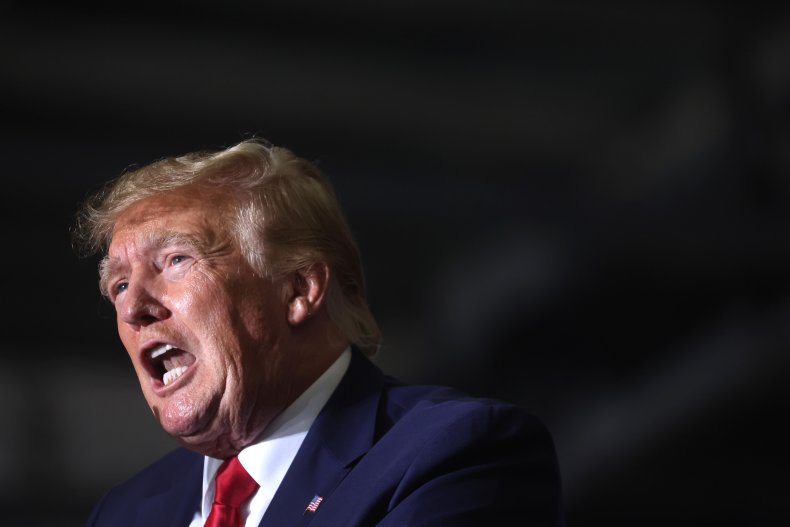 "The evidence supports an inference that President Trump...and several others entered into an agreement to defraud the United States by interfering with the election certification process, disseminating false information about election fraud, and pressuring state officials to alter state election results and federal officials to assist in that effort," lawyers for the House committee said in the filing.
Conspiracy to commit offense or to defraud the U.S. is punishable under the federal law 18 U.S. Code § 371 by up to five years in prison and a potential fine.
Newsweek contacted Trump's press office for comments and will update the story once a response is received.