Who Was Koko? Sign-Language Gorilla Dead at 46
Koko, a western lowland gorilla known for her impressive sign language skills, died in her sleep Tuesday morning at the age of 46, The Gorilla Foundation has reported.
As well as her communication prowess, Koko was known for looking after her pet, All Ball, an abandoned kitten she received as a birthday present from researchers.
Koko was born at San Francisco Zoo on July 4, 1971, and was named Hanabiko, Japanese for "Fireworks Child." Animal psychologist Francine "Penny" Patterson began teaching Koko to sign while she was a graduate student in 1972. Patterson and others eventually taught Koko to use and understand hundreds of English words. Patterson started The Gorilla Foundation in 1986 with biologist Ronald Cohn and the late Barbara F. Hiller, after moving Koko to Stanford in 1974.
Koko's language skills were widely reported in the media, and she appeared on the cover of National Geographic twice. She graced the front pages in an early mirror selfie back in October 1978, before appearing alongside her pet kitten in January 1985.
Koko requested a kitten from researchers one Christmas, the Los Angeles Times previously reported. Unsatisfied by a stuffed version, scientists let her choose the real thing from a litter in 1984. The gorilla selected a gray-and-white kitten and named the baby herself, Cohn explained at the time. "The cat was a Manx and looked like a ball," Cohn said. "Koko likes to rhyme words in sign language."
The gorilla looked after the pet like a baby, researchers said. She played with All Ball for about an hour a day alongside sign language classes, the Times reported. Koko was reportedly distraught for days after All Ball was killed by a car.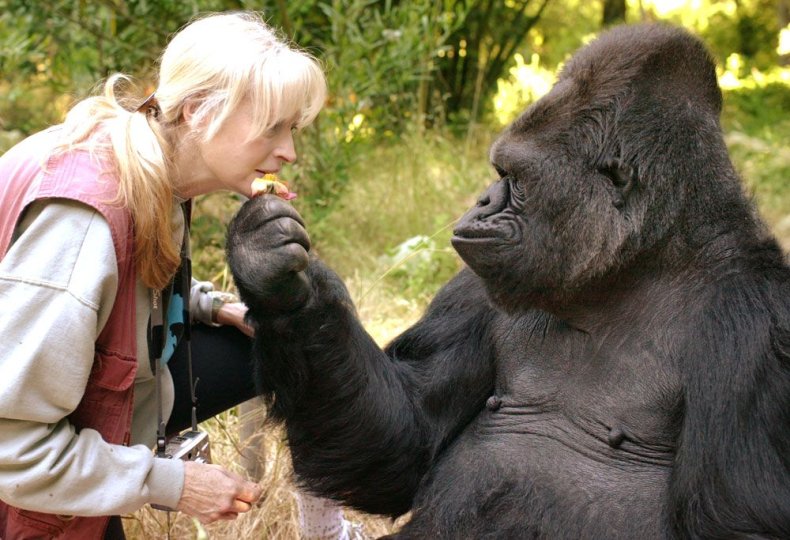 Koko was joined by Michael, another western lowland gorilla. Koko and the gorilla project moved to the Santa Cruz Mountains in 1979, and were joined by the gorilla Ndume.
Patterson and Cohn were not without criticism for their work with the gorillas. Cohn said some critics believed the animals were simply copying the humans around them without any real understanding of language, the Times reported.
The Foundation maintains Koko has contributed enormously to researchers' understanding of the emotional and cognitive abilities of gorillas.
"Koko touched the lives of millions as an ambassador for all gorillas and an icon for interspecies communication and empathy. She was beloved and will be deeply missed," the foundation statement read. The organization reported it will focus its efforts on wildlife conservation in Africa, a sign language app and a great ape sanctuary in Maui following Koko's death.
Well-wishers can send condolences to kokolove@koko.org, the Foundation wrote.
This article has been updated to include more information about The Gorilla Foundation.