Korean War Peace Treaty Won't End U.S. Military Presence in the Peninsula, Seoul Says
U.S. troops will remain in the Korean peninsula even after the signing of a peace treaty to follow the 1953 Korean War armistice, a South Korean presidential spokesperson said on Wednesday.
"U.S. Forces Korea (USFK) is a matter of the South Korea-U.S. alliance. It has nothing to do with signing a peace treaty," spokesperson Kim Eui-kyeom told reporters, quoted in South Korea's Yonhap news agency.
The statement from South Korean President Moon Jae-in sought to clarify the status of U.S. military presence in the country after one of his special advisers, Yonsei University professor Moon Chung-in, wrote an article in Foreign Affairs magazine questioning the need for American troops on the peninsula following a peace treaty with North Korea.
Moon signed the Panmunjom Declaration at the inter-Korean summit on Friday, along with North Korean leader Kim Jong Un. According to the agreement, the two countries commit to end all hostilities, including signing a peace treaty to formally end their 1950-53 conflict.
Citing another presidential official who remained unidentified, Reuters reported that South Korea sees the USFK as being able to keep playing a role in Asia-Pacific even after peace with North Korea, mediating potential confrontations with other regional powers such as China or Japan.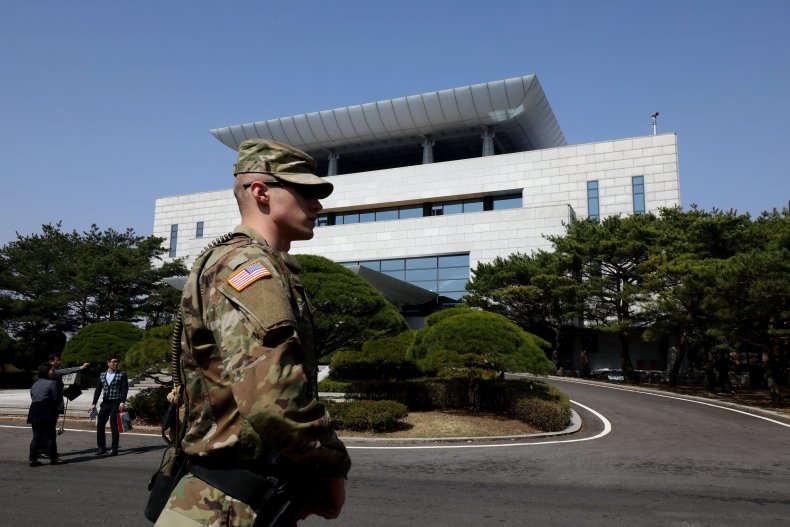 There are currently 23,500 U.S. troops in South Korea under the USFK command, according to data from the Department of Defense quoted in The Guardian, although the White House estimated the number to be at "more than 28,000."
South Korea counts the third-largest presence of American soldiers abroad, after Germany and Japan, as part of an alliance between the two countries known as the Mutual Defense Treaty signed shortly after the 1953 armistice.
The USFK hold regular military training with the South Korean army which North Korea has condemned in the past as a rehearsal for invasion. But according to Seoul, Pyongyang is willing to allow for the American military to remain on the peninsula in return for security guarantees.