Korean War to End This Year and Nuclear Project to Wind Down, North and South Agree
North Korean leader Kim Jong Un and South Korean President Moon Jae-in have signed an agreement promising to bring peace to the Korean Peninsula.
The two leaders met face-to-face on Friday at the third-ever inter-Korean summit at the Peace House, on the southern side of the border village of Panmunjom. The agreement signed is called the Panmunjom Declaration for Peace, Prosperity and the Unification of the Korean Peninsula.
It covers a wide range of issues including the unresolved end of the 1950-53 Korean War, for which an armistice was signed but no peace treaty followed.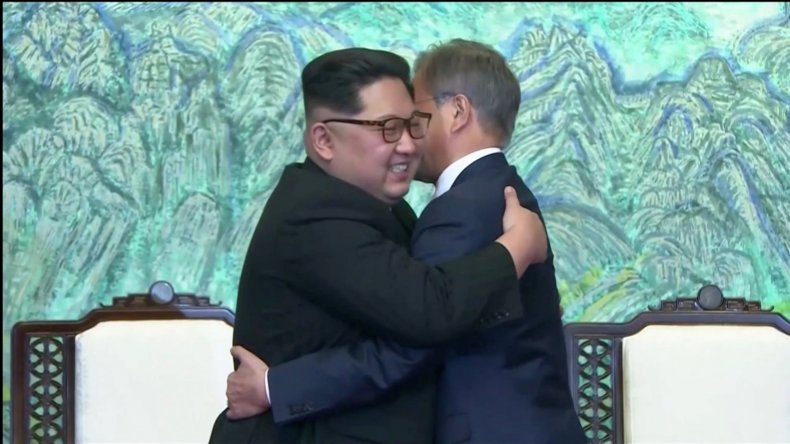 Moon and Kim looked triumphant as they signed the agreement, and shared a hug at the end of a day marked by handshakes, jokes and a stroll down a footbridge freshly painted in azure, the color of the Korean unification flag.
They promised to formally declare the end of the war by signing a peace treaty "this year." Moon also agreed to visit Pyongyang in the fall, as well as pursuing a "complete denuclearization" of the Korean Peninsula and a phased disarmament.
"The two leaders solemnly declared before the 80 million people of our nation and the entire world that there will be no more war on the Korean Peninsula and a new age of peace has opened," the joint declaration read, as quoted by the Yonhap news agency. It also extended an invitation for multilateral talks to the U.S. and China to discuss a peace agreement.
President Donald Trump welcomed the news in a tweet on Friday. "KOREAN WAR TO END! The United States, and all of its GREAT people, should be very proud of what is now taking place in Korea!" he wrote.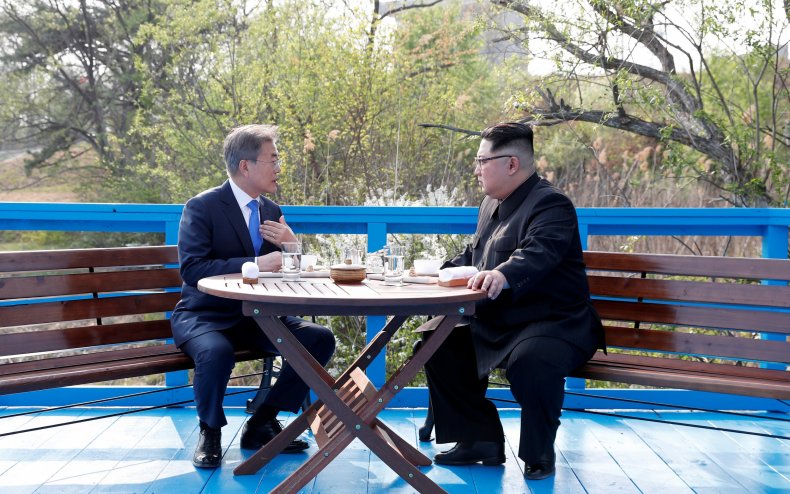 The Panmunjom Declaration includes references to "humanitarian issues," planning for a Red Cross border summit and arranging a reunion of families separated by the conflict on August 15, the only day the two countries share a national holiday, marking the day imperial Japan surrendered in World War II.
In an effort to cease "hostile acts" over land, sea and air and defuse border tensions, the two Koreas agreed to switch off propaganda speakers and halt the distribution of propaganda fliers as of May 1.
They pledged to transform the highly guarded demilitarized zone into a "peace zone," and turn the maritime demarcation area known as the Northern Limit Line into a "sea of peace."
In the declaration, the two leaders promised to continue on the course set by the Pyeongchang Winter Olympics, jointly participating in international sports and cultural events, and to maintain regular communication and liaison channels.
"We will make efforts to create good results by communicating closely in order to make sure our agreement, signed today before the entire world, will not end as just a beginning, like previous agreements before today," Kim said after signing the declaration, as quoted by Reuters.