It Turns Out Kim Jong Un Has Quite a Dark Sense of Humor
North Korean leader Kim Jong Un displayed dark humor during his historic first meeting with South Korean President Moon Jae-in, joking about his missile launches and the state of his country's infrastructure.
After becoming the first North Korean leader to cross the military demarcation line at the heavily guarded demilitarized zone border area Friday morning, Kim shook hands with Moon, and the two headed to the Peace House to begin formal talks.
Read more: Here's every little detail about the historic summit between North and South Korea
Ahead of the formalities, the two leaders were able to break the ice with a friendly chat, according to South Korea's presidential senior secretary for public relations, Yoon Young-chan.
According to Yoon, the two leaders were discussing how they got to the summit when Kim said, "I was told that you used to be unable to get a good night's sleep, being awakened in the wee hours of the morning because you had to attend the National Security Council meetings because of us. You must've gotten into the habit of rising early in the morning."
Moon replied that Kim's recent commitment to stop nuclear and missile tests meant he could now sleep well. "I'll make sure that you can sleep soundly," Kim replied.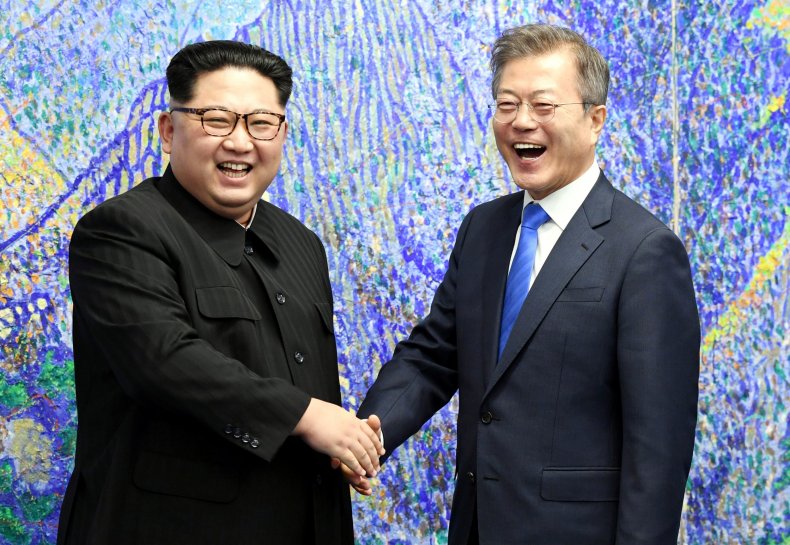 On a more serious note, Kim said, "On my way here, I saw that those who had been nervous about any shelling from North Korean army, including the Yeonpyeong Island residents, North Korean defectors and displaced people, do have high hopes for our meeting today." Kim added that he initially wanted to meet in Pyongyang but then agreed that the border village was a better location.
"The demarcation line, which is in fact not high, may disappear with many people stepping on it and passing over it," he said, hinting at a process of reconciliation, or, as North Korean rhetoric puts it, reunification.
Moon later said he hoped the speed of reconciliation between the two countries would keep up with the recent pace. Kim agreed, displaying once again his questionable sense of humor, suggesting that the speed of unification should be that of a "war horse."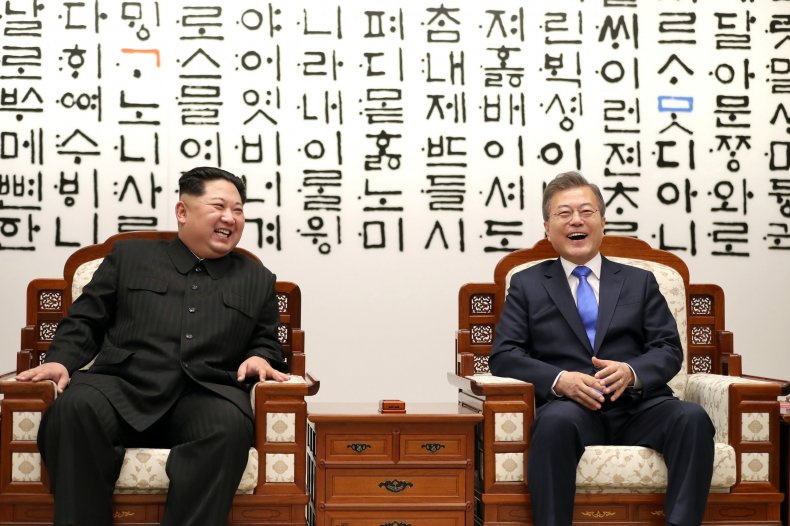 "The department where my sister works came up with the catchphrase 'malima speed battle,' meaning at the speed of a war horse. I guess that can be the speed for unification of the two Koreas," he said, referring to the propaganda slogan evoking a horse that can run very long distances extremely fast, and often used to prompt North Koreans to increase their pace of work, as the BBC reported.
As the two leaders posed in front of a painting of North Korea's Jangbaek Waterfall in the Baekdu-san Mountains, Moon expressed his desire to visit the location. "You might experience some inconvenience or embarrassment due to the lack of transportation in the North, compared to the South, but we'll do our best so that you can travel to the North in comfort," Kim responded, joking about the state of infrastructure in his country, where a road accident recently killed more than 30 Chinese tourists and four North Koreans who were on a bus.
Kim's reference to the state of North Korean transportation may have indicated a request for help. Moon quickly suggested connecting the countries' rail networks. "If we connect the railroad, both North and South could use it, and that's actually contained in the previous June 15 South-North Joint Declaration and in the October 4 Declaration," he said. "It's a pity that it wasn't realized due to changes in the inter-Korean relationship."