South Korean Border Falls Silent Ahead of North Korea Summit
South Korea ordered the loudspeakers positioned at the border with North Korea to be turned off, ahead of the inter-Korean summit due to take place at the truce village of Panmunjom on Friday.
Seoul's defense ministry announced the decision on Monday as a goodwill gesture toward Pyongyang, just as North Korean leader Kim Jong Un declared the country would stop its nuclear and missile tests.
The South Korean ministry's decision, which took effect at midnight, aims to reduce "military tensions between the South and North and creating the mood of peaceful talks," Yonhap news agency reported, adding that the joint South Korean-U.S. military exercise known as Foal Eagle also will pause on the day of the summit.
"We hope this decision will lead both Koreas to stop mutual criticism and propaganda against each other and also contribute in creating peace and a new beginning," the ministry spokesperson said, quoted by Reuters.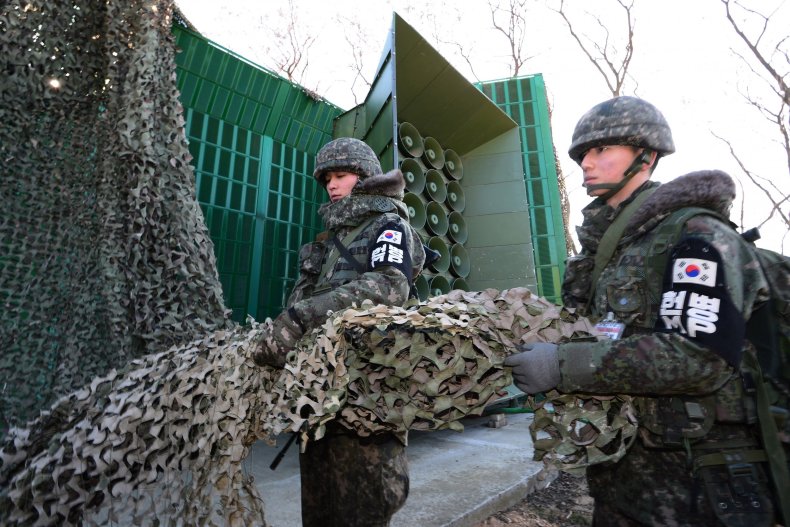 The loudspeakers have been in use for the past few decades and sometimes were switched off to defuse tensions. They were most recently turned on again in January 2016, after North Korea conducted its fourth nuclear test, and have since been blasting a mix of news and K-pop music across the border—including details of the spectacular defection of a North Korean soldier across the demilitarized zone's military demarcation line (MDL) in November.
The loudspeakers going silent underlines the significance of the upcoming inter-Korean summit. For South Korean president Moon Jae-in, the meeting is a chance to bring peace between the two sides who technically remain at war—since the 1953 armistice ending the Korean War was never followed by a peace treaty—and to convince Kim to give up his country's nuclear weapons.
Moon welcomed the North Korean leader's commitment to dismantling test facilities as a first step toward that goal. "It is a green light that raises the chances of positive outcomes at the North's summits with South Korea and the United States. If North Korea goes the path of complete denuclearization starting from this, then a bright future for North Korea can be guaranteed," Moon said, quoted by Reuters.
North and South Korean officials held three rounds of working-level talks to discuss protocol, security and media coverage of the summit. North Korea agreed to broadcasting parts of the meeting live and for the two leaders to have dinner together following the talks, South Korean news agency Yonhap reported.