U.S. and South Korea Forced to Cancel Massive 'D-Day Landing' Drill Due to Bad Weather
U.S. and South Korean forces have canceled a massive combined amphibious landing drill scheduled for Thursday due to bad weather conditions.
The training, known as the "D-Day" landing operation, was due to take place at a South Korean beach near the southern coastal town of Pohang, Yonhap news agency reported, quoting a statement from the Combined Forces Command (CFC).
The CFC said that "weather assessments indicated unsafe landing conditions" for the soldiers involved in the amphibian element of the exercise, but that "participating units in the air and sea portions will continue training as planned."
Yonhap also reported that unlike previous years in which the training provided for impressive images, the command did not invite the media to cover the training on this occasion.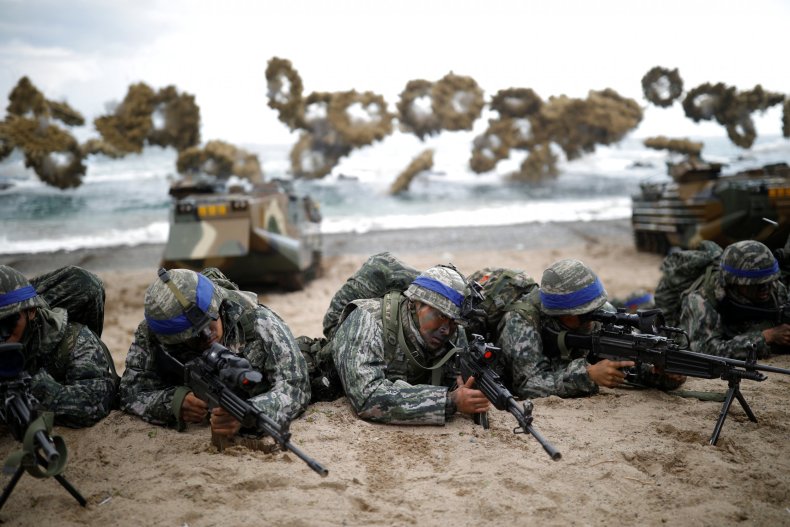 The exercise scheduled for Thursday was part of the joint U.S.-South Korean military drills known as Foal Eagle, which were delayed this year to "deconflict"—a term used by Defense Secretary Jim Mattis—with the Winter Olympics taking place in the South Korean city of Pyeongchang.
The drills began on April 1 and will last for a month, half their usual duration, coinciding with a mostly computer-based training exercise known as Key Resolve in the last two weeks of April.
Despite the shorter schedule, the Pentagon claimed that the exercise's scale would be similar to that of previous years. While around 11,500 U.S. troops and nearly 300,000 South Korean soldiers are expected to take part in the drills, the U.S. scaled down the presence of its strategic assets such as nuclear-powered aircraft carriers, as The Diplomat reported.
Pyongyang usually condemns the exercises as a rehearsal for invasion, but state-controlled media has so far remained silent over this year's drills, focusing instead on the musical performances of the K-pop singers scheduled in Pyongyang on April 1 and April 3.
These changes reflect diplomatic developments involving the Korean Peninsula. Tensions over inflammatory exchanges between the U.S. and North Korea, coupled with Pyongyang's frequent missile test launches, have relaxed in the past few months over the promise of direct dialogue between North Korean leader Kim Jong Un, South Korean President Moon Jae-in and President Donald Trump expected in the coming weeks.