Everything We Know About the North and South Korean Leaders' Summit
Officials representing North and South Korea met on Thursday to agree on a date for a first summit between the two countries' leaders in more than a decade.
South Korean Unification Minister Cho Myoung-gyon faced his North Korean counterpart Ri Son-gwon, chairman of the Committee for the Peaceful Reunification of the Fatherland, for talks at the Tongilgak, an administrative building located on the northern side of the border truce village Panmunjom in the heavily-guarded demilitarized zone (DMZ).
Date and Place
By the end of the meeting, the two delegations agreed on a date and a location for North Korean leader Kim Jong-un to meet South Korean president Moon Jae-in. The summit will take place in less than a month's time, on April 27. The chosen location is South Korea's Peace House, in Panmunjom's southern side, according to a statement read at the end of the meeting.
The South Korean presidential office welcomed the decision in a statement. "As the date of the South-North summit has been set, we will do our utmost to make sure nothing will be neglected in our preparations for the summit during the remainder," presidential spokesman Kim Eui-kyeom said, as reported by Yonhap news agency.
"It is our hope that all people will become one so the summit can become a groundbreaking opportunity to establish peace on the Korean Peninsula," he added.
Agenda
South Korea's priorities are to agree on a path towards denuclerization of the Korean peninsula, which would involve Pyongyang getting rid of its nuclear weapons and facilities, as well as formally establishing a peace agreement to end the hostilities resulting from 1950-53 Korean War—the armistice signed three years in 1953 was never followed by a comprehensive peace treaty.
Moon made these priorities clear throughout his campaign and, during his inauguration in May, pledged to do "everything" he could "to build peace on the Korean peninsula." Intentions to work towards a peace treaty were expressed in the previous inter-Korean summits in 2000 and 2007, but did not produce an official agreement.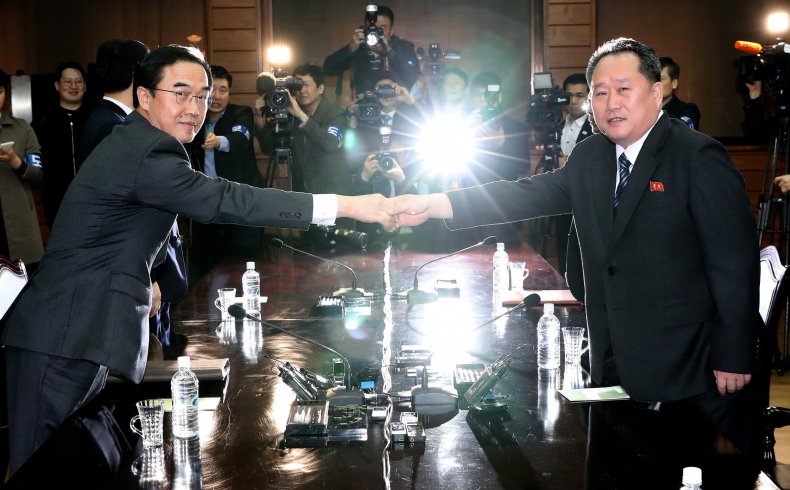 South Korea's lead negotiator, minister Cho, confirmed Moon's goals have not changed. "The April summit will be another start of a great journey to denuclearize the Korean Peninsula, bring peace to the peninsula and develop inter-Korean ties," he said in his closing remarks on Thursday.
North Korea's goals remain less clear. Most North Korean analysts are hawkish about the possibilities of Pyongyang giving up the arsenal it spent so much time, money and efforts to build. A top U.S. military commander told the House Armed Services Committee last month he thinks Kim's objective is to pursue reunification with South Korea, imposing his ideology on the southern neighbor.
In his recent visit to China, Kim reportedly stated North Korea's commitment to denuclearization was the country's "consistent stand," but in fact Pyongyang has long been paying lip-service to the idea of getting rid of nuclear weapons, just to blame the U.S. and its joint military drills with South Korea for its need to have a "nuclear deterrent."
North Korea remained vague about its objectives even after Thursday's meeting. "We still have a fair number of issues to resolve on a working-level for preparations over the next month," said Ri said, quoted in Reuters. "But if the two sides deeply understand the historic significance and meaning of this summit and give their all, we will be able to solve all problems swiftly and amicably," Ri added.
What the U.S., Japan and China say
China has expressed support for the April meeting, commending the two sides for agreeing on a summit. "The dialogue has once again become the main theme. This, as it is known to all, is what the Chinese side has insisted on and persistently worked for," Chinese foreign ministry spokesman Lu Kang told a regular press briefing, calling for all parties involved in the area to support inter-Korean talks "to promote the denuclearization of the Korean Peninsula and the political settlement of the Peninsula issue."
With Kim visiting China and planning to meet with South Korean and U.S. presidents—Pyongyang offered a summit with President Donald Trump but has yet to officially react to his positive response—Japan is also taking diplomatic steps toward Pyongyang as not to be left out. An article published in Japanese newspaper Asahion Thursday, quoting anonymous sources and official briefings, indicated that Japan has offered North Korea a summit to take place in June.
"We have been communicating with North Korea through various occasions and means such as a route via our embassy in Beijing, but I would like to refrain from going into specifics," Chief Cabinet Secretary Yoshihide Suga told a regular news conference, quoted in Reuters, refusing to further discuss Asahi's report.
President Trump has yet to comment on the latest developments, although he said he is looking forward to meeting with the North Korean leader in a tweet on Wednesday reacting to Kim's China visit.