Trump: Good Chance North Korea Will Denuclearize After Kim Jong Un Meeting
President Donald Trump said there is a "good chance" that North Korea will "do what is right" and denuclearize after his meeting with Supreme Leader Kim Jong Un, scheduled to take place before the end of May.
"For years and through many administrations, everyone said that peace and the denuclearization of the Korean Peninsula was not even a small possibility," Trump tweeted early in the morning of Wednesday (March 28). "Now there is a good chance that Kim Jong Un will do what is right for his people and for humanity. Look forward to our meeting!"
The president said he received a message from China's President Xi Jinping, who had just held a meeting in Beijing with Kim. During that meeting, Kim said he is "committed to denuclearization on the peninsula".
"Received message last night from XI JINPING of China that his meeting with KIM JONG UN went very well and that KIM looks forward to his meeting with me," Trump tweeted. "In the meantime, and unfortunately, maximum sanctions and pressure must be maintained at all cost!"
Newsweek subscription offers >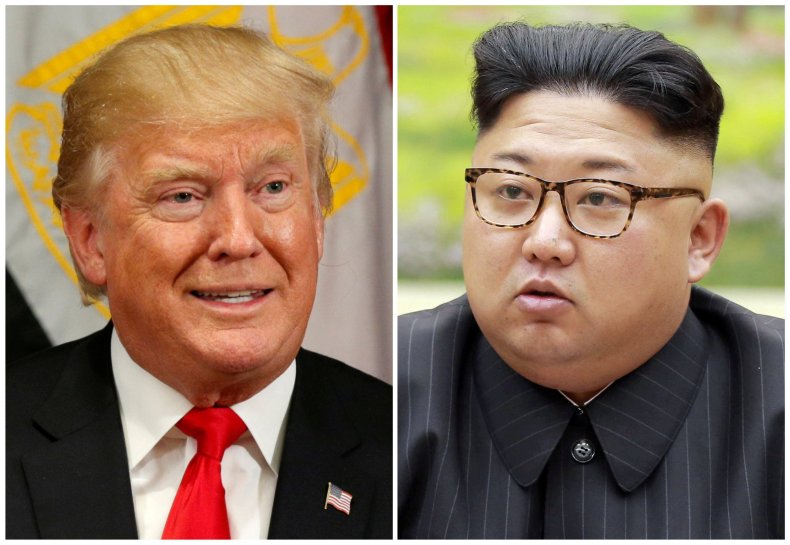 Trump wants North Korea to abandon its nuclear weapons programme. Pyongong is getting close to developing an intercontinental ballistic missile (ICBM) capable of delivering nuclear warheads to the U.S. mainland. Trump said this is his red line; if North Korea crosses it, America will take military action.
Throughout 2017, North Korea increased activity on its nuclear weapons programme, conducting a number of provocative missile tests. Trump and Kim fired volleys of rhetoric at one another, threatening their respective countries with annihilation if pushed too far.
The world put new, tough sanctions on North Korea's regime to pressure it into halting its nuclear weapons research. China also put diplomatic pressure on its ally to stop conducting weapons tests and get around the table for talks.
Newsweek subscription offers >
Tensions on the Korean Peninsula eased during the 2018 Winter Olympics, hosted by U.S. ally South Korea. The two Koreas competed in a united team under a single banner. Alongside the Olympics were talks by officials from both countries, which progressed well, laying the ground for the eventual Trump-Kim summit.
Speaking previously to Newsweek, Alexander Vershbow, who served as U.S. ambassador to South Korea between 2005 and 2008, cautioned against having the meeting so soon. He said it's too early to know what North Korea wants in exchange for denuclearization and this needs to be sounded out if Trump-Kim talks are to be productive.
"There is no understanding of what conditions they attach to that, or what timeframe they attach to [denuclearization]," Vershbow said. "If they're talking about denuclearization by the end of the millenium, as opposed to denuclearization over a one or two year period, that makes all the difference in the world."
Trump: Good Chance North Korea Will Denuclearize After Kim Jong Un Meeting | World