A high-level South Korean delegation has passed on a message from North Korean supreme leader Kim Jong Un to President Donald Trump, inviting the American leader for an unprecedented meeting regarding the ongoing nuclear crisis on the Korean Peninsula.
After meeting directly with Kim, South Korean national security chief Chung Eui-yong and his delegation flew to Washington to hold a press conference in front of the White House on Thursday. Chung, who previously said the young leader may be willing to halt weapons testing and ultimately abandon the nuclear weapons if his country's security could be guaranteed, revealed the historic invitation.
Related: Will the U.S. talk to North Korea? China and Russia may take advantage of Trump's silence
"I told President Trump that in our meeting, North Korean leader Kim Jong Un...said he is committed to denuclearization. Kim pledged that North Korea would refrain from any form of nuclear or missile tests," Chung said. "He expressed his eagerness to meet with President Trump as soon as possible."
"President Trump said he would meet Kim Jong Un by May to achieve permanent denuclearization," he added.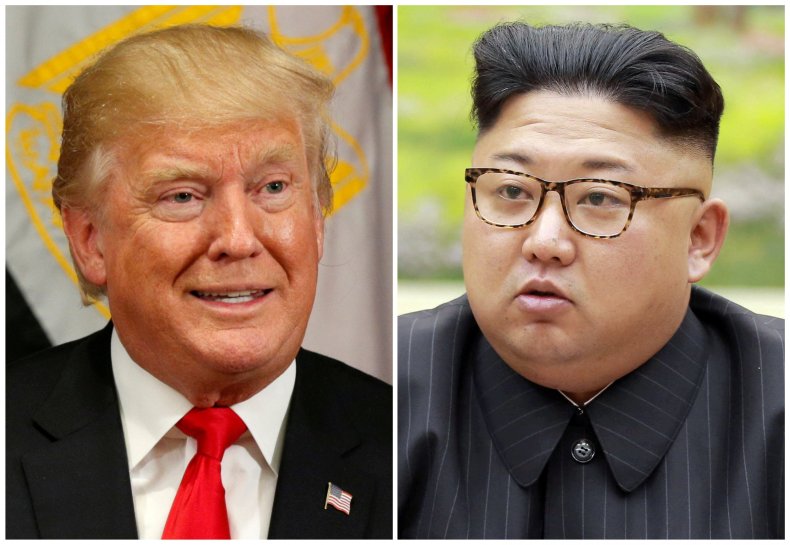 At a time of rare inter-Korea talks, recent diplomatic exchanges by rivals North Korea and U.S.-backed South Korea have left observers wondering if a major breakthrough was in store for a conflict that's lasted for over six decades. Trump has so far argued that North Korea must first commit to abandoning its nuclear weapons before the U.S. would opt to enter into a direct dialogue.
The announcement is unlikely to affect U.S. policy toward North Korea anytime soon, though.
Earlier on Thursday, a senior administration official told Newsweek that Trump's "maximum pressure campaign is having an impact," confirming that the U.S. planned to go through with its annual "Foal Exercise" military drills conducted jointly with South Korea. The drills—considered by North Korea to be a major provocation—were postponed for the duration of the 2018 Winter Olympic and Paralympic Games, but will reportedly return by the end of the month or early next month.
"Our posture towards the regime will not change until we see credible moves towards denuclearization," the official told Newsweek. "They have attached non-starter conditions to denuclearization, saying the U.S. should remove troops from the peninsula, things like that. What we are looking for are concrete steps for denuclearization, not a rehashing of old conditions."
"Even if North Korea were to refrain from test launching missiles, that would not be enough if their plan is simply to buy time to continue building their arsenal; talks aren't going to get very far because we've seen that movie before," the official added.
North Korea Up Close: From the Bright Lights of Pyongyang to the Impoverished Countryside
Trump and Kim have frequently threatened and insulted one another in a game of nuclear brinkmanship that has concerned other world leaders. Still, Trump said during his first Asia tour last November that he would "certainly be open" to meeting Kim if the opportunity should arise, as South Korea's official Yonhap News Agency reported.
Kim has argued his nuclear weapons were necessary to guard his country against a potential U.S. invasion, but the U.S. and other United Nations Security Council members have deemed North Korea's nuclear arsenal a threat and have rolled out harsh sanctions against the reclusive, communist state.