North Korea has pursued its most ambitious diplomatic overture to its southern, U.S.-backed rival in years—but President Donald Trump's hardline stance could encourage rising powers China and Russia to seize the opportunity.
Secretary of State Rex Tillerson said Thursday during his debut tour of Africa that he "saw potentially positive signals" after a high-level South Korean delegation met with North Korean supreme leader Kim Jong Un and his officials, but maintained that the U.S. was "a long way from negotiations," Agence France-Presse reported. This determination came despite the fact that South Korean diplomats suggested Kim may even suspend weapons tests and eventually give up his nuclear arsenal in exchange for assurances that the U.S. would not invade his country.
Related: Russia and Iran Winning War of Influence Against U.S. With New Ties to Middle East Allies Iraq, Syria and Each Other
Chinese Foreign Minister Wang Yi told reporters Thursday that the move was "an important step in the right direction" and urged the U.S. to open dialogue "sooner rather than later," according to the Associated Press. The Russian Foreign Ministry hoped "these agreements will help launch [a] direct dialogue between the United States and North Korea."
Rather than further postponing or suspending military drills, the U.S. appeared to be planning to press on with a massive exercise later this month or early April, once the 2018 Winter Paralympic Games conclude, according to U.S. officials cited Wednesday by CNN and NBC. Such a move would rile not only North Korea, but fellow Asian powers China and Russia as well.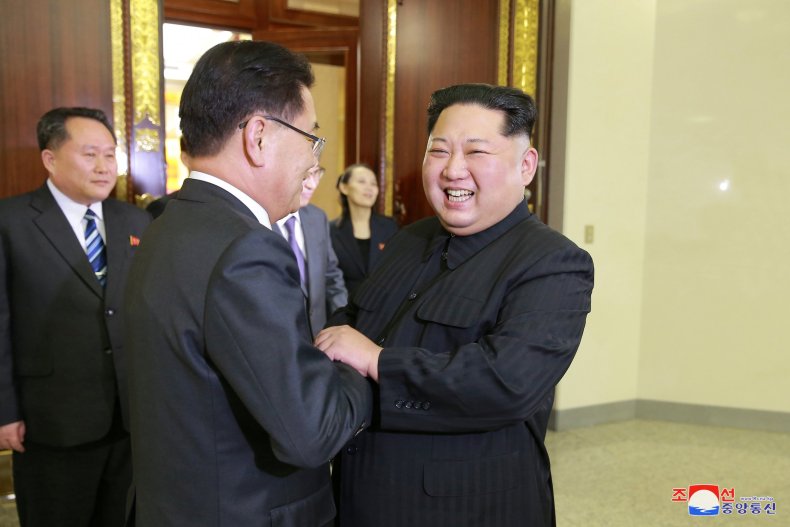 Both Beijing and Moscow have sought a "double freeze" or "freeze for freeze" approach to solving the nuclear crisis on the Korean Peninsula, where Kim has developed and tested advanced ballistic missiles and nuclear weapons in spite of increasingly crippling international sanctions, especially from Washington. The strategy would see the U.S. indefinitely suspend military exercises near the Korean Peninsula while North Korea agreed to halt weapons tests.
The U.S. has so far refused the approach, wanting to see North Korea officially commit to denuclearization as a precondition for dialogue. Shortly after rare inter-Korean talks began in January, North Korean delegation head Ri Son Gwon said his country's nuclear weapons were not up for debate because they were "only aimed at the United States, not our brethren, China or Russia."
North Korea, however, has suggested in the past that it may give up its nuclear weapons, which Kim and his government have argued were only necessary due to the lingering U.S. threat of military action.
North Korea Up Close: From the Bright Lights of Pyongyang to the Impoverished Countryside
Many U.S. officials remain skeptical of Kim's intentions, remembering similar moves by his father and grandfather before him that ultimately did little to resolve a war that never technically ended after the two Koreas fought a three-year conflict on opposite ends of the Cold War in the 1950s. North Korea's insistence on dealing directly with South Korea as the U.S. refused to participate, however, has put Seoul in a difficult position—one that may adversely affect its relationship with the U.S.
As South Korean National Security Chief Chung Eui-yong arrived in Washington on Thursday to discuss his recent North Korea trip with his U.S. counterpart, National Security Advisor H.R. McMaster, South Korean Defense Minister Song Young-moo told U.S. Pacific Fleet Commander Navy Admiral Scott Swift he "need not send strategic weapons―such as nuclear-powered submarines―this time while serving as commander," according to The Korea Times.
While Song's office later clarified that the remark was made in jest, it added to widespread speculations that, if the U.S. and South Korea do hold their annual "Foal Eagle" exercise this year, it would be a scaled-down rendition. Such a move would be welcomed not only by North Korea, but also by China and Russia. They too found the joint maneuver provocative and opposed growing U.S. military presence in the region.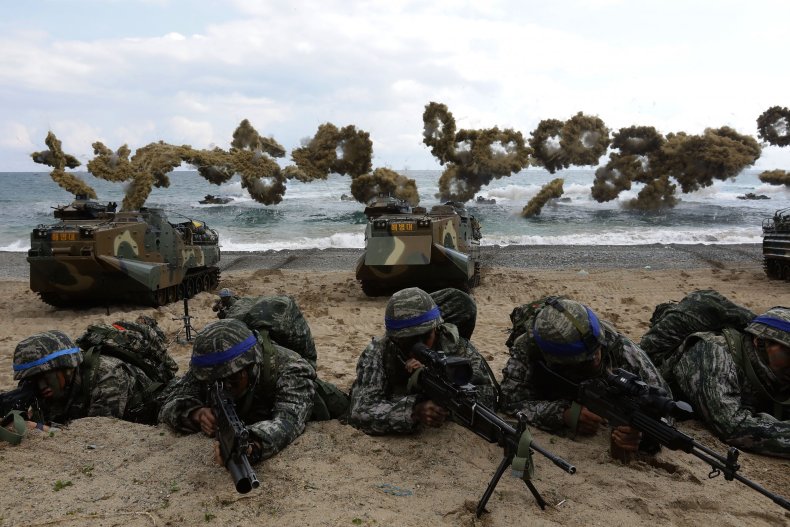 In particular, they condemned South Korea's installation of the Terminal High Altitude Area Defense System (THAAD), a U.S.-built missile defense system that both China and Russia felt undermined their national security.
As Trump kept a cold shoulder to his North Korean foe, Russian and Chinese officials have already offered to mediate between the neighboring rivals on the Korean Peninsula. During Thursday's press conference, Wang said China was willing to play a role in the talks. One day prior, Russian Deputy Foreign Minister Igor Morgulov told South Korean member of parliament Chung Dong-young that Moscow would "provide assistance to promoting dialogue between South and North Korea," according to the state-run Tass Russian News Agency.