Kourtney Kardashian Reveals IVF Struggle Amid Fans' Pregnancy Speculation
Pregnancy rumors surrounding Kourtney Kardashian and Travis Barker are seemingly addressed in Episode 2 of The Kardashians, as Kourtney's IVF treatment is revealed.
Within the episode, Kourtney tells her mom, Kris Jenner, about a visit to the doctor that she describes as "awful."
Kourtney and her partner, Blink-182 drummer Barker, currently have no children together, but both have kids from previous relationships. Kourtney has three children with Scott Disick, while her current fiance (and almost husband) has two children with ex-wife, former Miss USA Shanna Moakler.
In the latest episode of The Kardashians on Hulu, Kourtney opens up about her struggles to conceive at 43 years old, and about how a drug intended to help has had the opposite effect.
The matriarch of the family, Kris, comes round to Kourtney's Calabasas house and asks her daughter how the medical visits are going. Kourtney abruptly replies: "Awful."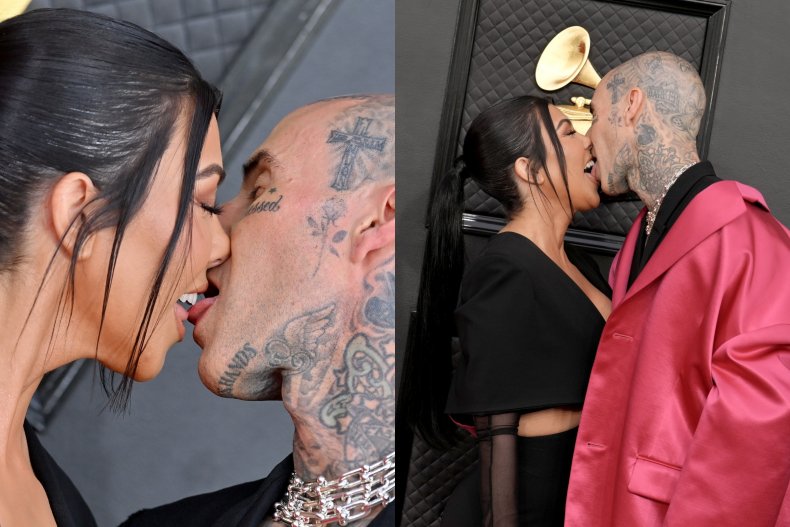 In a piece to camera, Kourtney then tells the audience that she and Barker want to have a baby, so they are having IVF under the advice from her doctor. She calls it: "Not the most amazing experience."
Back with her mom, Kourtney comments on how "rude" everyone on social media is for commenting on her weight and speculating that she's pregnant.
"The medication that they're giving me," Kourtney told Kris, "is literally putting me into menopause.
"I think because I'm so clean and careful about what I put into my body, it's having the opposite reaction and is working as a contraceptive instead of helping us," Kourtney said.
She then tells Kris that the medication is making her depressed, but Kris claims she's never seen Kourtney happier. Her daughter is convinced though: "I'm super moody and hormonal. Like I'm a lunatic half the time," Kourtney said.
Kris shares her owns struggles to conceive with her then-husband, who was known as Bruce Jenner at the time. She explains how in 1994 she had a miscarriage, but she did go on to give birth to Kendall and Kylie Jenner in '95 and '97, respectively. With that in mind, Kris predicted that in a year Kourtney will have a new baby.
Pregnancy rumors surrounding Travis and Kourtney are rife at the moment, with The Sun newspaper recently publishing pictures of the couple cradling Kourtney's stomach. The comment sections were filled with fans asking if Kourtney might be pregnant.
Kourtney is mother to Mason, 12, Penelope, 9, and Reign, 7, while Barker is father to Landon Asher, 18 and Alabama Luella, 16.
The rest of Episode 2 of The Kardashians, titled "Did Somebody Tape That?" sees Kris and Khloe appear on The Late Late Show with James Corden, and sees Kim continue to prepare for her gig hosting Saturday Night Live, where she'll meet Pete Davidson.
We also see Kim get advice from Amy Schumer on how to perform her monologue for SNL. She also asked Dave Chappelle and Michelle Wolf for help writing her jokes.
Episode 3 of The Kardashians will air on Hulu on Thursday April 28, 2022.