Kremlin Promises to Hit Back Against 'Ineffective' Sanctions By U.S.
The Kremlin is calling the new economic sanctions announced by President Joe Biden "ineffective."
Russia's Ministry of Foreign Affairs said in a statement Wednesday that the sanctions on VEB bank and its military bank, as well as the nation's sovereign debt, won't affect their "determination to firmly defend our interests."
"Despite the obvious futility of efforts made over the years to hinder the development of our economy, the United States is once again reflexively grasping restrictive instruments that are ineffective and counterproductive in terms of American interests," the statement read.
Biden announced "full blocking" sanctions against the banks in an address from the White House on Tuesday amid Russia's escalating tensions with Ukraine. The president for the first time described Vladimir Putin's decision to recognize the independence of the so-called Donetsk and Luhansk People's Republics—two Russia-backed separatist regions of eastern Ukraine—and send troops to the area as the "beginning of an invasion."
Biden also said sanctions will also be imposed on Russian elites and their family members. If Moscow continues to escalate the situation, Biden vowed more sanctions.
"Who in the lord's name does Putin think gives him the right to declare new so-called countries on territory that belong to his neighbors?" the president said during his remarks.
The Kremlin responded that there should be "no doubt" that the sanctions will be met with a "strong answer."
This is a developing story and will be updated as more information becomes available.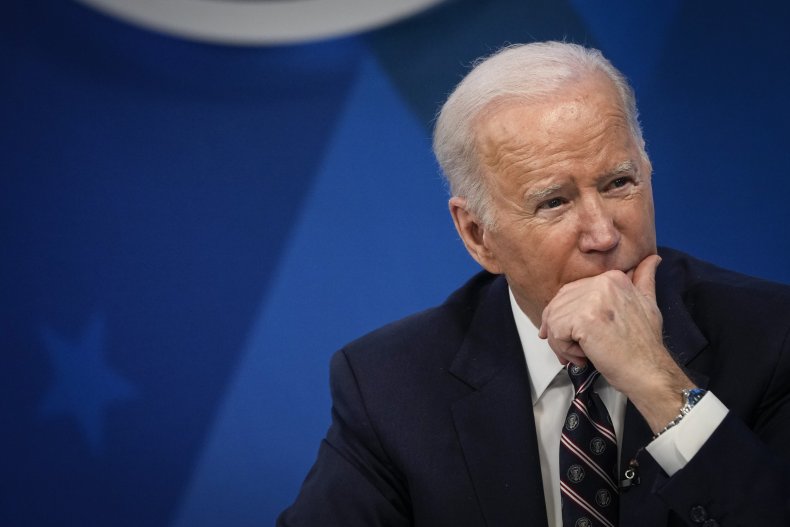 Newsweek reached out to the White House for comment on the Kremlin's statement.
Ukraine has announced plans for a state of emergency. Oleksiy Danilov, Ukraine's national security and defense council secretary, said the 30-day emergency order would impose curfews and restrictions on mass gatherings in certain regions.
Danilov said "our army is ready" to defend the country from Russian aggression.
"Ukraine is a peaceful nation," Ukrainian President Volodymyr Zelenskyy said Wednesday, according to CBS News. "We want calm, but if we keep silent now, we will be extinct tomorrow."
Zelenskyy also said Wednesday that he expects further sanctioning of Russia.
The White House's deputy national security adviser, Daleep Singh, told CNN that sanctions will get tougher. Singh said the sanctions announced by Biden on Tuesday were a "demonstration effect" that will "go higher and higher."
"These costs are going to escalate from here," Singh said. "The two largest banks in the Russian economy are $750 billion in assets under management, that's 10 times larger. Our export controls, which can deny all of the critical technology inputs to Russia, have yet to be unveiled. We can unveil those at any moment."
Update 2/23/22, 11:01 a.m. ET: This article was updated with additional information.