Joe Biden Teaming up With Ukraine Against Russia, Says Kremlin
Kremlin spokesman Dmitry Peskov has said that the Oval Office meeting between President Joe Biden and his Ukrainian counterpart Volodymyr Zelenskyy was focused on cementing opposition to Moscow.
On Wednesday, Zelenskyy became the second European leader to visit the White House under Biden's presidency in a Washington, D.C., trip during which he has pushed for U.S. military support for Ukraine as it continues to face Russian-backed separatists in the east of his country.
During Wednesday's talks, Biden told Zelenskyy that the U.S. backed Kyiv's "sovereignty and territorial integrity in the face of Russian aggression," although would not give any further details regarding Ukraine's wish to join NATO.
But the meeting has been viewed with suspicion by Peskov, who told reporters on Thursday that how to oppose Russia was "high on the agenda of the American-Ukrainian talks," which was a "minus."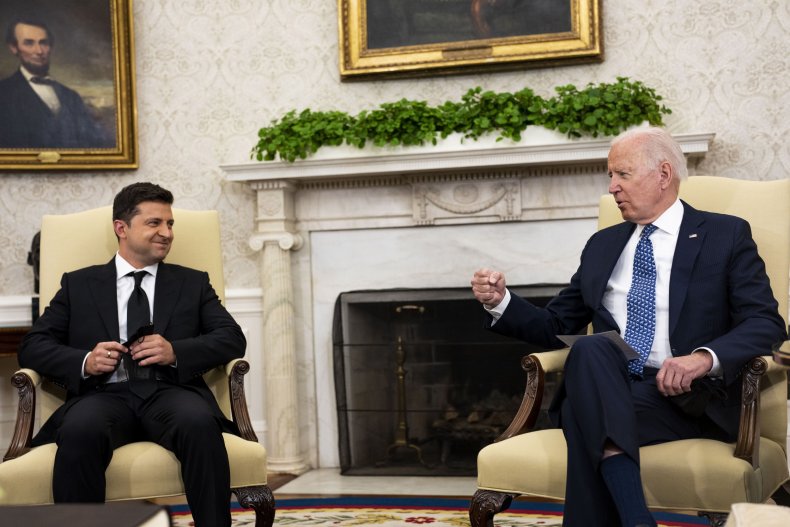 "In simple terms," he said the meeting was about "a Ukrainian-American friendship against Russia," according to news agency Tass.
"That is, they are friends not for themselves, but against Russia. This can only cause regret," Peskov said on the sidelines of the Eastern Economic Forum in Vladivostok.
He also reiterated Moscow's opposition to Kyiv's NATO aspirations, saying that President Vladimir Putin had repeatedly stated Moscow's unhappiness at the encroachment of NATO on Russian borders. "This is something we do not like at all," he said.
Kyiv was concerned with Biden's apparent decision to reverse U.S. opposition to the Nord Stream 2 pipeline between Russia and Germany, bypassing Ukraine, amid fears that the Kremlin would use it as a geopolitical weapon. The Biden administration opted in May to waive sanctions against the Russian-owned company behind the pipeline.
There were also fears that the U.S. pullout from Afghanistan would cast doubt on the U.S. as a reliable security partner and embolden Russia in the conflict it backs in eastern Ukraine, in which Moscow denies any involvement.
Zelenskyy said he had received assurances from Biden that the U.S. would impose sanctions if there were "violations" from Russia when the Nord Stream 2 pipeline starts operating.
Kyiv will receive an extra $60 million in U.S. security assistance, bringing the year's total to more than $400 million and the renewal of the Strategic Partnership Commission, which allows Kyiv to liaise with Washington on issues of security, trade, and energy.
"The results of this visit are a clear signal to Moscow not to escalate in Ukraine," former U.S. ambassador to Ukraine and director of the Atlantic Council's Eurasia Center, John Herbst said in a statement. "This is exactly what Zelenskyy wanted."
Newsweek has contacted the White House for comment.