Kris Jenner Wants Grandchildren to Carry on Family Business
According to Kris Jenner, it won't be Kim, Kourtney or Khloe who'll take over the reigns of the family business—it'll be one of her grandchildren.
Members of the Kardashian and Jenner clans are out promoting their new Hulu reality TV series, The Kardashians.
During an appearance on Jimmy Kimmel Live!, in front of her daughters, Kris said she thinks the responsibilities of running the family business could skip a generation.
Keeping Up With the Kardashians, the family's flagship reality show, ended after 14 years on the air in June 2021. Their new reality show—simply titled The Kardashians—will launch on Hulu on Thursday, April 14, 2022.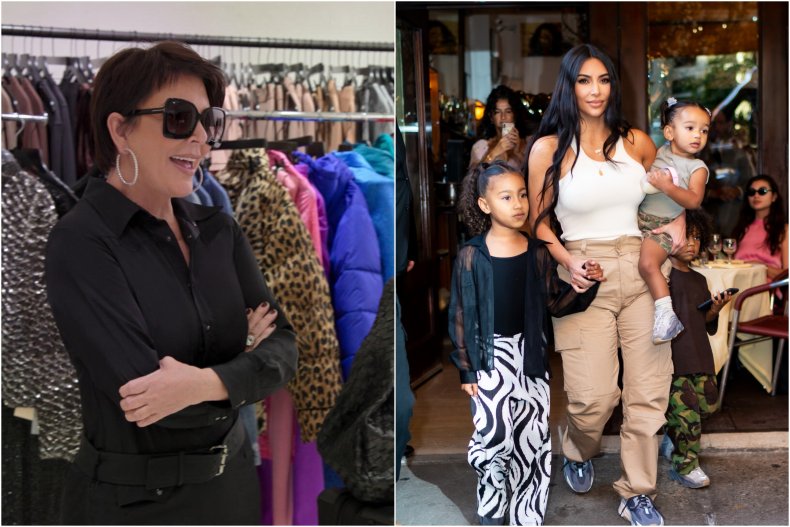 The Family Business
The matriarch, or often referred to as the "momager" of the Kardashian family, Kris Jenner is known for creating the media empire her family now represent.
She was the one who pitched the premise of a reality show about their lives to Ryan Seacrest's production company back in 2007. She's since appeared in the main Kardashian TV shows as well as the numerous spin-offs, such as Kourtney and Kim Take Miami, Khloé & Lamar and Rob & Chyna.
She's also credited as an executive producer on hundreds of episodes of TV.
During her appearance on Jimmy Kimmel Live!, alongside Khloe, Kourtney, Kim and Kendall, Kris was asked which one of her daughters she'd like to see take over the family business when she retires.
Kris replied: "My daughters or my granddaughters?" Running with the idea that she could skip a generation, she continued, "Why not? I think that it could be a combined—I think all the granddaughters and the grandsons to get together and just form like a little agency."
Kris currently has six children, four of whom she had with the late Robert Kardashian, while she had Kendall and Kylie with Bruce, now Caitlyn Jenner. Between those children, she has another eleven grandchildren.
That breaks down to three grandchildren from Kourtney, four grandchildren from Kim, one grandchild from Khloe, one from Rob Kardashian, and two from Kylie Jenner.
The first episode of the Hulu show is titled "Burn Them All to the F*cking Ground" and it launches on Thursday April 14, 2022.
Hulu promise that the new show will give fans "an all access pass into the lives of Kris, Kourtney, Kim, Khloé, Kendall and Kylie" in order to reveal "the truth behind the headlines."
The series synopses also reveals that The Kardashians will show everything, "from the intense pressures of running billion-dollar businesses to the hilarious joys of playtime and school drop-offs. This series brings viewers into the fold with a rivetingly honest story of love & life in the spotlight."