NELK Boys Beef With Jimmy Kimmel Over Trump: 'Let the Big Dogs Takeover'
Fresh off their interview with former President Donald Trump, popular YouTube comedians the NELK Boys are out for blood—late night host Jimmy Kimmel's to be specific.
The NELK Boys interviewed Trump last week. The video was taken down after Trump repeated his false claims about the 2020 election being stolen, but when Kimmel spoke about it in his monologue, he focused on the casualwear the comedians sported.
"Mar-a-Lardo has been making the rounds. He was on a podcast hosted by—this is really something—a small group of YouTubers known as the NELK boys. These guys, they show up at Mar-a-Lago in sweatshirts and shorts, logos all over their clothes," Kimmel said.
"Trump sits down for an hour with them—during a war—to answer the dopiest questions. One of the great things about Trump is doesn't matter who's interviewing him. It can be George Stephanopoulos or three doofuses who brought a 12-pack of hard seltzer along with them. He's gonna answer the same way," he concluded.
Kyle Forgeard of the NELK Boys posted the clip to his Instagram, calling out the host as part of the old guard.
"This 'small group of youtubers' has way more viewers than you buddy. Kimmel used to be way funnier but now is just washed up and irrelevant. Only reason you even get any views is cause Disney owns your show so youtube forces it onto everyones home pages. Late night is where comedians go to die. Pack it in and let the big dogs takeover pal," Forgeard wrote.
On YouTube, the NELK Boys have 7.27 million subscribers, while Jimmy Kimmel Live has 18.4 million. On broadcast television, Kimmel's show brings, on average, 1.6 million viewers, according to a 2021 Newsweek article.
The NELK Boys' three most recent videos range between 1.9 million and 4.4 million viewers. Their most popular video, "Coke Prank on Cops," has 46 million views, and was posted seven years ago.
The Jimmy Kimmel Live! YouTube is more active, posting several videos a day. Looking at Kimmel videos of the same age as the three NELK Boys clips, Kimmel's views range between 68,000 and 1.3 million views. The most popular clip on the Jimmy Kimmel Live! channel is "Celebrities Read Mean Tweets #7", also seven years old, but with 91 million views.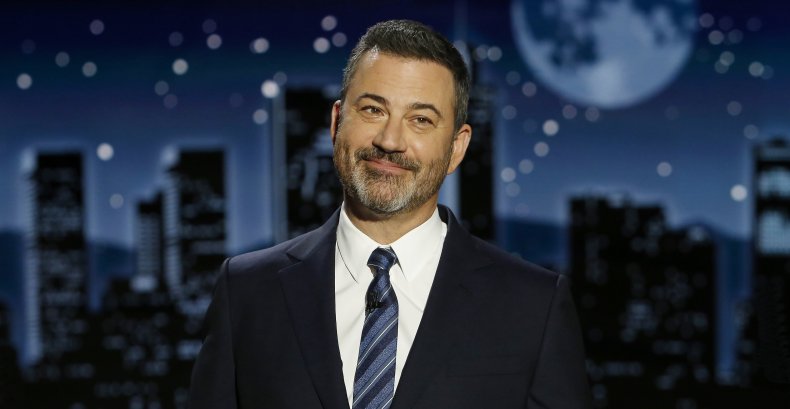 On Friday, Trump slammed YouTube as "Big Tech lunatics" for taking the interview down.
"Incredibly, but not surprisingly, the Big Tech lunatics have taken down my interview with the very popular NELK Boys so that nobody can watch it or in any way listen to it. In the 24 hours that it was up, it set every record for them by many times," Trump said in a statement.
The Trump interview got 5 million views before it was taken down, according to a tweet by Forgeard. YouTube told Newsweek that the video had been removed for "violating our election integrity policy, which prohibits content containing false claims that widespread fraud changed the outcome of the 2020 U.S. presidential election. We allow content with sufficient educational, documentary, scientific or artistic context, which the video we removed did not provide."
The Mar-a-Lago video was not the first time the NELK Boys had met Trump. Shortly before the 2020 election, they went viral for a video where they met the then-president on Air Force One. That video is still available on YouTube.
In September 2020, the NELK Boys came under fire for holding a 200-person pop-up party at Illinois State University in violation of COVID restrictions. This stunt also caused YouTube to temporarily demonetize their account.
"If a creator's off-platform behavior harms our ecosystem we take action to protect the community. We suspended the NELK channel from the Partner Program because they encouraged large numbers of people to disregard social distancing guidelines, creating a large public health risk," YouTube tweeted in September 2020.
Newsweek reached out to Jimmy Kimmel Live! for comment.