South Dakota's Kristi Noem Denies Caving in to NCAA on Girls' Sports Transgender Bill
South Dakota's Republican Governor Kristi Noem has clashed with Tucker Carlson after the Fox News anchor challenged her for not signing a bill that would have banned transgender girls and women taking part in female sports.
Noem had previously said that she had been "excited to sign" the bill prohibiting transgender athletes from competing alongside cisgender females in sports after it passed in the GOP-led state legislature.
But she decided not to back House Bill 1217 and sent it back to state lawmakers for the language to be tweaked.
Concerned whether it would comply with inclusion rules in collegiate sports, she told Fox News that in its present form, the bill would be open to legal challenges which expert advice had warned her she would likely lose.
Opponents of the bill had said it might lead to groups like the National Collegiate Athletic Association (NCAA) pulling out of sports tournaments in South Dakota. During her interview with Carlson, Noem said the legislation would allow the NCAA to take "punitive action" against her state.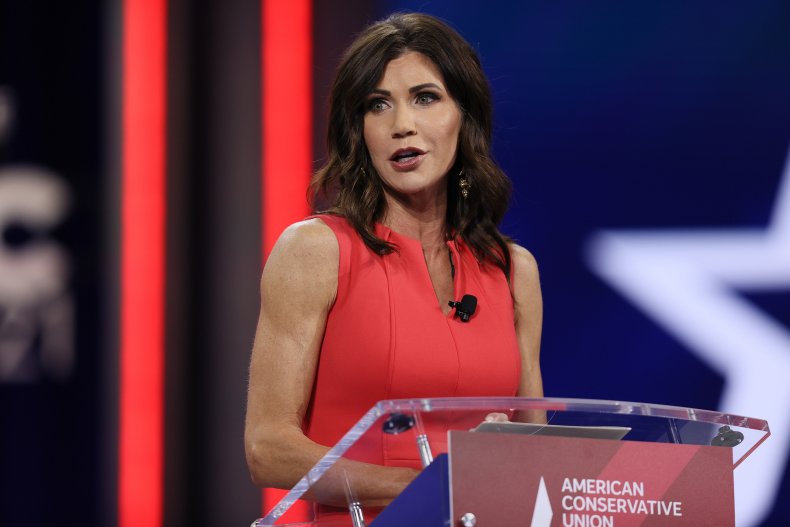 But The Tucker Carlson Tonight anchor suggested she had caved in to pressure and should have stood her ground, letting the case play in the court of public opinion, which was on her side.
She replied: "That's not true, Tucker, I could sign the bill the way that it is today...but it wouldn't solve the problem.
"This bill would only allow the NCAA to bully South Dakota. And it would actually prevent women from being able to participate in collegiate sports. So what I have done is I have asked the legislature...to change the bill."
Noem has proposed for the ban to be limited to high school and elementary sports and exclude collegiate athletics, the Associated Press reported. Her move, known as a style and form veto, still means the bill can be passed but only if a majority in both chambers of the Legislature can approve it on March 29, the AP added.
But Carlson asked why not just sign the bill and issue a challenge to the NCAA to "bring it on...go ahead and try to exclude us."
She replied, "Tucker, that's what I did today. You're preaching my sermon."
"I'm not interested in a participation trophy. I'm not interested in picking a fight that we can't win," she said, adding that she had been "bullied for the last year by liberals."
She said that through the group she helped found "Defend Title XIV Now," she hoped to "build a coalition of states to fight the NCAA."
"I'm not going to let anybody from the NCAA, from any big business, I'm not even going to let conservatives on the right bully me. I'm going to solve the problem.
"I'm going to make sure that we are building strength in numbers and we are going after the NCAA and make sure that we are keeping only girls playing in girls' sports." Newsweek has contacted the NCAA for comment.
In a hot button issue for conservatives, restrictions have been proposed in more than 20 states to restrict sports or gender confirmation healthcare for transgender minors.
But advocates for transgender children say such legislation could lead to bullying and deprive them of the chance of competing in sports.
Considered a rising star in the Republican Party and a possible contender for the 2024 primaries, Noem's move has led to criticism from conservatives.
Michael Farris, the head of an advocacy group, Alliance Defending Freedom which supports the legislation wrote on Facebook: "Her excuses ring hollow...All of us are going to have to choose. Will we let corporate interests dictate the moral and social policy of this country?"