All White People Are Responsible for Racism in America, Says Kyle Korver: 'We All Have to Be Accountable'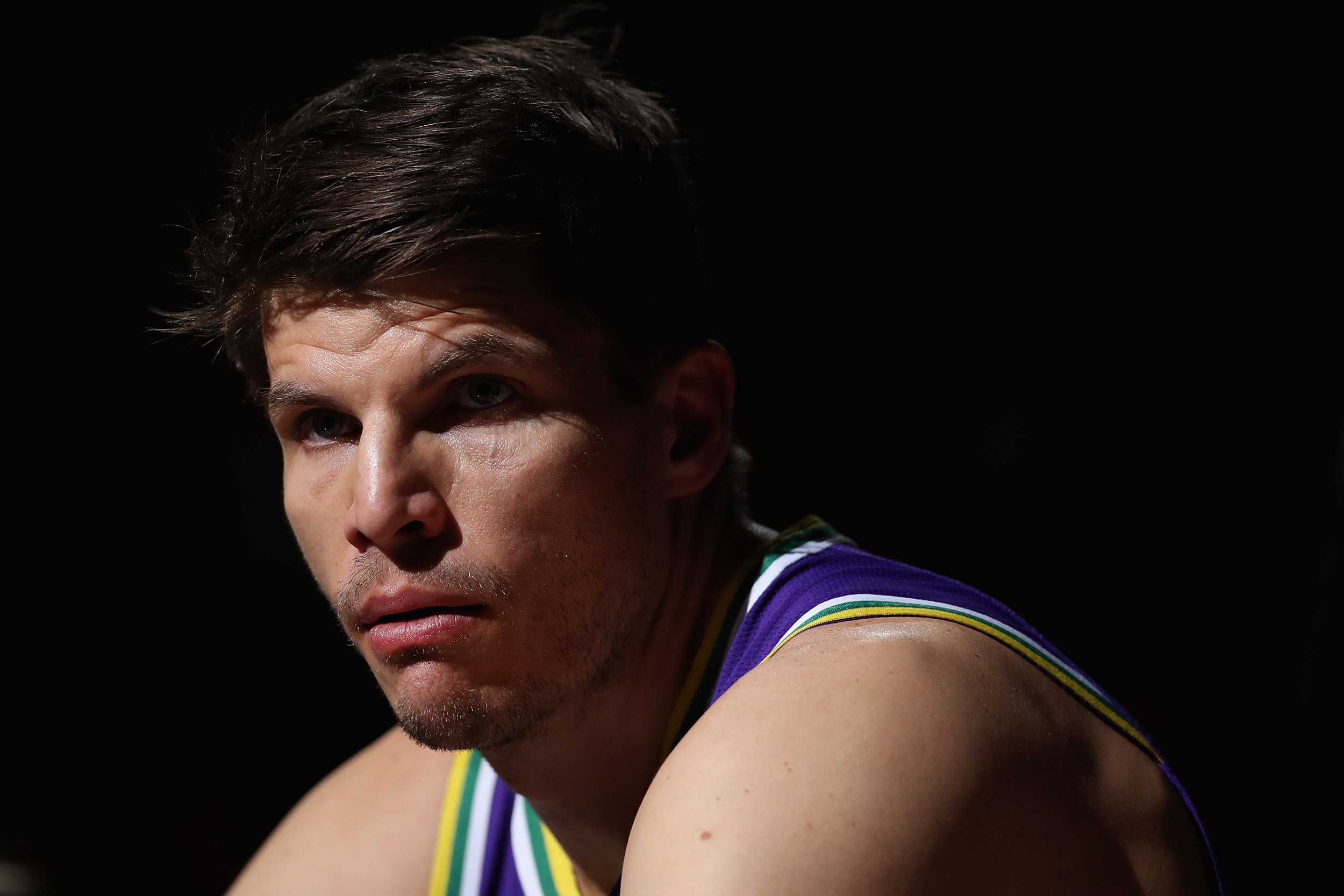 Utah Jazz guard Kyle Korver believes white people have to be held responsible for the history of racism in America.
Writing in The Players' Tribune, the NBA veteran suggested that the lines between guilt and responsibility are often blurred when it comes to dealing with racist issues in the U.S.
However, there is "a real difference" between the two, he said.
"As white people, are we guilty for the sins of our forefathers? No, I don't think so," he wrote.
"But are we responsiblefor them? Yes, I believe we are."
Korver added that white people have to hold each other to account for their behavior.
"I know that, as a white man, I have to hold my fellow white men accountable," he said. "We all have to hold each other accountable. And we all have to be accountable."
He argued the lack of action against racism was very dangerous as it made for fertile ground for an ever growing social divide.
"We have to be actively supporting the causes of those who've been marginalized—precisely because they've been marginalized," he explained.
The 38-year-old argued that while white people were "part of this systemic problem," they could also be part of the solution.
The one-time NBA All-Star said that learning to identify social issues and educating people on the history of racism in the U.S. was crucial to bringing about a more modern and tolerant society.
Korver, who is in his second spell with the Utah Jazz after spending the last eight years between Chicago, Atlanta and Cleveland, has witnessed incidents of racism in NBA arenas before.
The most recent of them came last month, when a Utah Jazz fan repeatedly heckled Oklahoma City Thunder star Russell Westbrook during a game in Salt Lake City.
After the game, the 2017 MVP told reporters the Jazz fan and his wife had reportedly shouted: "Get down on your knees like you used to."
Korver said that when Jazz players spoke of the incident, he detected a great sense of disappointment and exhaustion among his teammates.
"Guys were just sick and tiredof it all," he wrote.
"This wasn't the first time they'd taken part in conversations about race in their NBA careers, and it wasn't the first time they'd had to address the hateful actions of others.
"This wasn't only about Russ and some heckler. It was about more than that. It was about what it means just to exist right now—as a person of color in a mostly white space. "
Following the incident, Jazz permanently banned the perpetrator from the Vivint Smart Home Arena, due to the "excessive and derogatory verbal abuse" he aimed at Westbrook.
Last week, a Boston Celtics fan was banned from attending home games for 18 months after being found guilty of racially abusing Golden State Warriors center DeMarcus Cousins.