Kyle Rittenhouse Awarded AR-15 for 'Defense of Gun Rights' Following Acquittal
Accused shooter Kyle Rittenhouse has been awarded an AR-15 assault rifle from an organization called Gun Owners of America (GOA) for his "defense of gun rights" following his acquittal from homicide charges.
"ALERT: GOA will be awarding Kyle Rittenhouse with an AR-15 for his defense of gun rights in America," GOA wrote in a Friday morning tweet. "Join us in saying THANK YOU to Kyle Rittenhouse for being a warrior for gun owners and self defense rights across the country!"
Rittenhouse used an AR-15 style rifle to kill Joseph Rosenbaum and Anthony Huber, as well as injure Gaige Grosskreutz in Kenosha, Wisconsin on August 25, 2020.
Rittenhouse pleaded self-defense to homicide charges related to the incident. A jury found him not guilty on Friday.
Prosecution attorneys argued that Rittenhouse's victims had initially approached him out of fear that he was an active shooter. At the time of the killings, Rittenhouse was 17 years old and too young to purchase or possess such a firearm. His friend, Dominick Black, purchased it for him, Black said at the trial.
After the shooting, Rittenhouse became an icon for gun groups and gun rights advocates.
On November 20, 2020, right-wing podcaster Elijah Schafer tweeted an image showing Rittenhouse wearing a t-shirt for Black Rifle Coffee. The coffee brand has maintained a pro-military, pro-gun, pro-police image—even being sold in firing ranges. However, the company denied having any relationship with Rittenhouse.
The National Foundation for Gun Rights (NFGR) raised over $50,000 for Rittenhouse last year to help pay for his legal fees. NFGR issued a celebratory statement after his not guilty verdict.
"When we saw the video evidence of Kyle defending himself and others in Kenosha, WI, NFGR made the decision to support him right away, and we're thrilled to see that he is now a free man," NFGR Executive Director Dudley Brown said in a statement.
The National Rifle Association (NRA), a gun manufacturer's lobby, also tweeted the text of the Second Amendment after Rittenhouse's verdict was announced.
"A well regulated militia, being necessary to the security of a free state, the right of the people to keep and bear arms, shall not be infringed," the NRA's tweeted, without mentioning Rittenhouse by name.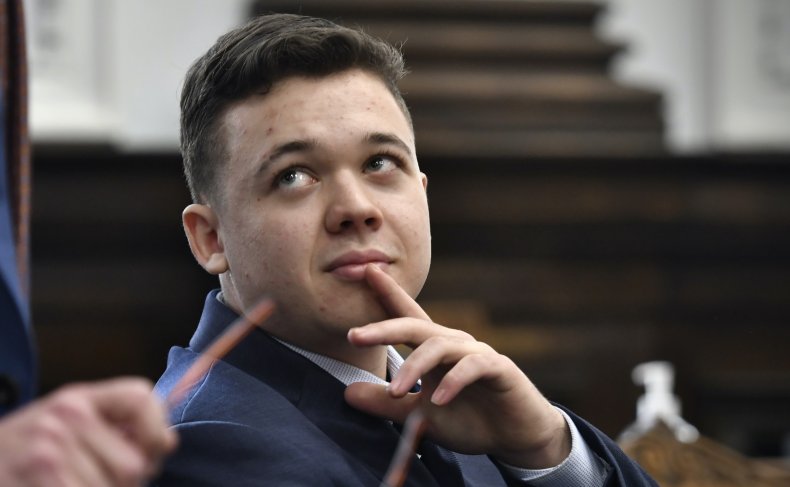 Pro-gun Republicans also lauded Rittenhouse's verdict as a Second Amendment victory.
"Kyle Rittenhouse is not guilty, my friends. You have a right to defend yourself," Republican Representative Madison Cawthorn of North Carolina said in a Friday Instagram story. "Be armed, be dangerous, be moral."
Republican Colorado Representative Lauren Boebert tweeted Friday afternoon, "Today is a great day for the Second Amendment and the right to self-defense. Kyle Rittenhouse is not guilty on all counts! Glory to God!"
The congresswoman is a vocal supporter of gun rights. In a January 3 advertisement, she announced that she would "carry my Glock to Congress," referring to her handgun.
She also owns a gun-themed restaurant called Shooters Grill in Rifle, Colorado.
In a Friday Fox News interview, former President Donald Trump called Rittenhouse a "poster boy" for "innocence based on self-defense."
Newsweek reached out to the Gun Owners of America for comment.