Republican Colorado Representative Lauren Boebert has criticized Democratic President Joe Biden's gun control efforts by stating, "The Second Amendment is absolute. Anyone who says otherwise is a tyrant."
Boebert published her tweet just hours after a mass shooter in Bryan, Texas killed one person and injured five others. Her tweet also came on the same day that Biden issued several executive orders seeking to reduce gun violence nationwide.
The congresswoman has remained a vocal supporter of gun rights and the Second Amendment. In a January 3 ad, she announced that she would "carry my Glock to Congress," referring to her handgun.
Biden's executive actions, issued on Thursday, would require the use of serial numbers to track homemade "ghost guns", require registration for products that modify guns to make them deadlier and encourage states to use "red flag" laws to keep dangerous people from carrying guns.
Additionally, Biden's order seeks to invest $5 billion towards community violence intervention programs and tasks the Department of Justice and Bureau of Alcohol, Tobacco, Firearms, and Explosives to issue annual reports on gun trafficking.
Both Biden and other gun control advocates have admitted that his orders alone aren't enough to stem violence without additional congressional legislation. "Enough prayers," Biden told reporters on Thursday. "Time for some action."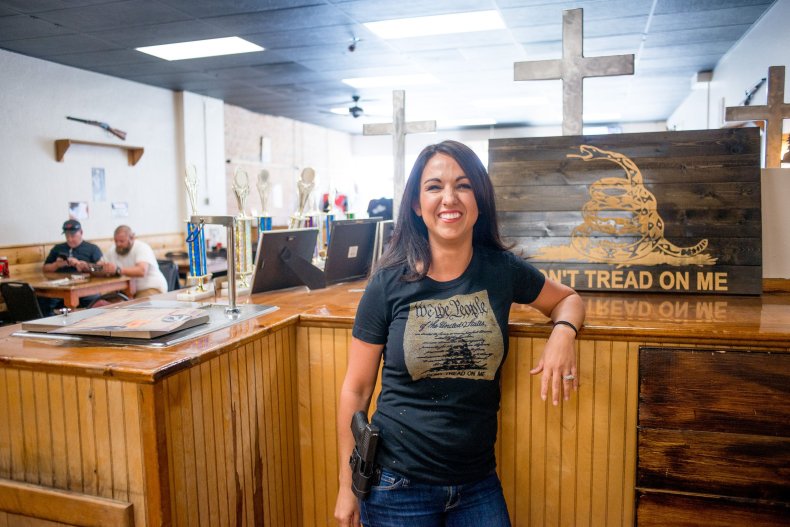 Boebert has remained steadfast in her opposition to firearm reforms as over 100 mass shootings have occurred in the U.S. since the start of 2021.
On March 22, a mass shooter in Boulder, Colorado used an assault-style weapon to kill 10 people at a supermarket. In response, Boebert tweeted, "There are no gun laws that wouldn't stopped Ahmad Al-Issa from killing 10 Americans in cold blood." Al-Issa was that shooting's suspect.
Hours after the Boulder shooting, Boebert's campaign sent a fundraising email to supporters telling them to join her in saying "HELL NO" to gun control measures.
The "radical liberals" in Congress, the email stated, "are trying to violate your due process and criminalize the private transfer of firearms."
In a March interview with the conservative network Newsmax, Boebert said, "Gun laws just don't work—it's unfortunate. We need good people to neutralize threats and defend themselves, and the people around them to protect them."
In a March 31 tweet, Boebert wrote, "The Left's gun control agenda will affect America's women more than anyone else. I'm a five foot tall, 100 pound woman. The only way I'm safe to walk around any dangerous liberal city is with an equalizer. Gun control is anti-woman."
Despite her opposition, House Democrats approved two firearm reform bills on March 11. However, the bills may die in the Senate without Republican support.
The first bill would require background checks for people who buy firearms over the internet, at gun shows and in certain private transactions. Though the bill closes a longstanding legal loophole, only eight House Republicans supported it.
The second bill would extend the amount of time federal authorities have to complete background checks for firearm purchases. Currently, authorities have three days to complete such checks. The bill would extend the period to 10 days. Two House Republicans supported the bill.
Newsweek contacted Boebert's office for comment.