Lauren Boebert Argues 'No Gun Laws' Would Have Stopped Ahmad Alissa
Representative Lauren Boebert has said the call for tougher gun restrictions in the wake of the Boulder mass shooting that left 10 dead was a "knee jerk reaction" which would "limit our ability to defend ourselves."
The Colorado congresswoman, a noted pro-gun advocate, told Newsmax that "there are bad people who do bad things, and we need a way to protect ourselves."
Ahmad Al Aliwi Alissa, 21, has been charged with killing 10 people in Monday's shooting at the King Soopers grocery store in Boulder, Colorado. Officer Eric Talley, 51, a father of seven, was among the dead.
Coming only days after eight people, including six Asian women, were killed at spas in Atlanta, Georgia, the tragedies have led to renewed calls for tougher restrictions on gun ownership.
President Joe Biden has called for a ban on assault weapons and high-capacity magazines and more stringent background checks for firearm purchases.
Senate judiciary committee chairman Dick Durbin has called for a "moment of action" to tackle the "epidemic" of U.S. gun violence while former president Barack Obama said "this is a normal we can no longer afford."
But taking the familiar line of Second Amendment advocates, Boebert told Newsmax, "gun laws just don't work—it's unfortunate."
"We need good people to neutralize threats and defend themselves, and the people around them to protect them."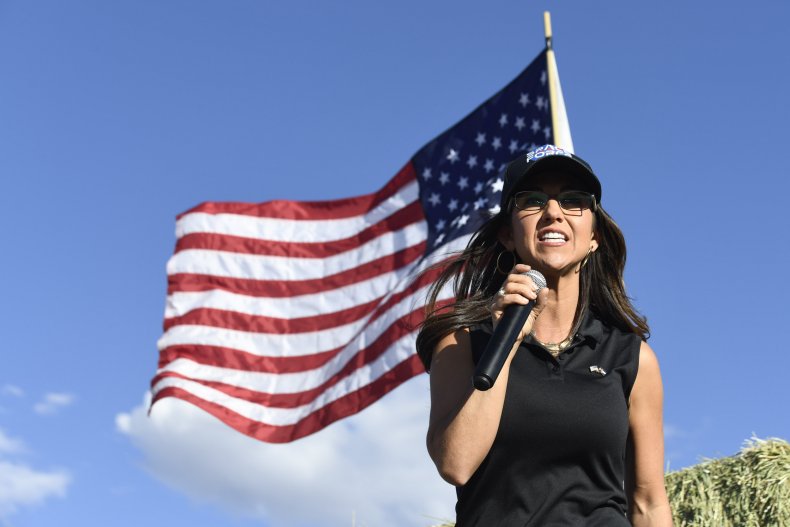 She said that she carried a weapon, telling the right-wing outlet: "I've been asked many times; 'Why do you carry in a grocery store?' Well, unfortunately, you don't know if there's going to be something like this that happens in a grocery store."
She said that in her state, "we have some of the strictest gun laws" which included universal background checks, extreme-risk protection orders as well as red flag laws.
"We even have mutual adjudication that prohibits firearm ownership, and none of this stopped the tragedy that happened," she told anchor Greg Kelly.
Boebert tweeted the video clip of the interview with the message: "There are no gun laws that would've stopped Ahmad Al-Issa from killing ten Americans in cold blood."
Social media users had earlier criticized Boebert after she tweeted, "May God be with us as we make sense of this senseless violence," blaming her pro-gun stance as part of the problem.
Boebert, a first-term Republican congresswoman, is the co-chair of the Second Amendment caucus and has pledged to carry a firearm in Congress. She also owns Shooters Grill, a Colorado restaurant renowned for allowing its staff to carry weapons.
After the Colorado shooting, which gun control advocacy group Everytown for Gun Safety said was at least the 246th mass shooting since 2009, Boebert's campaign sent a fundraising email urging supporters to reject gun control measures in Washington, D.C.
The graphic below provided by Statista outlines gun ownership in the U.S. over the last five decades.