Boulder Shooting Victim Kevin Mahoney's Daughter Posts Heartbreaking Tribute to Father
The daughter of Boulder, Colorado, shooting victim Kevin Mahoney posted a heartbreaking tribute to her father after he was killed in Monday's grocery store attack.
"I am heartbroken to announce that my Dad, my hero, Kevin Mahoney, was killed in the King Soopers shooting in my hometown of Boulder, CO. My dad represents all things Love. I'm so thankful he could walk me down the aisle last summer," Erika Mahoney wrote on Twitter Tuesday.
Erika Mahoney then revealed that she is pregnant. "I know he wants me to be strong for his granddaughter," she tweeted. In a separate message, she added: "I love you forever Dad. You are always with me."
Kevin Mahoney, 61, was one of 10 victims who were killed at a King Soopers grocery store when a gunman opened fire at around 2:49 p.m. local time.
On Tuesday, the Boulder Police Department identified the additional victims after confirming that one of their own officers was killed. Eric Talley, 51, was shot after being the first officer to respond to the scene.
Talley had been with the Boulder police since 2010, serving in numerous roles in the department and within the community. He leaves behind seven children.
The additional victims named by law enforcement on Tuesday included a King Soopers employee, a former magazine photo editor and a newly engaged shop owner, The New York Times reported.
The identified victims are Denny Stong, 20; Neven Stanisic, 23; Ricky Olds, 25; Tralona Bartkowiak, 49; Suzanne Fountain, 59; Teri Leiker, 51; Lynn Murray, 62; and Jody Waters, 65.
"Our hearts go out to all the victims killed during this senseless act of violence," Boulder Police Chief Maris Herold said Tuesday. "We are committed with state, local and federal authorities for a thorough investigation and will bring justice to each of these families."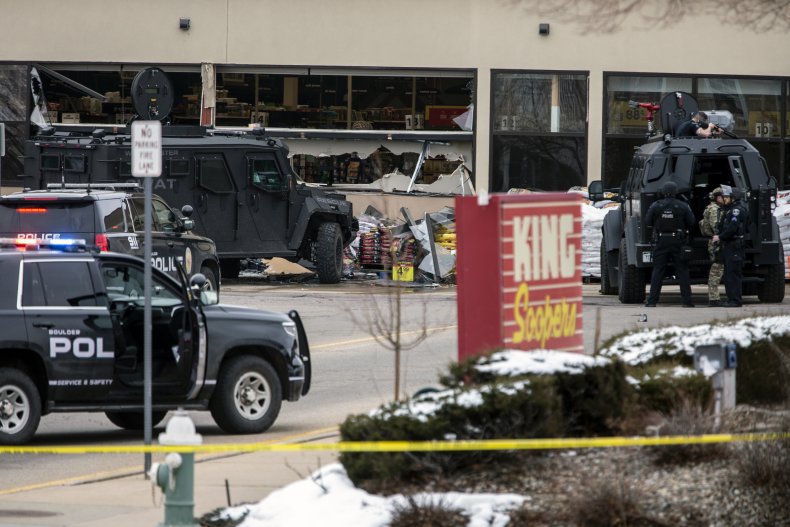 On Tuesday, police identified the shooting suspect as 21-year-old Ahmad Al Aliwi Alissa, from Arvada, Colorado. He was taken into custody and charged with 10 counts of first-degree murder and one charge of attempted murder.
Police said that an investigation is ongoing but that they believe Alissa acted alone.
Alissa's brother, 34-year-old Ali Aliwi Alissa, told The Daily Beast that the suspect had a history of mental illness and alarming behavior. The brother said that Alissa was "very antisocial" and paranoid about imaginary people chasing or following him during his high school years.
"When he was having lunch with my sister in a restaurant, he said, 'People are in the parking lot, they are looking for me.' She went out, and there was no one. We didn't know what was going on in his head," Alissa's brother said, expressing his belief that the suspect is mentally ill.
In response to the shooting, Colorado Governor Jared Polis called the attack a "senseless tragedy" and a "real horror and terror for all of us."
"My heart aches today. I think all of ours does as Coloradans, as Americans. For this senseless tragedy, a loss of life as we hear those names. Everybody in Boulder County is a small community. We're all looking over the list. Do we know anybody?" Polis said. "I'm sure that we know people that know people."
On Tuesday, President Joe Biden said he was "devastated" by the shooting and called on lawmakers to expedite a measure that would require more rigorous background checks for gun purchases.
"While the flag was still flying half-staff, another American city has been scarred by gun violence and resulting trauma," Biden told reporters at the White House on Tuesday. "I don't need to wait another minute—or another hour—to take common sense steps that will save lives in the future."
Correction 3/24/21, 11:50 a.m. ET: This article was updated to correct the spelling of Denny Stong.