'We Saved Kenosha': Trump Congratulates Self on 'Great' Rittenhouse Verdict
Former Republican President Donald Trump congratulated himself when discussing the "great" not guilty verdict in the case of Kyle Rittenhouse.
Rittenhouse was accused of homicide after shooting several men in Kenosha, Wisconsin on August 25, 2020.
"I think that it was a great decision," Trump told Fox News host Laura Ingraham on Friday night. "I was very happy to see it. A lot of people were happy to see it—most people."
Later in the interview, Trump declared: "I helped save Kenosha."
"As you know, I went there and I sent in a lot of people... because Democrats that run places don't do too well," he said. "And you had a governor, somebody, he didn't want to call in anybody. He just wanted to let it burn."
The former president then compared Kenosha to other cities like Minneapolis, Minnesota; Seattle, Washington; and Portland, Oregon. The three cities experienced citizen unrest and property damage during the racial justice protests of summer 2020, sparked by the death of George Floyd in police custody.
"I sent in a lot of people... I didn't wait," Trump told Ingraham. "If you looked at Minneapolis, that place was burning down, and we really got it stopped.... We saved it and we saved Kenosha. It was really a horrible couple of nights. They got individual stores, the place didn't burn down to the ground because we sent in a lot of good people."
Rittenhouse came to Kenosha amid several days of unrest, arson and looting following the August 23, 2020 police shooting of Jacob Blake. The shooting left Blake, a Black man, paralyzed from the waist down.
Federal agents arrived in the city on August 28, 2020 and Trump visited the city on September 1, 2020. The state's governor, the city's mayor and the city's NAACP chapter advised against Trump's visiting, saying that it would inflame tensions in the city.
During the Kenosha uprising, citizens destroyed 40 buildings and damaged an additional 100 buildings, WLS-TV reported. The uprising cost an estimated $50 million in damages, according to the Kenosha Area Business Alliance.
During the summer protests, racial justice activists criticized Trump for sending federal agents into cities experiencing uprisings. They alleged that the agents assaulted peaceful protesters and escalated conflicts.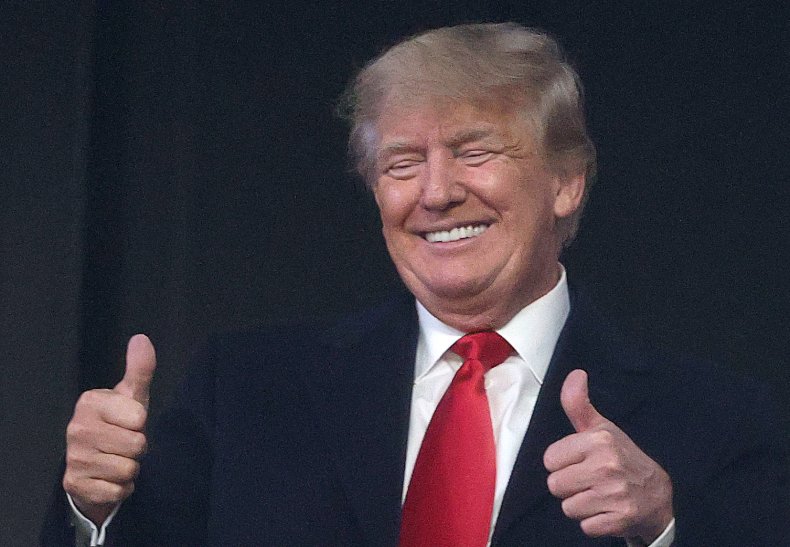 In his interview with Ingraham, Trump also called Rittenhouse a "poster boy" for "innocence based on self-defense."
"I think he would have been dead if he waited a quarter of a second when that gun was pointed at his head," Trump said in reference to Gaige Grosskreutz, who pointed a gun at Rittenhouse on August 25, 2020 and survived being shot by the then-17-year-old.
Trump called the charges against Rittenhouse a case of "prosecutorial misconduct," and said that the judge and the jury experienced a lot of "external pressure" to find Rittenhouse guilty.
On Friday, a jury found Rittenhouse not guilty of first-degree intentional homicide and other charges in the deaths of Joseph Rosenbaum and Anthony Huber. Rittenhouse was also found not guilty of attempted first-degree intentional homicide in the shooting of Grosskreutz.
Rittenhouse may still face civil charges over the men's deaths and Grosskreutz's injury.
The burden of proof is lower in civil trials than in criminal ones. Legal observers have also suggested that Rittenhouse could sue Democratic President Joe Biden over his comments comparing Rittenhouse to white supremacists.
Several Republican congressional lawmakers closely aligned with Trump also hailed the verdict.
Representatives Madison Cawthorn of North Carolina, Matt Gaetz of Florida and Paul Gosar of Arizona all offered Rittenhouse a congressional internship following his verdict.
Newsweek reached out to Trump's representatives for comment.