Attorney Mark Richards, who represented Kyle Rittenhouse, slammed pro-Trump lawyer Lin Wood, describing him as an "idiot" who wanted to "whore this kid out for money."
A jury found Rittenhouse "not guilty" of all charges on Friday after he was put on trial for shooting three people—leaving two dead—at a Kenosha, Wisconsin, protest last summer when he was 17 years old. Rittenhouse was initially represented by Wood and John Pierce.
During an interview with CNN on Friday evening after Rittenhouse was acquitted, Richards warned that some individuals were attempting to use his client to advance their own agendas. He said he cautioned Rittenhouse about decisions he will have to make going forward.
The lawyer said he had concerns earlier in the trial about "the Lin Woods, the John Pierces who were basically, you know, I think were trying to whore this kid out for money, for their own causes." He said they "kept Rittenhouse in Illinois to fight an extradition," a battle they couldn't win. Richards pointed out that they were "raising tons of money on him."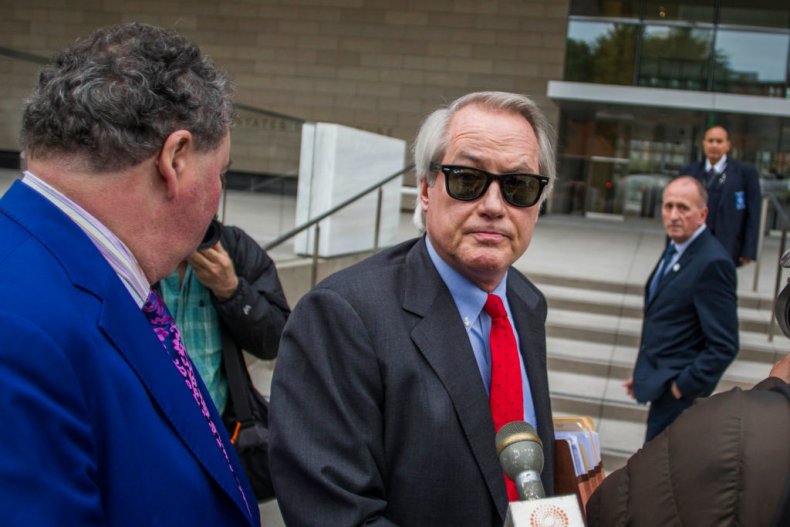 "You know, Lin Wood and I went head to head and you know, he'll probably sue me for it, but he's an idiot who let him talk to The Washington Post while he was under charges for murder," Richards said. "I mean, come on."
Wood told Newsweek in a Saturday email that Richards "is badly misinformed." He contended a fundraising campaign for Rittenhouse that he was involved with was carried out in compliance with all relevant laws. The lawyer said he was "at a loss to understand" why Richards criticized him, saying there was no "factual basis" for his remarks.
Wood and Pierce fundraised to get Rittenhouse out on bail and then later asked for the funds to be returned, the Milwaukee Journal Sentinel reported. Wood was previously attacked by staunchly pro-Trump GOP Representative Marjorie Taylor Greene of Georgia over the issue.
"People donated money through Fightback Law (Lin Wood) to Kyle Rittenhouse's legal defense. Kyle fired Lin in Dec. People didn't donate to Lin Wood, so why would he want $2M back?" Greene wrote in a post published to her Telegram channel in October. "Only monsters hurt innocent people in their greatest time of need," she added.
Wood dismissed the criticism from the far-right Republican, claiming bizarrely that she was secretly "a communist." Newsweek reached out to Wood for comment on Richards' criticism but did not immediately receive a response.
A spokesperson for Pierce emailed a statement from the attorney to Newsweek late Saturday evening. The spokesperson said that Pierce had legally rejected any entitlement to the funds he helped raise for Rittenhouse's bail.
"Unfortunately, manufactured controversy, such as the social media speculation about the bail money is nothing more than a distraction designed to discredit me, as I prepare to defend many more people who are being abused for political gain," Pierce said.
Along with pro-Trump attorney Sidney Powell, Wood filed a number of election fraud lawsuits challenging President Joe Biden's 2020 victory. He has since continued to promote conspiracy theories about the 2020 election, along with ones about the September 11, 2001 terrorist attacks. He regularly shares pro-Trump and conspiratorial content with his followers via his Telegram channel.
The jury in Kenosha, Wisconsin, found Rittenhouse not guilty of all five first degree felony counts: intentional and reckless homicide, attempted intentional homicide and two counts of recklessly endangering safety. Throughout his trial, Rittenhouse contended that his actions during the August 25, 2020 protest were in self defense.
"I didn't do anything wrong. I defended myself," he said when took the stand on Wednesday to defend himself.
Update 11/20/21, 2:55 PM ET: with comment from Lin Wood.
Update 11/21/21, 9:00 AM ET: with comment from John Pierce and a spokesperson for the attorney.