Prominent Trump supporters attorney Lin Wood and Representative Marjorie Taylor Greene, a Georgia Republican, are feuding in public after Wood accused Greene of being "a communist."
Wood filed multiple 2020 election challenges along with pro-Trump attorney Sidney Powell in the wake of President Joe Biden win. He has gone on to promote various election conspiracy theories. Greene, also a staunch Trump loyalist, has similarly promoted misinformation about the 2020 election.
While their interests may align when it comes to Trump, the two right-wing figures now appear to be starkly at odds with each other.
"In my opinion, Marjorie Taylor Greene is a communist," Wood said in Friday remarks. "If Marjorie Taylor Greene is running around saying 'impeach Biden,' that says that Biden won—he didn't," the attorney said. "And you would never impeach him with a communist Congress. It's a waste of time."
Wood went on to suggest that Greene may be a "traitor."
"A traitor will come at you as a patriot. Be careful," Wood said.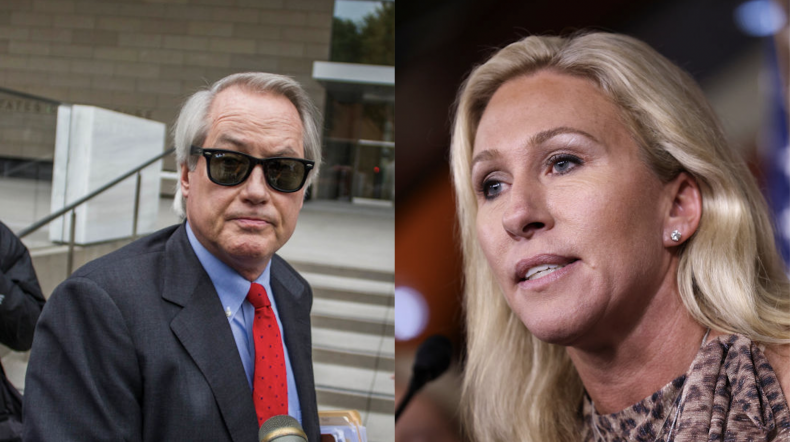 Greene responded on Saturday with an attack of her own. She suggested that Wood attempted to take money donated to his former client, Kyle Rittenhouse. The young man has been criminally charged with fatally shooting two people during a Black Lives Matter demonstration in Wisconsin last year while he was still a minor.
"People donated money through Fightback Law (Lin Wood) to Kyle Rittenhouse's legal defense. Kyle fired Lin in Dec. People didn't donate to Lin Wood, so why would he want $2M back?" Greene wrote in a post published to her Telegram channel.
"Only monsters hurt innocent people in their greatest time of need," she continued. The GOP congresswoman urged followers to donate to a different fundraising campaign for Rittenhouse. Greene then raised questions about the motives behind Wood's actions in the wake of the 2020 election.
"If Lin Wood has fought so hard against the election like he claims, even encouraging people to go in the Capitol on J6 [January 6], why isn't he a target of the J6 witch hunt?" she asked.
"The J6 [House select] committee is only focused on Trump's biggest defenders. But not Lin Wood," Greene wrote.
Wood later posted more criticism of Greene on his Telegram channel. "I love Marjorie Taylor Greene, but I have raised serious concerns about her failure to take meaningful action to FIX 2020," he wrote.
"I believed in Marjorie. Now that I have questioned her failure to act to FIX 2020, it appears that Marjorie no longer believes in me. To the contrary, she has attacked me with lies and misrepresentations," the attorney continued.
"A 'monster???' Are you kidding me???" he asked. Wood then suggested that Greene was becoming part of the so-called "deep state."
"I am also still willing to help her to prevent her from falling into an even deeper Deep State ditch," he wrote.
Newsweek reached out to Wood and Greene's spokesperson for further comment but did not immediately receive a response.
Despite Wood's claim, Greene is not a communist. She has strongly opposed any efforts by Democrats to provide more government funding for a range of social programs. The congresswoman regularly attacks her Democratic colleagues by calling them "communists," although they are not communists either.
Communism calls for all property within society to be publicly owned while everyone is paid and taken care of collectively based on their needs. Nobody within the current federal government is advocating transitioning the U.S. to such a system.