Kyle Rittenhouse Pleads Not Guilty to Shooting 3 People as Kenosha Prepares for Protests
The teenager accused of shooting three people during a protest in Kenosha, Wisconsin, last summer pleaded not guilty on Tuesday.
Two of the individuals allegedly shot by Kyle Rittenhouse—Anthony Huber and Joseph Rosenbaum—died as a result of their injuries, and the third—Gaige Grosskreutz—was injured in the shooting. Rittenhouse was 17 at the time of his arrest for the shootings, which occurred the evening of August 25. He was arrested the next day and charged on August 28.
During a Zoom conference call that lasted less than four minutes, Rittenhouse sat beside his attorney, Mark Richards, who told Kenosha County Court Commissioner Loren Keating that his client was pleading not guilty to all charges.
Those seven charges include first-degree intentional homicide, first-degree reckless homicide and attempted first-degree intentional homicide, according to the Milwaukee Journal Sentinel. Rittenhouse has also been charged with possessing a firearm as a minor, violating a temporary curfew implemented in response to protests occurring the week of the shooting, and two counts of recklessly endangering the safety of others.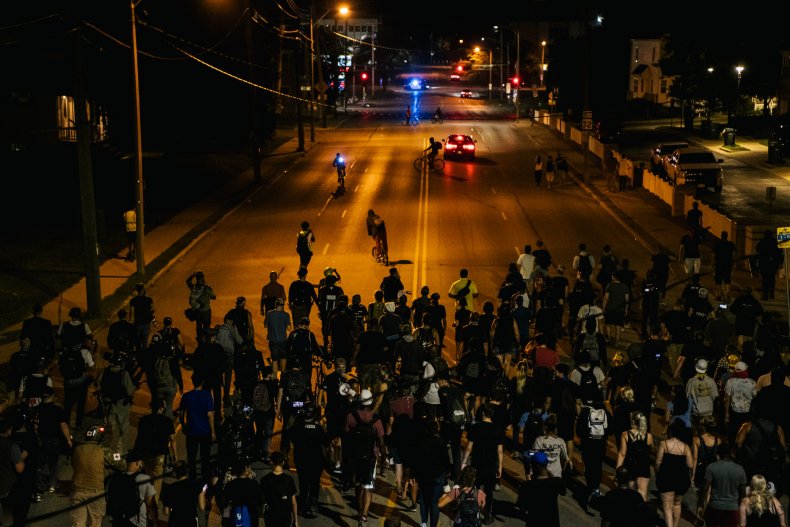 A pretrial conference with Circuit Judge Bruce Schroeder has been set for March 10, and jury selection for Rittenhouse's trial is expected to begin on March 29.
Rittenhouse's lawyers have argued that the teenager acted in self-defense the night of the shootings.
Richards declined Newsweek's request for further comment.
News of Rittenhouse's plea came as law enforcement officials in Kenosha were preparing for a decision about possible charges against a white Kenosha police officer who shot Jacob Blake, a Black man, on August 23. Rittenhouse allegedly shot Huber, Rosenbaum and Grosskreutz during protests that occurred in the aftermath of the Blake shooting.
Kenosha County District Attorney Michael Graveley announced later Tuesday that the officer involved in the Blake shooting would not be charged in connection with the incident. Graveley said during a news conference that he spoke with Blake over the phone before making the announcement and said Blake was "still, on a daily basis, suffering the injuries that he first suffered" in August.
On Monday, Wisconsin Governor Tony Evers said an estimated 500 members of the Wisconsin National Guard would be on hand to assist law enforcement with protests that were expected to occur in response to Graveley's announcement.
"Our members of the National Guard will be on hand to support local first responders, ensure Kenoshans are able to assemble safely, and to protect critical infrastructure as necessary," Evers said in a news release.
The Kenosha Common Council approved an emergency declaration for the city on Monday that was expected to take effect once Graveley's announcement came. The declaration would last for eight days, giving Kenosha Mayor John Antaramian emergency authority during that period.
This story has been updated with additional information, background and news of Kenosha County District Attorney Michael Graveley's announcement regarding the Jacob Blake shooting.