Kyle Rittenhouse Ripped for Posting Video Firing Gun: Come 'Take 'em, Joe'
Kyle Rittenhouse has caused a stir on social media with a clip in which he tells President Joe Biden, "You're not coming for our guns."
On Monday, Rittenhouse posted a video on Twitter, with the caption "Come and take 'em, Joe," showing him firing a machine gun as dozens of shells fall to the floor. After Rittenhouse finishes shooting the gun, he smiles, gives a thumbs up and says, "Joe Biden, you're not coming for our guns."
Rittenhouse's display was denounced by several prominent figures, including a current lawmaker and a former member of Congress.
Arizona Democratic Representative Ruben Gallego wrote in response to the video that "Kyle is not so bright. The weapon he is firing is heavily restricted by the government. Can't take what you don't have."
Former GOP Congressman Joe Walsh, a self-described "huge gun rights advocate" who is now pushing for gun control measures, wrote on Twitter, "Initially, I felt sorry for this kid, and I sincerely hoped he'd get wise counsel from adults and get his life together. I no longer feel sorry for him. And he's not a kid. And he's gone."
The video from Rittenhouse, who recently said during an interview with QAnon influencer John Sabal that "I am a grown man, I do what I want," came after Biden addressed the nation last week and pushed Congress to enact a number of gun reform measures in the wake of the deadly school shooting in Uvalde, Texas, where 21 people were killed.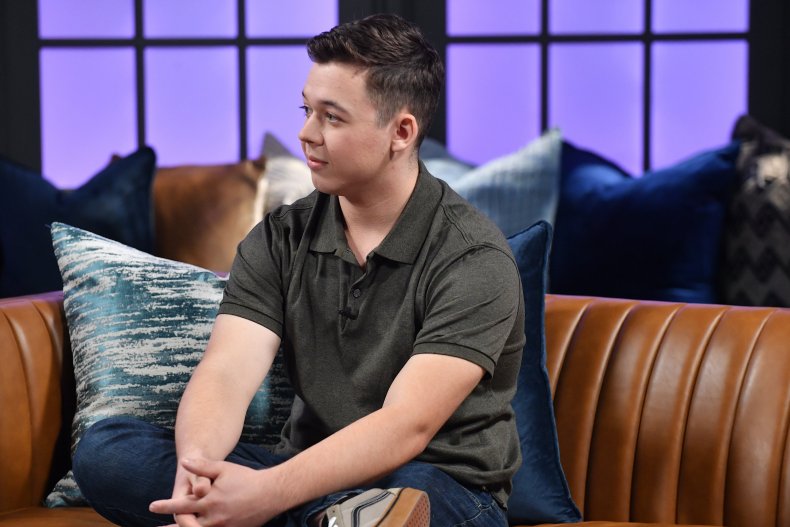 Among the measures Biden advocated in his speech last Thursday evening were a ban on assault-style weapons, improvements regarding background checks on those attempting to purchase guns and increasing the age to buy a firearm from 18 to 21.
Biden, who stated that "enough is enough" when it comes to gun violence, also added that Americans want to go about their daily lives without getting shot.
"The American people aren't asking for much—they just want to go to the grocery store, send their kids to school, go to church, and walk the streets without getting shot down. If the Senate can't meet that basic need, this country is in deep trouble," he said.
Fred Guttenberg, whose daughter was killed in the 2018 Parkland school shooting in Florida, responded that Rittenhouse's video was a threat aimed at Biden and suggested that law enforcement should keep an eye on him.
"This punk ass who I will say killed people and should be in prison (my opinion) is now threatening at @POTUS. Perhaps the @FBI should watch," he wrote.
Andy Campbell, a senior editor for the Huffington Post, wrote that "I remember when Trump directed a bunch of funny-haha violent tweets at his political opponents and the media, and then bombs started showing up at their offices."
MSNBC host Chris Hayes wrote that Rittenhouse's video was "again the [tell-tale] mixture of cringey pathos and menace."
Last year, a jury acquitted Rittenhouse of charges of homicide, attempted homicide and reckless endangerment after he fatally shot two men and injured another in August 2020 in Kenosha, Wisconsin, during protests. Rittenhouse said that he had acted in self-defense.
Newsweek reached out to Rittenhouse for comment.