Why Kylie Jenner and Other Celebrities Get Their Babies' Names Trademarked
The name of Kylie Jenner's 8-month-old baby son may have been worked out, thanks to her trademark applications, but the reality star is just one of many celebrities to get their children's names trademarked.
A TikTok user claimed to have solved the mystery of Jenner's second baby with rapper Travis Scott, 31, after filing through her trademark applications.
The mystery surrounding Jenner's baby name has grown since the reality star and makeup mogul, 25, revealed in March that the couple decided to change their son's name, just one month after his birth.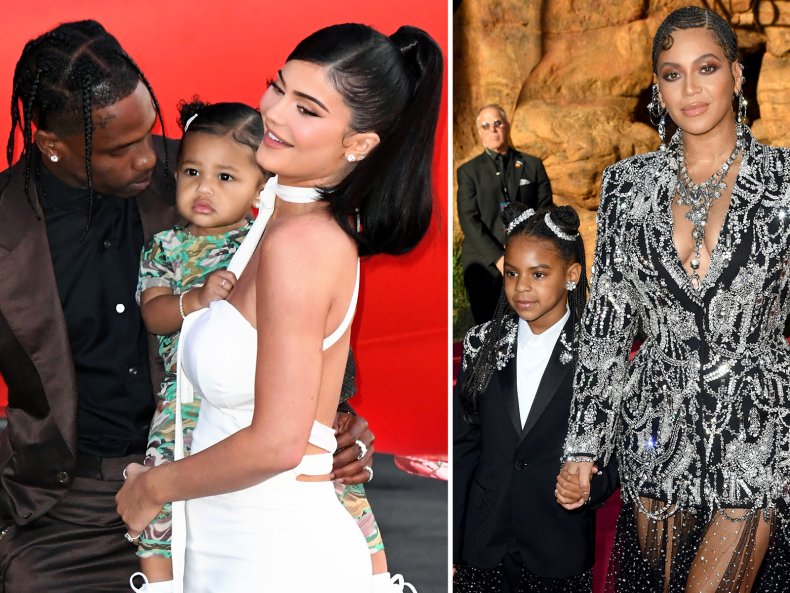 A trademark can apply to any word, phrase, symbol, design, or a combination of those things that identifies commercial goods or services, according to the United States Patent and Trademark Office (USPTO).
Celebrities will often trademark their own names to be able to sell products with their names associated, or at least prevent others from cashing in on them.
Jenner's son had been named Wolf, but the TikTok creator Juuls found a trademark for her other child, daughter Stormi, 4, and then another trademark for the name Kristan.
"Yes, this is Kylie's middle name, but this was filed 13 days after her baby was born," Juuls said in the video, which has 4.3 million views.
"And you might say, 'Oh, that's reaching,' then I found this," she said, before pointing to a trademark filing for "Kristan Wolf Enterprises."
Jenner's other siblings have registered their children's names, including Kim and Khloe Kardashian.
Another celebrity couple who were quick to protect their babies' names are Beyoncé, 41, and Jay-Z, 52, who have trademarked the names of all their three children, Blue Ivy, 10, and twins Rumi and Sir, five.
The couple won the right to trademark Blue Ivy Carter in 2020, only after two other applicants tried to register a trademark under that name.
Those cases were thrown out by the USPTO because the couple could not prove an affiliation with the trademark.
The couple were also involved in a legal battle with Veronica Morales, who in 2017 launched her event-planning business Blue Ivy Company.
Morales sued the couple over the trademark, saying the name was too close to that of her company.
She even accused Beyoncé of lying about her trademark application, saying that the singer had no intention of using it for commercial purposes.
The USPTO dismissed Morales's case, finding no evidence of fraud or the likelihood of confusion between the two brands.
Celebrities trademark their children's names to use on a range of products from clothing, fragrances and even keychains, but they may also want to register them to stop others from profiting off their offspring.
"People wanted to make products based on our child's name, and you don't want anybody trying to benefit off your baby's name," Beyoncé told Vanity Fair magazine in 2013.
Jenner herself lost a battle with Australian pop star Kylie Minogue, 54, over the rights to their shared first name in the U.S.
Minogue moved to block Jenner from registering the trademark "Kylie," with the singer's lawyers describing her as a "secondary reality television personality" in the 2016 lawsuit.
Jenner had applied to trademark "Kylie" for use in "advertising and entertainment," but Minogue's legal team said the trademark would cause confusion in the marketplace and "dilute her brand."
Minogue won the lawsuit in 2017 and said it was "nothing personal" against Jenner, describing it as "just business."
"When I was named Kylie, I think I met one person older than me called Kylie. So it's kind of unusual," she said on an episode of Watch What Happens Live with Andy Cohen on Bravo TV.
"I've spent a lifetime protecting my brand and building my brand, so it was just something that had to be done."
Minogue said the teams "had come to an agreement" on the matter.