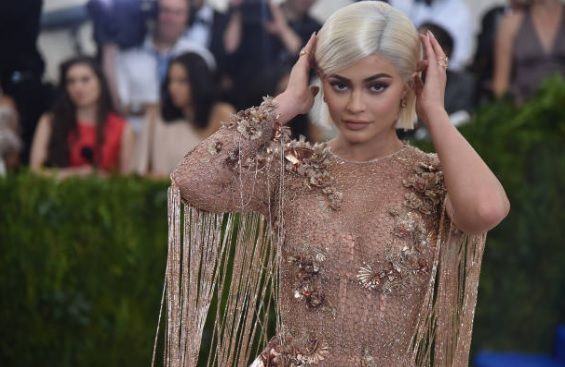 Updated: Keeping Up With the Kardashians star Kylie Jenner has essentially been in hiding for months, with the internet rumor mill claiming she was pregnant with boyfriend Travis Scott's baby. Jenner never denied or confirmed the allegations, but speculation arguably reached its peak when she didn't appear on the Kardashian Christmas card. Most fans assumed she was waiting for Monday to announce she was expecting, especially since sister Khloé Kardashian confirmed her pregnancy days earlier after evading hordes of stories.
On Tuesday, apparent proof emerged when an amateur paparazzo from Snapchat captured Jenner attending her best friend's birthday in September. Jordyn Woods turned 20 and posed under a sign with her name.
The blurry pictured showed a woman at Woods' party who looked like Jenner. She was wearing a black sweatshirt and eating a dessert. The person appears to have a baby bump.
At the time the secret photo was taken, Jenner was supposedly 5 months pregnant.
It's unclear if the photo is authentic. Further, it's unknown if the person in the photo is the lip kit makeup maven.
Even though the picture was taken it September, it went viral on Twitter after several social media users posted it. Netizen @salruffino was seemingly the first to publish the image, though he didn't take credit for snapping it.
"Honestly God bless whoever papped this photo of pregnant Kylie Jenner [because] now it can end this ridiculousness," he wrote. "ALSO its kinda cute that she's keeping this sacred and precious, shows she's really taking it seriously. She doesn't owe any of us any information about her baby."
The Twitter user wanted recognition for making the post go viral. "Omggg this tweet be popppin' oafff tho," he tweeted. "Honestly if Kylie Jenner doesn't know who I am after I exposed her pregnancy to 60,000+ people then idk what more i can do, other than be the baby that pops out on the big day and i'm working on some pretty big rituals to get me there so."
Jenner, 20, hasn't gone to a public event since attending the iHeartRadio Music Festival at T-Mobile Arena on September 23 in Las Vegas. Before that, she was last seen at Madame Tussauds Hollywood on July 18 in Los Angeles when her wax figure was revealed. Her last major event of the year was at the "Rei Kawakubo/Comme des Garcons: Art of the In-Between" Costume Institute Gala at Metropolitan Museum of Art on May 1 in New York.
Jenner appeared in photos from the private Kardashian Christmas party, including multiple black-and-white shots of she and Scott taken in the family photo booth. In most of the images, the rapper hid from the camera. The pictures, taken from the chest up, so it was impossible to determine Jenner's condition.
According to TMZ, Jenner is pregnant with a baby girl and due in February.
Jenner did not immediately issue a response about the viral photo. However, publications like People magazine and Us Weekly have already started referring to her as "pregnant Kylie Jenner."
This story was updated to include information about Jenner attending the Kardashian Christmas party. The pictures from the photo booth were released on Wednesday.