Kylie Jenner's 'Tone Deaf' Video of Travis Scott Sparks Astroworld Backlash
Travis Scott had his first major arena show since November's Astroworld tragedy last weekend at London's O2 Arena, playing two nights to sold-out crowds. His partner, Kylie Jenner, and daughter Stormi, 4, were in attendance, as were Scott's friends and NBA stars Kevin Durant and James Harden.
Jenner posted video of Travis celebrating backstage after the show but took it down after some viewers called it out as insensitive and tone deaf.
Many were quick to accuse Scott and Jenner of being insensitive to the victims of Astroworld. Others criticized Jenner for posting photos of herself with Travis and Stormi at the concert, alleging that she was trying to paint him as a "family man" to distract from the tragedy.
Houston's hometown hero, Scott saw the legacy of his Astroworld music festival—and potentially his entire career—go up in flames after hundreds of people suffered injuries and 10 died in a crowd crush at the November 5, 2021, concert at NRG Park.
Scott has remained mostly silent since the event—a judge implemented a gag order—as thousands of lawsuits against him and promoters, including Drake, have been filed. The Houston Police Department and FBI opened a joint criminal investigation.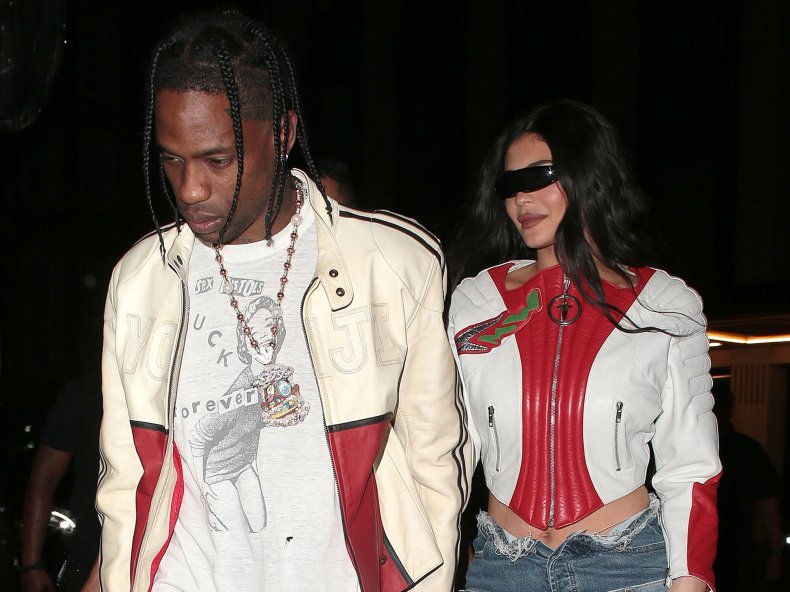 It's not the first time Jenner has been called out for posting allegedly insensitive video related to Astroworld. She famously shared to her Instagram a video of the crowd in real time during the event, with an ambulance clearly in view in the footage.
The next day she posted a statement to Instagram, saying, "Travis and I are broken and devastated. My thoughts and prayers are will all who lost their lives, were injured, or affected in [any way] by yesterday's events. And also for Travis who I know cares deeply for his fans and the Houston community. I want to make it clear we weren't aware of any fatalities until the news came out after the show and in no world would have continued filming or performing."
After Astroworld, Scott posted on Twitter, "I am absolutely devastated by what took place last night. My prayers go out to the families and all those impacted by what happened at Astroworld Festival."
He added, "Houston PD has my total support as they continue to look into this tragic loss of life" and "I am committed to working together with the Houston community to heal and support the families in need. Thank you to Houston PD, Fire Department and the NRG Park for their immediate response and support."
He also created Project HEAL, an initiative described on its website as a "multi-tier, long-term series of community focused philanthropy and investment efforts." (It is not to be confused with Project HEAL, a nonprofit focused on eating disorders that was founded in 2008.)
Newsweek reached out to reps for Scott and Jenner for comment.