Kyrie Irving Owes It to Black People to Set a Good Example—and Trust the Science | Opinion
The first game of the 2021 NBA season is on Tuesday night, when the Milwaukee Bucks take on the Brooklyn Nets. But what should have been an exciting rematch for the two teams that faced off last year for the Eastern Conference semifinals is being overshadowed by a COVID scandal: One of the league's biggest players, Kyrie Irving, is refusing to get the vaccine, and will thus have to sit out the game.
This is not just another news story for me. As a Black man, it's personal. After all, Black people have been the group hit hardest by the pandemic: Black Americans have died of COVID-19 at 1.4 times the rate of white people. Though our vaccination rates are picking up, we lag behind other racial groups.
This makes Nets star Kyrie Irving's public refusal to get vaccinated all the more perplexing: He's one of the few holdouts in the league, where 95 percent of players have been inoculated. Because of his failure to get the shot, Irving has been ruled ineligible to play or even practice with the team, thanks to the Nets' managers' decision to follow the New York City vaccine mandate.
Much has been made about the impact of Kyrie's decision to remain unvaccinated on his teammates. That's important: Irving's absence is putting the team's championship hopes in danger. But less has been said about another aspect of his decision—the fact that it's giving oxygen to dangerous vaccine recalcitrance, which will disproportionately impact Black Americans, like many of Irving's own fans. And he owes a debt of service to them, to the millions of young Black people who look up to him as a cultural hero.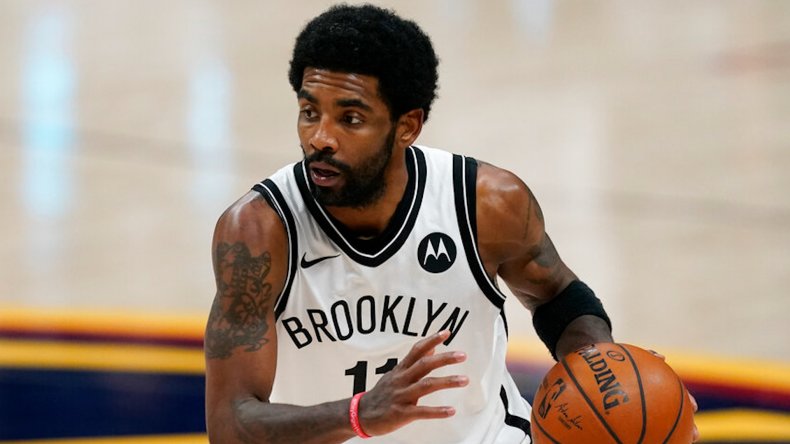 These are the young people who wear his jerseys, buy tickets to see him play and populate his Instagram feed with comments every time he plays. They're also one of the least vaccinated groups in the country: A recent study of city data found that less than a third of Black New Yorkers ages 18 to 44 years are fully vaccinated. Among the reasons cited by Black vaccine holdouts was a mistrust of government that's partly borne of our experience with the public health systems in America. Vaccine misinformation that has targeted Black communities is also a factor.
And it's here where celebrities and athletes like Kyrie Irving can have a huge impact. Kyrie reaches twenty million people on Instagram and Twitter. This gives him a wider reach than many media outlets. He could be using his platform to save lives; instead, he's using it to promote conspiracy theories that will cost them.
Irving has framed his vaccine resistance as a preference that's a private matter for him alone. But the truth is that his decision has a direct impact on his teammates and the larger Black community when he causes people to doubt the efficacy of vaccines that have been proven to be so good at saving lives.
Unfortunately, Kyrie is only the most recent example of a celebrity spreading COVID misinformation. Last month, rapper Nicki Minaj made headlines for tweeting a rumor that her cousin's friend had become impotent after being vaccinated. So viral did her tweets go that the White House and the Trinidadian government were forced to refute the falsehood. And actor Letitia Wright shared an anti-vax video on social media in December—which was doubly ironic given that Wright plays the scientific genius Shuri in the movie "Black Panther."
It's disappointing to say the least. One of the prices of fame is that it matters what you say. It mattered when Kyrie said,"I'm willing to give up everything I have" for racial justice as protests erupted after the murders of George Floyd and Breonna Taylor by police. And it matters today when he tries to play off vaccine refusal as a personal choice that has no impact on his team and the wider community.
People who care about the Black community should be spreading the thing that will save our lives, not spreading misinformation about it.
In an Instagram livestream, Kyrie said "I chose to be unvaccinated, and that was my choice. And I would ask y'all just to respect that choice."
But there's famously no "I" in team, and personal choice reaches its limits when it can have negative consequences for other people.
Kyrie and other Black celebrities owes it to the Black people who have made them rich and famous to ask better questions and trust the science.
In his livestream, Irving also said "I came into the season thinking that I was just gonna be able to play ball, you know, be able to use my talent to continue to inspire, influence people in the right way." He still has a chance to be that inspiration for Black people by being a team player, getting vaccinated, and using his platform to encourage others to do the same.
Michael Crawford is a New York-based activist who writes about race, identity and culture. Follow him on Twitter @dmcrawford.
The views expressed in this article are the writers' own.