Kyrsten Sinema Approval Rating Struggles Amid Inflation Reduction Act Fight
As the Senate continues to fight over how to get President Joe Biden's economic agenda passed, Democratic Senator Kyrsten Sinema—who has yet to back the legislation—is struggling among her constituents.
A new Courier Newsroom/Data for Progress poll released this week found that nearly half of likely Arizona voters, 48 percent, disapproved of her performance as senator, including 57 percent of voters in her own party.
The poll, which was conducted between July 22 and 29, found that only 42 percent of voters, and only 34 percent of Democrats, approved of the job Sinema is doing in Congress. Ironically, her highest approval rating is among Republican voters—a demographic that sees more voters approving of the senator, 47 percent, than disapproving, 41 percent.
Her low approval ratings come on the heels of Senator Joe Manchin and Senate Majority Leader Chuck Schumer's announcement of the Inflation Reduction Act. Manchin, the other moderate swing vote in the party, was able to reach a deal with his fellow Democrats on July 27, but Sinema was left out of the last-minute negotiations.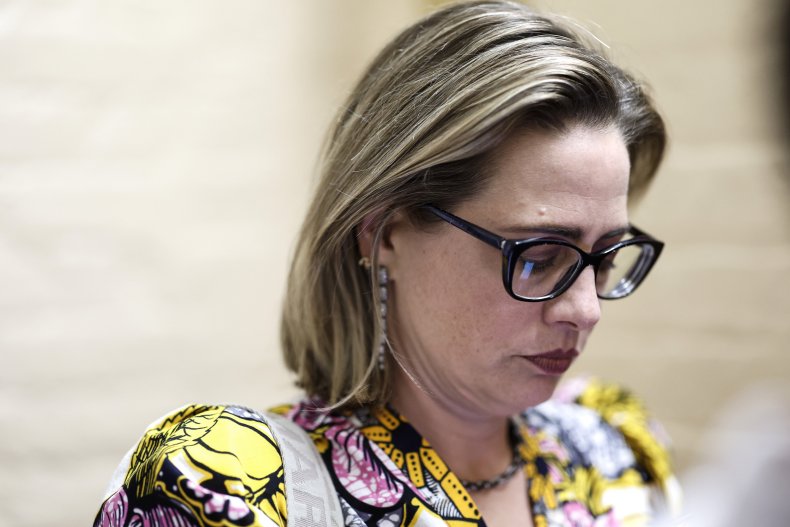 All eyes are on Sinema, who is the one senator standing in the way of the bill. So far, the senator has refused to weigh in on whether she'll back the deal as the measure undergoes review by the Senate parliamentarian.
Her record of obstructing the Democrats' agenda and refusing to reform the filibuster has made her increasingly unpopular in Arizona, where voters under 45 disapprove of her by a 20-point margin, according to the new poll.
In comparison, Arizona's other senator, Democrat Mark Kelly, has a 54 percent approval rating, including 91 percent of Democrats and 57 percent of independents.
Sinema has struggled to remain favorable among voters of her own party for some time now. A January poll found that only 16 percent of Democrats would vote for her in a 2024 primary, should she choose to seek reelection.
In a hypothetical head-to-head, 58 percent of voters would cast their ballot for progressive Representative Ruben Gallego, who has been rumored to be considering a Senate run when Sinema's term is up.
Senate Republicans are preparing to go after Sinema to derail the Democrats' plan, which would require the support of every member of the party.
Speaking to The Hill on Tuesday, Senator John Thune, the second-ranking Republican in the upper chamber, said, "We're going to argue to her, and everybody else for that matter, that it's just that this is a bad time with inflation and a wobbly economy to be raising taxes."
In an interview with MSNBC, Manchin said he had a "nice conversation" with Sinema on her concerns over the bill, but that ultimately, "she'll look at all of this and make her own decision."