Senate Democrats have finally found an opportunity to address climate change and health care through the sweeping tax reform bill they are trying to get onto President Joe Biden's desk—but their Republican counterparts have a plan to derail the bill's passage.
Republican senators are preparing to introduce a number of amendments and objections once the Senate parliamentarian finishes reviewing the Inflation Reduction Act, and are hoping those last-minute changes will slowly turn Democrats, one by one, against the final package.
"We're going to try and walk through the amendment process. Get as many votes on amendments that make it more difficult for Democrats to be for it in the end," Senate Minority Whip John Thune told The Hill on Tuesday.
Democrats are attempting to go around the GOP filibuster by using the budget reconciliation process, but it will require everyone in the party to fall in line. And Arizona Senator Kyrsten Sinema, one of the Democratic Party's two swing votes, has yet to back the bill.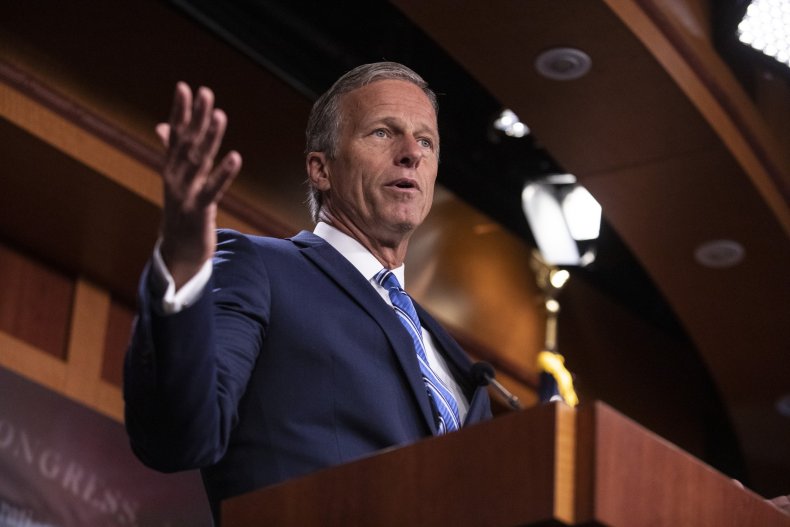 The other moderate senator, Joe Manchin, who helped craft the package, announced the deal alongside Senator Majority Leader Chuck Schumer last week.
"The last time we did reconciliation, I think there were over a thousand amendments filed," Republican Senator Roy Blunt of Missouri told The Hill.
"This bill shouldn't pass and become law. It's going to cause a lot of pain for the American people. I don't care about what pain it may cause members of the Democratic Party," Senate Republican Chair John Barrasso added.
Democrats are waiting to see if Sinema will agree to close the carried interest loophole that benefits a handful of the richest Americans. The loophole allows certain profits pocketed by asset managers to be taxed at a lower rate than ordinary income. It is estimated that closing the loophole would raise $14 billion over 10 years.
But last year, the Arizona Democrat opposed such a move.
Both sides of the aisle are trying to court Sinema in hopes that she will either make or break the legislation, which Democrats say would raise an estimated $739 billion in revenue and bring down the country's deficit by $300 billion.
"We're going to argue to her, and everybody else for that matter, that it's just that this is a bad time with inflation and a wobbly economy to be raising taxes," Thune said.
Schumer has also reached out to Sinema amid concerns that she could torpedo the package.
"I don't speak for Senator Sinema, but obviously she's reviewing the bill and will have something to say about it soon," Democratic Senator Chris Murphy of Connecticut told The Hill last week. "I'm always hopeful."