Kyrsten Sinema, Decisive Vote on Spending Bill, Targeted in New Arizona Ad
Arizona business groups are pressuring Senator Kyrsten Sinema to provide the decisive vote against congressional Democrats' unexpectedly revived package of tax reforms and domestic spending.
The National Association of Manufacturers (NAM) along with Arizona-based business groups have created an advertisement that's a thinly veiled effort to persuade the moderate Democrat from Arizona that the deal would hurt her home state. The ad plays on economic anxieties in a push to sink the slimmed-down version of the spending legislation, which Democrats have an increasingly narrow window to pass as the midterm elections draw near.
The ad was produced by NAM along with the Arizona Chamber of Commerce & Industry and the Arizona Manufacturers Council. It begins with a voiceover describing how manufacturers are driving the state's economy despite "historic worker shortages and cost increases."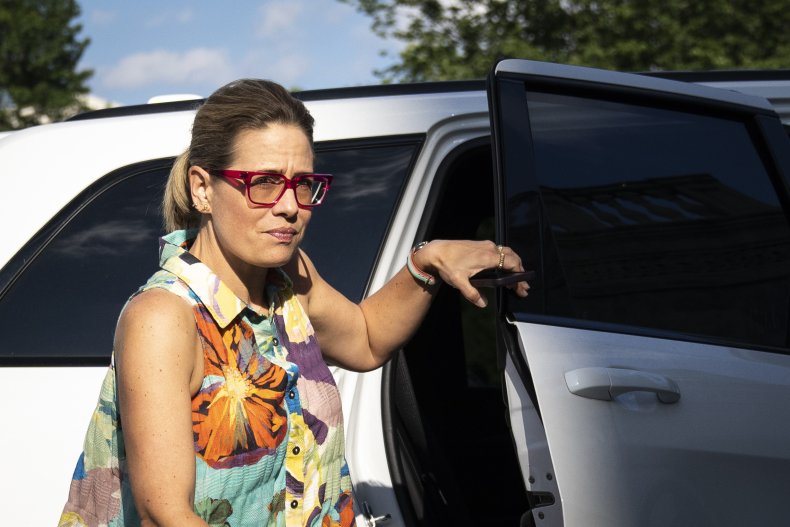 "Now, Congress is threatening to raise taxes on Arizona businesses," the voiceover continues. "Taxes won't strengthen supply chains, promote energy security or fill vacant jobs."
The ad urged viewers to tell their representatives and senators "to say 'no' to taxes that will devastate Arizona manufacturers." While the ad didn't mention her by name, it was likely directed at Sinema, whose support for earlier versions of the legislation has been uncertain.
Senate Democrats intend to pass the bill on a party-line vote using a budgeting procedure called reconciliation, which doesn't require the 60 votes the chamber normally mandates. Relying on reconciliation means Democrats can't spare a single defection in the 50-50 chamber. Foes of the legislation are hoping to get Sinema, who has been hesitant about raising taxes, to finally spike the bill that's central to President Joe Biden and congressional Democrats' agenda.
Democratic Senator Joe Manchin of West Virginia, a key holdout, announced last week that he had struck a deal with Senate Majority Leader Chuck Schumer of New York on a renewed version of the bill.
Recast as the Inflation Reduction Act of 2022, the rebranded legislation was aimed squarely at voters who've increasingly identified record inflation as their chief concern going into this fall's midterm elections.
Proponents of the bill say it would ease inflation by lowering the national deficit, while allotting $369 billion for energy security, another $64 billion for a three-year extension of an Affordable Care Act program, and allowing Medicare to negotiate prescription drug prices.
"Simply put: It will save lives, create jobs, and reduce costs," Schumer said in a tweet Monday.
To pay for this spending and deficit reduction, the legislation relies on better IRS enforcement, closing the "carried interest loophole" and a 15 percent minimum corporate tax.
NAM has pointed to a recent analysis by the Joint Committee on Taxation, a nonpartisan congressional agency, that concluded the tax would fall heavily on manufacturers. According to NAM's summary of the analysis, by 2023, the legislation would result in a real GDP reduction of $68.45 billion, 218,108 less workers in the overall economy and a labor-income drop of $17.11 billion.
"The negative implications of the tax and drug pricing provisions of the bill are too damaging to pass it in its present form," said Danny Seiden, president and CEO of the Arizona Chamber of Commerce & Industry, said in a statement.
Newsweek has reached out to Sinema for comment.