With Kyrsten Sinema's Election, LGBT Representation in Congress Hits Double Digits
With Democratic representative Kyrsten Sinema officially declared as the next Democratic senator of Arizona on Monday, the number of LGBT members set to serve in the 116th Congress has hit double digits.
Sinema is set to become the country's first openly bisexual senator, in addition to becoming Arizona's first female senator in a victory that Human Rights Campaign president Chad Griffin has heralded as a rejection of "Donald Trump and Mike Pence's politics of bigotry and fear."
"Arizona voters...made history by electing bold pro-equality champion Kyrsten Sinema as the first openly bisexual U.S. Senator," Griffin wrote in a statement shared online.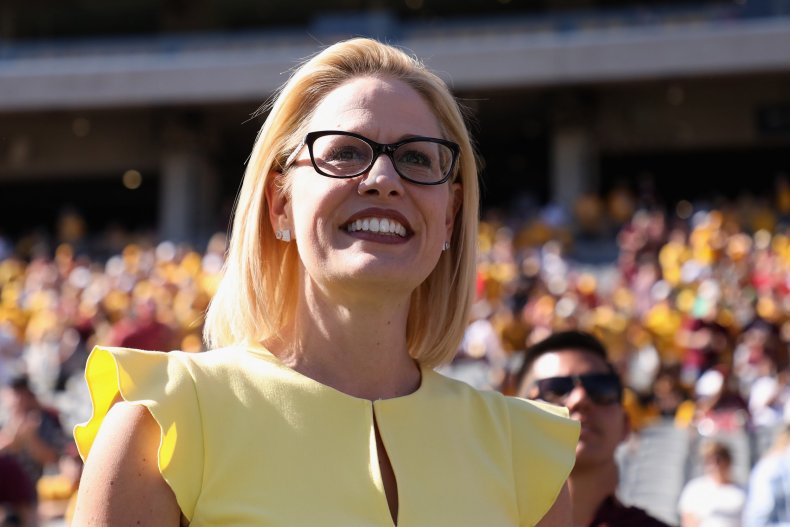 Sinema will join Senate as its second openly LGBT member, with Democratic Senator Tammy Baldwin of Wisconsin winning her re-election race in Wisconsin, a state that President Donald Trump carried two years ago.
In 2012, Baldwin made history by becoming the first openly gay person elected to Senate, in addition to being the first woman elected to represent Wisconsin in Congress.
With their election victories, as well as those of eight LGBT House members, the 2018 midterm elections have seen a significant rise in LGBT representation in government.
The other eight LGBT House members elected, who are all Democrats, include:
Sharice Davids, who is also one of the first Native American women elected to Congress
Chris Pappas of New Hampshire
Representative Sean Patrick Maloney, who is the first openly gay member of Congress elected by New York
Representative David Cicilline of Rhode Island
Representative Mark Pocan of Wisconsin
Representative Mark Takano of California
Representative Angie Craig of Minnesota
Katie Hill of California, a first-time candidate who ousted Republican Steve Knight, who was seeking a third term
Democratic Representative Jared Polis, who is openly gay, will be moving from the House to claim the governor's mansion in Colorado in January.
According to the Victory Institute, there are more than 580 LGBT elected officials nationwide, with more than 300 LGBT candidates having won local races.
Read more: From Alexandria Ocasio-Cortez to Ilhan Omar, 10 women who will change America
The rise in LGBT representation in Congress comes alongside a number of other historic victories in last week's midterm elections.
This year, voters elected a record-breaking number of women to Congress, with more than 100 women elected to the House of Representatives, shattering the previous record of 84.
The U.S. also saw the election of the country's first Muslim and Native American women to Congress with the midterm election victories of Democrats Rashida Tlaib and Ilhan Omar, the first Muslim women to be elected, and those of Davids and Deb Haaland, the first Native American women to join Congress, in addition to a number of other firsts.