L.A. Firefighters Reluctant to Get COVID Vaccine Offered Prizes as Incentive
To encourage reluctant firefighters to get the COVID-19 vaccine, the Los Angeles Fire Department (LAFD) is offering raffled prizes for those who are willing to get the shot.
Among the prizes are gift cards for Airbnb and Lyft, Canary home security cameras, Google Nest entertainment systems, and Aventon fixed-gear bicycles, the Los Angeles Times reported.
"I strongly encourage all members to take advantage of the Department's COVID-19 vaccination program for their own protection, as well as that of their families and the public we serve," Fire Chief Ralph Terrazas wrote in a memo describing the incentive program.
The gifts are being funded by the LAFD Foundation, a nonprofit that raises money to support the department. The program is meant to target those who have expressed reluctance toward the vaccination effort at a time when reports show that significant numbers of front-line workers in L.A. have so far refused to get inoculated.
According to public health officials, between 20 and 40 percent of L.A. County front-line workers who were given priority access to a COVID-19 vaccine have declined to take it. In some hospitals, up to 50 percent of the staff has refused to get vaccinated.
So far, the trend seems to be affecting firefighters in the same way. Only about 1,000 out of 3,400 were vaccinated during the first week that firefighters were able to receive the shot.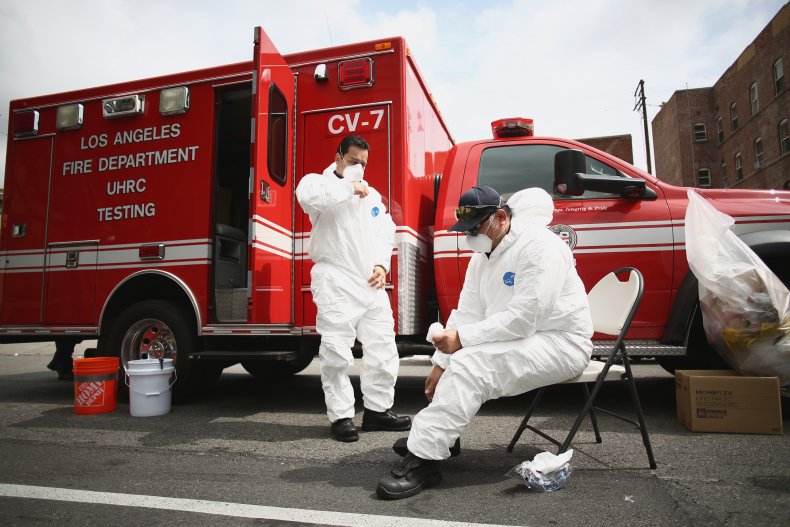 "The Fire Department is a reflection of society," Terrazas told the Los Angeles Times. "There are some people who are reluctant because of fear of the unknown."
Firefighters are among the highest risk groups for coronavirus infection because of their work responding to 911 calls and delivering patients to emergency rooms.
Throughout the county, there have been over 670 coronavirus infections among firefighters, along with a dozen hospitalizations and two deaths. Last week, Terrazas and leaders of the firefighter unions were vaccinated on camera to encourage the efforts.
The fire chief told the Los Angeles Times that if vaccine participation remains low over the next few weeks, he would consider making the shot mandatory.
"I would rather have voluntary compliance," Terrazas said, adding that "at the end of the day, there is the possibility of a mandate."
Health care officials have repeatedly warned that if too many Americans refuse to get vaccinated, the coronavirus pandemic could stretch on indefinitely.
Speaking to Newsweek on December 30, Dr. Anthony Fauci, the nation's leading infectious diseases expert, said that around 70 to 85 percent of Americans will need to be vaccinated to see a "dramatic decrease" in cases.
Fauci added that it is "very important to get the overwhelming majority of the people vaccinated." He warned that the country could otherwise be left in a "chronic state of a lower level of infection."
L.A. front-line workers' refusal to be vaccinated comes as the county experiences the worst coronavirus outbreak in the country.
"Hospitals are declaring internal disasters and having to open church gyms to serve as hospital units," L.A. County Supervisor Hilda Solis said, according to CNN. "Our health care workers are physically and mentally exhausted and sick."
Every 15 minutes, someone in the county dies from COVID-19. The situation has become so dire that hospitals have had to turn away ambulances seeking to drop off new patients.
As of Tuesday, there have been at least 827,498 coronavirus cases and 10,850 deaths in L.A. County, according to data from Johns Hopkins University.
Newsweek reached out to the LAFD Foundation for additional comment but did not hear back in time for publication.