A group of anti-mask protesters were met with opposition or refused entry into stores as they staged a demonstration against coronavirus safety protocols in Los Angeles.
The protesters live streamed their antics as well as being followed by local reporters as they made their way through the Westfield Century City mall on January 3.
Among some of the videos posted on social media from the protest include a number of physical and verbal altercations and one of the organizers appearing to be detained by police.
One of those taking part in the protest, Shiva Bagheri, described those taking part as "freedom lovers" in a clip streamed on Facebook Live.
"All about control, this has nothing to do with a deadly virus... because a mask does not protect you from a deadly virus," Bagheri said, disputing guidelines from health experts and scientists which have been imposed across the world amid the pandemic.
The protester also falsely claims you cannot spread the virus if you are asymptomatic.
Elsewhere, one protester, who is seen wearing a mask but not over his nose and face, claims he does not need to cover his face as he tested negative for COVID-19. He then calls one shopper confronting him a "mask Nazi."
Several of the protesters are also seen chanting "no more masks" while storming through a Bloomingdales at the Century City Mall. Outside the store, some of the protesters were spotted dancing to the Village People's track "YMCA", with some changing the chorus to sing "MAGA."
In what reporter Emily Holshouser described as "one of the more intense moments" a protester seemed to dismiss concerns after being told by a woman that her mother was in hospital with COVID-19 with "that's life."
The woman, who claimed to be a doctor, can be seen angrily yelling at the "morons" protesting before later saying "I hope that you get it." The protesters then suggest that the woman hoping they get the virus shows that she is not a doctor after all.
The woman then continues to shout and insult the protesters before yelling "my mother is in the hospital with COVID, you a*******."
"A lot of people are," one male protester can be heard responding off camera. "That's life. People die. Your father's not special."
An eyewitness tweeted a clip appearing to show the "main disruptor" of the protest being detained after a physical altercation with a mall shopper.
It is unclear how many more people were detained during the demonstration. The LAPD has been contacted for comment.
Under California law, people must wear a mask when outside of their home in order to protect against the virus which has killed more than 26,000 people in the state, which includes 585 coronavirus deaths recorded in a single day on January 1.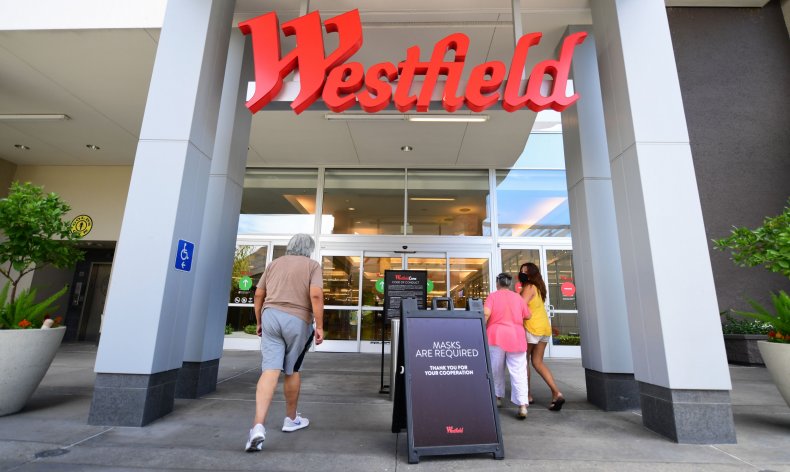 About the writer
Ewan Palmer is a Newsweek News Reporter based in London, U.K. He joined Newsweek in February 2018 after spending several years working at the International Business Times U.K., where he predominantly reported on crime, politics and current affairs. Prior to this, he worked as a freelance copywriter after graduating from the University of Sunderland in 2010. Languages: English.
You can get in touch with Ewan by emailing e.palmer@newsweek.com.