Police Identify 'Lady in the Fridge' Cold Case Victim After 30 Years
The body of a woman known as "the lady in the fridge" has finally been identified almost 30 years after her brutal murder.
Detectives working on the cold case managed to use DNA analysis to reveal the victim was Amanda Lynn Schumann Deza, a troubled Californian woman who had disappeared decades before but had never been reported missing. "Today, she gets her name back," police tweeted.
The young mom was 30 years old when she was attacked and killed by a blunt force trauma to her head 27 years ago. At the time, there had been speculation she may have been a victim of notorious serial killer Terry Peder Rasmussen.
Deza's badly decomposed body was found in 1995 by someone who was searching for cans and bottles to recycle when they stumbled across a partially submerged refrigerator in the Whiskey Slough irrigation canal, in Holt, California. Police assigned to the case at the time said the then-unknown woman had been stuffed in the fridge which was dumped and had sat undiscovered for about six months. She had no identification on her, and there were no relevant missing person reports.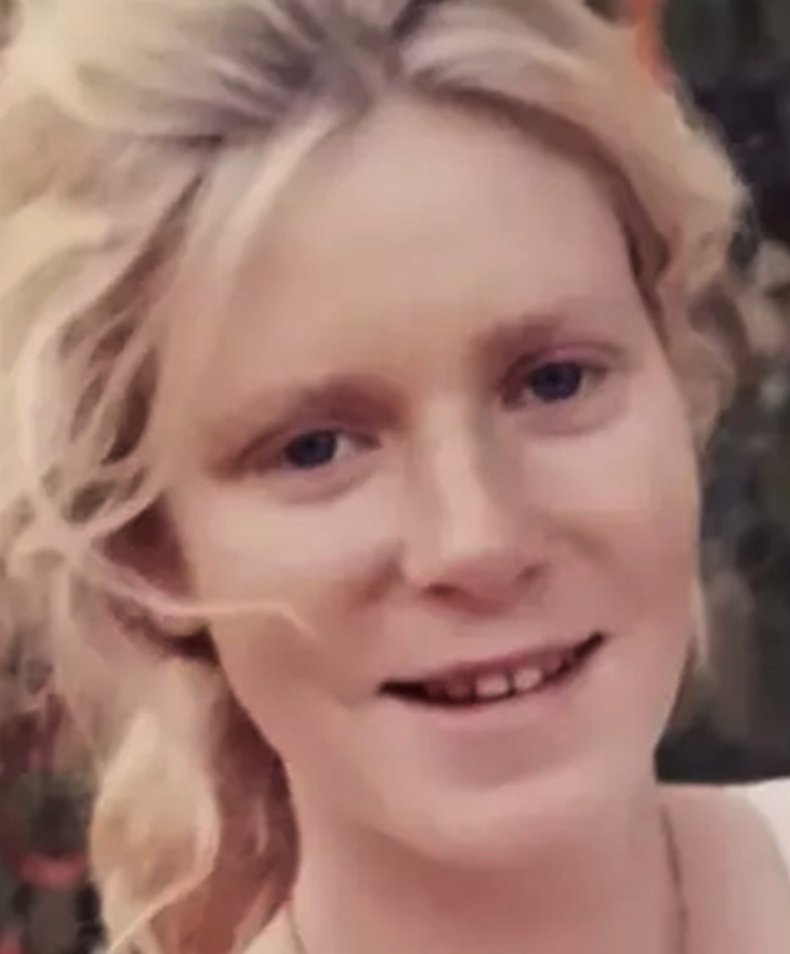 Now, nearly three decades later, and after numerous scientific advances, the San Joaquin County Sheriff's Office has finally made a breakthrough in the case, identifying Deza and notifying her next of kin—her bereaved mother and children.
Skeletal samples were sent to Othram, a private forensic laboratory, which used a combination of DNA testing and genealogy analysis to crack the case and identify possible living relatives. Detectives were then able to match Deza's DNA sample to those provided by her mother and daughter.
A statement issued by the lab last week explained: "Skeletal evidence was sent to Othram's lab, where Othram's forensic scientists developed a DNA extract and used Forensic-Grade Genome Sequencing to build a comprehensive DNA profile for the unknown female. In addition, Othram's in-house genealogy team used forensic genetic genealogy to produce investigative leads, which were returned to San Joaquin County Sheriff's Office Investigators.
"A follow-up investigation contacting the victim's possible mother and daughter was made. They provided their DNA sample to compare, confirming the identification of Amanda Lynn Schumann Deza, born August 11, 1965.
"Now that Amanda has been identified, we are looking for clues to her disappearance. We know that Amanda was separated from her husband and had three young children at the time of her disappearance. Speaking with the family, she was last seen at an unknown apartment complex in the city of Napa with an unidentified male she met in a rehabilitation facility."
In a press conference, San Joaquin Sheriff Patrick Withrow described the murder as one of those cases "that just stays with you." He said the cold case team has continued to pursue justice for the unknown woman and said he felt pleased to "give her her name back; her name is Amanda."
"We've spoken to several family members," the Sheriff added. "They're grateful that we've identified her. But they're cautious. They were obviously shocked by the news, but they too are hopeful that we can find get some sort of resolution for them."
He appealed for anyone with information about Deza's murder to come forward—but also urged those who had any knowledge about Deza's life, her relationships, and friendships, to contact police. "Let us judge whether it's important or not important," he said.
Anyone with information should call 209-468-5087 anonymously or email coldcase@sjgov.org.
Deza had previously lived in various places across California, including Napa, Oakley and Delta. She had been facing some "challenging times" in her life when she disappeared, said Lieutenant Linda Jimenez, who oversees the Cold Case Unit, although she did not reveal what those challenges were. San Joaquin County Deputy Sheriff Nick Goucher later confirmed to Newsweek that Deza had been "struggling with addiction."
San Joaquin County District Attorney Ron Freitas praised the police for their work and added: "After decades, we can begin to bring justice to Amanda's family. However, this case is far from being closed, and justice is far from being served. I look forward to prosecuting, to the fullest extent of law, the coward that committed this heinous act."
San Joaquin County Assistant Sheriff John Huber has previously said that he feared the "lady in the fridge" may have fallen victim to serial killer Rasmussen, who killed at least six people and died, aged 67, in prison in California in 2010.
Huber told the TV show 20/20: "It well could be Terry. It well could be somebody else. But, I think until we know her identity, we're not going to solve the case."
However, police at the press conference did not speculate about Deza's killer or say whether Rasmussen was considered a suspect.
Goucher told Newsweek: "Regarding any possible connection to Rasmussen, we have not removed anyone, including him, from the suspect pool.
"Our main focus right now is the identification of Amanda, and getting her identity out there in the hopes that someone will reach out to us with information that helps us piece together the events that led up to the end of her life."
The identification of Deza comes just two months after police solved the 66-year-old "boy in the box" mystery. After scientific advances, detectives were able to identify Joseph Augustus Zarelli, a 4-year-old whose naked, beaten body was discovered in a cardboard box on the side of a road in Philadelphia in February 1957. His name was finally released in 2023, and police are still trying to establish what happened to him.
Meanwhile, it has recently emerged that cold case detectives in another part of the country are also looking back through their files in the wake of a horrific attack. Officials in Pennsylvania are trawling through their unsolved crimes to establish whether there could be any links to Bryan Kohberger, a Pennsylvania native who was arrested on suspicion of murdering four University of Idaho students in November last year.
Update 2/28/23, 8:34 a.m. ET: This article was updated with comment from San Joaquin County Deputy Sheriff Nick Goucher.