Lake Mead Body Found in Barrel Undergoing DNA Test in Hunt for Identity
A body found in a barrel at the bottom of Lake Mead is being tested for the DNA of a man that went missing 45 years ago.
Lake Mead—a reservoir in Nevada and Arizona, formed by the Hoover Dam on the Colorado River—is evaporating due to the megadrought gripping the western United States. The lake's water levels are at the lowest they've been since 1937, and hurtling towards dead pool level.
And as it continues to dry up, dark secrets are being revealed. Since May, four sets of human remains have been discovered inside the lake.
In May, a set of human remains were discovered enclosed inside a barrel. At the time, police determined that the remains were those of a shooting victim. It is believed the person died in the mid-1970s to 1980, which is the time in which the body's shoes were manufactured.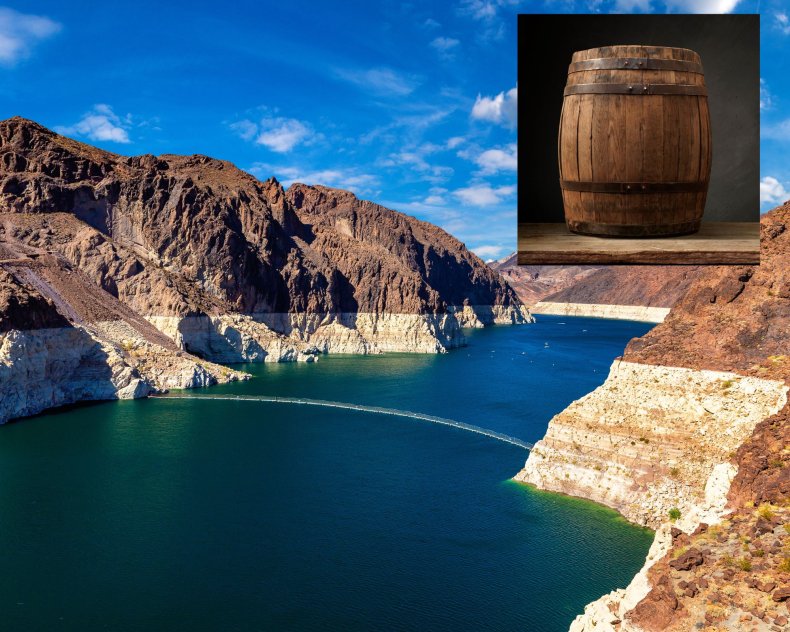 Barbara Brock told Fox5 that she believes the remains belong to her brother, Bobbi Eugene Shaw. Shaw has been missing in 1977, Brock told the news outlet. And police believe the remains match his description.
According to his sister, Shaw had been a part of the Mafia—an organized American-Italian criminal society—at the time of his disappearance. The Mafia was present in Nevada—mainly in Las Vegas—until the late 1970s, and would use casinos and resorts for money laundering purposes.
Las Vegas Police already know the remains are that of a murder victim, and that his death was likely mob related, Fox5 reported.
At the time the remains were found, Brock was contacted by the police and asked to provide DNA samples for her missing brother. Brock's nephew was also asked to provide samples. The samples are now being used for an investigation into the victim's identity.
"It has been devastating because if I see something that looks like him, you got to look and make sure it is not him. All these years, we have wondered where he is at. If he is alive or dead. I give up on him being alive quite a while ago," Brock told the news outlet.
"When they found the first body in the barrel, I just knew it was him. I still feel it is him. We are praying that is Bob [...] I know he is gone but a definite knowing would make me feel better."
These remains were the first set to be discovered in the lake, and more have been turning up.
The most recent set of remains were discovered on August 6, according to a National Park Service press release, found at the Lake's Swim Beach, and recovered by park rangers and the Las Vegas Metropolitan Police Department's dive team.
The cause of death is not known at this time and an investigation is underway.
Newsweek has contacted Las Vegas police for an update.