Lake Mead Water Levels Dropping, Could Soon Be at Dead Pool Level
The water levels in Lake Mead are dropping, and could soon be at dead pool level.
Lake Mead, a reservoir formed by the Hoover Dam on the Colorado River, is drying up because of the ongoing drought in the western United States, France 24 reported. The water moving through the Hoover Dam provides electricity for hundreds of thousands of people living across the area.
However, as the drought continues, the water continues to dry up, hurtling towards dead pool level—which will mean the dam's turbines will no longer be able to generate power.
According to the U.S. Drought Monitor, more than 20 percent of land in the western U.S. was determined to be in an "extreme of exceptional drought," as of March 8, 2022.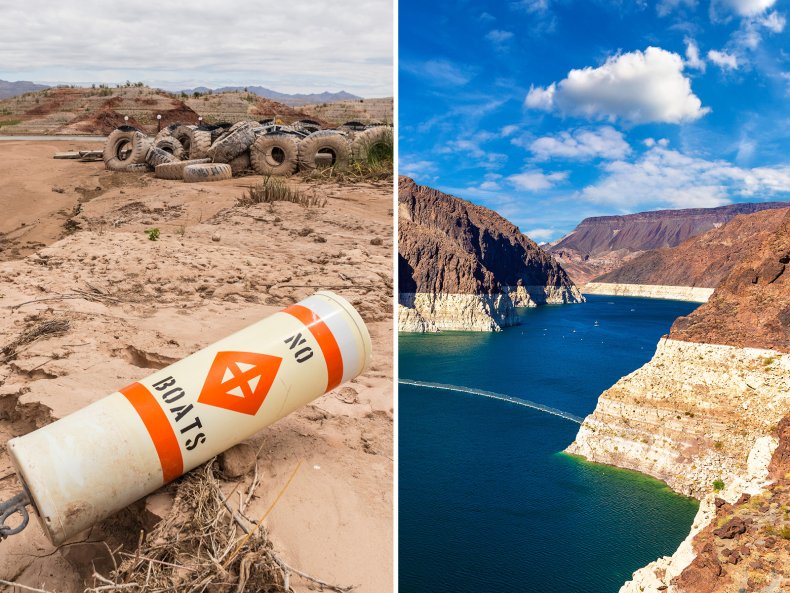 Steph McAfee an Associate Professor, and Nevada State Climatologist at the University of Nevada, Reno, told Newsweek that at a reservoir elevation of 895 feet, "water doesn't flow past the dam anymore."
"If it got to that point, water levels could still drop due to evaporation," McAfee said. "There's good evidence to suggest that climate change is playing a role here. A number of scientific papers have found that rising temperatures are reducing the amount of water flowing down the Colorado River and into Lake Mead.
"There were a couple of papers by Parks Williams and colleagues suggesting that climate change is not quite half the contribution to this drought. That research noted that it would still have been a drought without higher temperatures, just not as bad."
As Lake Mead continues to dry up, a myriad of strange finds are coming to light.
In May, as the Lake's bottom became exposed, human skeletal remains were discovered in a barrel at the bottom of the lake, CBS reported. Police determined that the remains were those of a shooting victim, believed to have died in the mid-1970s or 1980, which is when the shoes he had been wearing were manufactured.
Just a few days later, more human remains were found at Callville Bay. Police are investigating the cause of death.
"The last time Lake Mead was this low was in the late 1930s not too long after the dam was built," McAfee said, adding that the falling water levels are of concern for "many reasons."
"I'll highlight two," she said. "First, many people depend on the water from the Colorado River. Second, as water levels drop, generating electricity from hydro power gets less efficient."