Lakers' Free Agency: Paul George Admits Playing in California Would Be 'Attractive'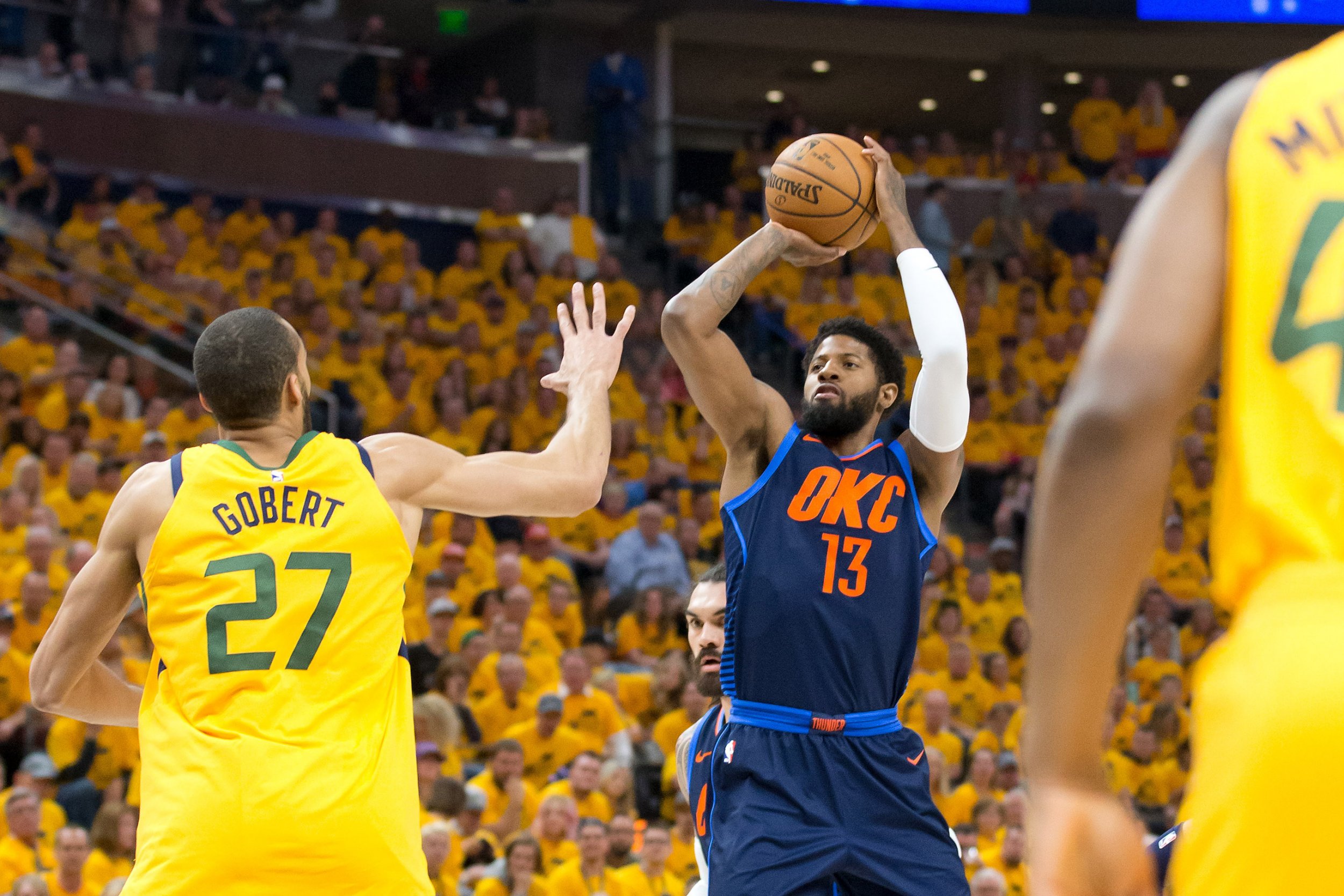 With the exception of LeBron James, Paul George will arguably be the most high-profile free agent in the NBA this summer.
Along with LeBron, the five-time All Star is one of the Los Angeles Lakers' main targets and has been repeatedly linked with a move to his home state.
The 27-year-old will be an unrestricted free agent in July and has hinted he would like to re-sign with the Oklahoma City Thunder, but after Oklahoma crashed out of the playoffs in the first round he might explore his options in the market.
However, George has also admitted he would relish the prospect of playing in California but insisted that will not be the only factor weighing on his decision.
"I would say almost everybody in this league would love to play at home," he said, as reported by The Oklahoman's YouTube channel.
"I won't say that's a lie. Everybody would love to play for their home in one way or the other. But that's not the only option for why I want to go somewhere is because it's home. Not at all."
After seven seasons with the Indiana Pacers, George was traded to Oklahoma City last summer in exchange for Victor Oladipo and Domantas Sabonis. However, while the prospect of playing alongside Russell Westbrook and Carmelo Anthony sounded appealing, things never quite worked out for the trio and the Thunder were upset by the Utah Jazz in the playoffs, losing the series 4-2.
Oklahoma is desperate to keep George, who averaged 21.9 points shooting 43 percent from the field, 5.7 rebounds and 3.3 assists per game in 36.6 minutes this season, but to do so it will in all likelihood have to offer him a deal worth approximately $180 million over the next five years.
For his part, the Southern California native has indicated he would like to continue playing alongside Westbrook next season, suggesting over the weekend that the Thunder "checked all the boxes" and hinting he was not planning to move again.
"I haven't been in the position to be in a free agent or know what it's like to have the chance to go where you want to go," he added.
"That's always been I feel players, they want that option. Then you get into an organization where they kind of check all the boxes of what you want out of an organization, and immediately they become a candidate where you want to play long-term.
"That's been the case here. They honestly checked the boxes where I needed those boxes to be checked."
That might not be what the Lakers wanted to hear but with success far from guaranteed in Oklahoma, expect Magic Johnson and the Lakers to leave no stone unturned this summer in a bid to bring George back to California.