The Los Angeles Lakers have not given up on signing Kawhi Leonard and have re-opened negotiations with the San Antonio Spurs.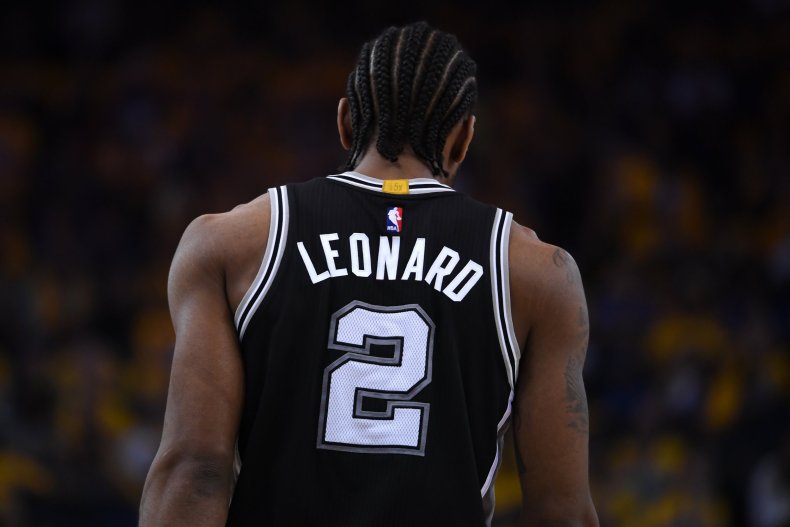 The five-time NBA champions have previously stated they would not trade the 2014 NBA Finals MVP to a Western Conference team but their efforts to repair the relationship with the All-Star forward have apparently not had the desired effect.
League sources quoted by ESPN suggested on Wednesday that a huge offer from the Lakers could convince San Antonio to part ways with Leonard, who last week expressed his desire to be traded.
A deal for Leonard could have huge implications for the Lakers, who are understood to believe signing the two-time Defensive Player of the Year would drastically increase their chances of landing LeBron James.
The latter has until June 29 to opt out of the final year of his contract with the Cleveland Cavaliers, which he is widely expected to do. The Lakers have long been considered as the lead candidate to secure LeBron should he opt to leave Ohio for a second time and signing Leonard would make their pitch even more convincing.
While the Lakers are reported to be considering a trade package similar to the one that took Kyrie Irving from the Cavs to Boston last summer, San Antonio will in all likelihood demand a much bigger return.
ESPN believes the Spurs are likely to command a trade package including first round draft picks and some of L.A.'s young players—potentially one or more between Brandon Ingram, Kyle Kuzma and Josh Hart.
Last month, The Ringer's Kevin O'Connor quoted multiple NBA executives as saying San Antonio would not settle for anything less than a "grand-slam" offer for Leonard.
The Lakers are reportedly eager to get the deal over the line quickly to have enough time to convince LeBron to swap Ohio for California, if he does indeed decide to become a free agent this summer.
Earlier this week, league sources suggested the four-time MVP wants to make a decision quickly in July, meaning the Lakers might not have enough time to convince the Spurs to trade Leonard.
The Lakers aren't the only team hoping to sign the power forward and the Spurs have also reportedly received offers from Philadelphia, Boston, Cleveland and the Los Angeles Clippers. While Leonard wants to be traded to the Lakers, early talks between the franchise and the Spurs have not got off to a promising start.
However, the Lakers could receive some help from Leonard, who is due to become a free agent next summer. Some of the teams interested in Leonard could be dissuaded should the Los Angeles native make clear to teams interested in him that he would only be a one-year rental before signing with the Lakers in 2019.
Conversely, Leonard could also be traded somewhere other than Los Angeles and settle in his new team, as Paul George has done. The 27-year-old was traded from the Indiana Pacers to Oklahoma last summer in what was expected to be a one-year rental ahead of a move to the Lakers, which now appears to be far from straightforward.
George will be an unrestricted free agent in July and while he admitted playing in his native state would be "attractive," he has also hinted he would like to re-sign with the Oklahoma City Thunder, claiming the team "checked all the boxes."
The Lakers have operated shrewdly in the market and can clear out salary space for two max-level contracts this summer. However, earlier this week Magic Johnson, the club's president of basketball operations, suggested the Lakers were prepared to bide their time.
"We don't know what people are going to decide, and we can't control that," he said. "So if guys decide not to come here, it's not a failure—we turn to next summer.
"Next summer, if nobody comes and I'm still sitting here like this, then it's a failure. But if you judge us on one summer, that's ridiculous.
Uncommon Knowledge
Newsweek is committed to challenging conventional wisdom and finding connections in the search for common ground.
Newsweek is committed to challenging conventional wisdom and finding connections in the search for common ground.
About the writer
Dan Cancian is currently a reporter for Newsweek based in London, England. Prior to joining Newsweek in January 2018, he was a news and business reporter at International Business Times UK. Dan has also written for The Guardian and The Observer.