LAPD Busts Gang Making 'Ghost Guns' That Can't Be Traced
The Los Angeles Police Department (LAPD) has busted a local gang that manufactured "ghost guns", untraceable firearms that can be made at home.
LAPD officers busted the gang's gun-manufacturing operation on Monday night following the October 14 arrest of a 14-year-old gang member who allegedly shot and injured an LAPD detective on the same day.
Officers monitored a city area where the gang operates, The Los Angeles Times reported. After observing domestic violence inside of a local tattoo parlor, officers intervened and recovered several ghost guns. They also found machine presses and a 3D printer used to manufacture the guns, LAPD Chief Michel Moore said.
"We believe that it was a center, or one of the centers, of the sourcing of these firearms," Moore said. He said the department would release more information about the bust in the coming days.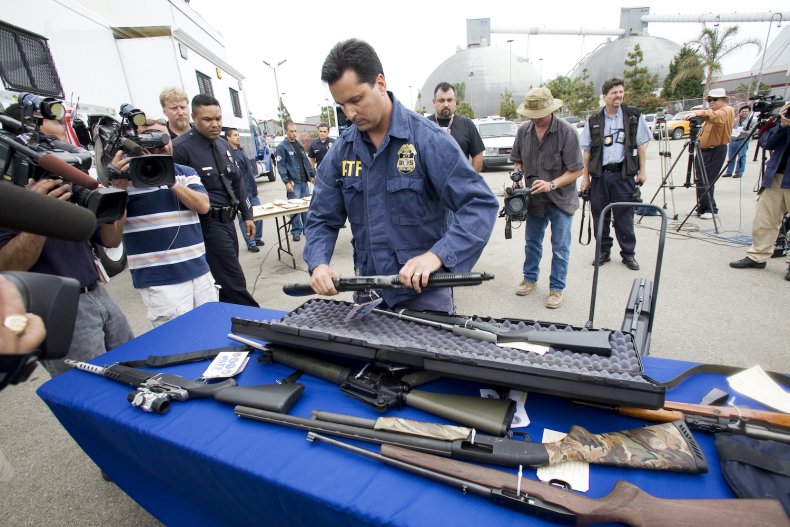 Last Friday, an LAPD report declared ghost guns an "epidemic." The report said that LAPD seizures of such guns during arrests had increased 300 percent in the first half of 2021 compared to the same time period in 2020.
LAPD detectives have linked the untraceable weapons to "24 killings, eight attempted homicides and dozens of assaults and armed robberies" since January, the Times added.
Los Angeles City Councilmen Paul Koretz and Paul Krekorian have called for a new city ordinance banning the manufacturing, possession, sale, receipt or transport of such weapons.
"It's absolutely ridiculous to think that the manufacture, sale and marketing of these weapons is intended for anything but skirting a loophole in state and federal gun laws to get firearms into the hands of people who law enforcement — and we as a society — have deemed unfit to possess guns," Koretz said.
Newsweek contacted the LAPD for comment.
Ghost guns are handmade firearms that can be made using home manufacturing equipment, such as 3D printers. Because the guns lack commercial serial numbers, they are difficult to trace back to their creators. They can also be sold to purchasers who haven't undergone the usual background checks required for retail purchases.
The Untraceable Firearms Act of 2020, a congressional bill introduced by Connecticut Democratic Senator Richard Blumenthal, seeks to reduce the non-traceability of ghost guns.
His legislation would reclassify gun parts as firearms. Sellers would have to include serial numbers on gun parts, and those who purchase them would have to undergo background checks. The bill would also ban the sale and creation of guns designed to bypass metal detectors.
From 2016 to 2020, law enforcement across the U.S. recovered over 23,000 non-serialized firearms from potential crime scenes, including in connection with 325 homicides or attempted homicides, the U.S. Department of Justice (DOJ) said.
On May 7, the DOJ proposed rule changes to stop the proliferation of ghost guns. The rule changes would require serial numbers on ghost gun materials and background checks for those who seek to buy them.