Lara Logan Talks Space Force, Benghazi in Interview With QAnon Influencer
Journalist Lara Logan was recently interviewed by a QAnon influencer on his YouTube channel.
Logan, a reporter and war correspondent who spent approximately 16 years as a CBS News correspondent before becoming a host on Fox News' streaming service, Fox Nation, in 2020, was interviewed in late February by Tom Sidney Bushnell – known in various circles as "Tom Numbers."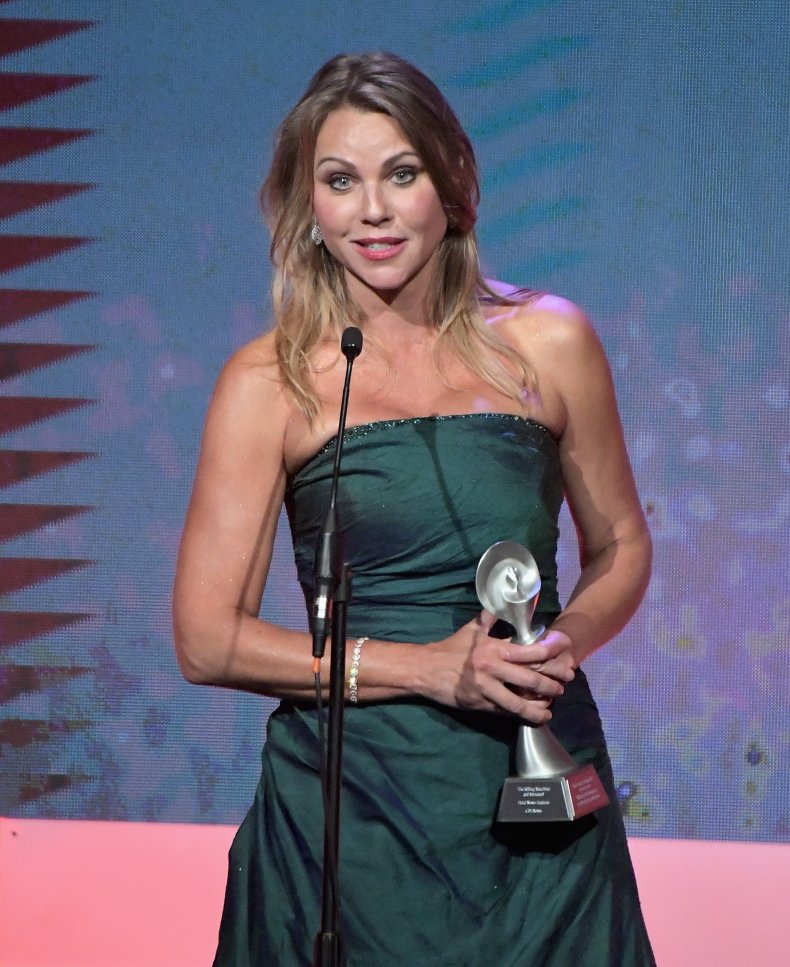 A pair of clips were posted to Bushnell's YouTube channel, which has nearly 55,000 subscribers. Bushnell and Logan discussed "hidden" super fast emergency transport technology, as well as the declassification of Space Force under former President Donald Trump, Benghazi and the 1969 moon landing.
Bushnell has been associated with Michael Protzman, also known as "Negative 48" in QAnon circles. Protzman is reportedly the leader of the Dallas QAnon faction that waited for JFK Jr. to emerge in Dealey Plaza last year.
In a January 21 live stream shared on a Telegram channel Protzman reportedly revealed to tens of thousands of followers that his group had attempted to decode a January 18 tweet by Il Donaldo Trumpo, which read: "I'm Batman."
When discussing Space Force and the efforts conducted under the Trump administration, Bushnell repeatedly mentioned "code" in Trump's mentions of the separate branch of the armed services that is organized under the Department of the Air Force.
Specifically, Bushnell said Trump "deliberately" made reference to the number 17 and associated it with how "Q" is the 17th letter of the alphabet. The Dallas-based QAnon group has made reference to Trump communicating to them via coded messages.
"(Trump) talked about missiles and weapons. ... He says, 'We have — all these other countries have, you know, really quick missiles, but we have – we have one that is 17 times quicker than any -- anyone." ... And he kept repeating the word 17," Bushnell said in his conversation with Logan. "Seventeen is Q, etc., but he kept saying it over and over again."
Bushnell said he believed the former president was "making the point" that the United States paled in comparison compared to China and Russia.
"But then this one that they've got now because of Space Force was 17 times quicker," Bushnell added. "And he kept reemphasizing that all the time. So I think it was loaded with code."
Logan responded by saying, "You think the Chinese didn't know we had a Space Force or the Iranians or the Russians and so on and so on, right? It's ridiculous."
"Why was this kept secret from the American people?" she continued. "We put Neil Armstrong on the moon. That wasn't a secret, right? And really, if you think about it, we're supposed to believe that after putting Neil Armstrong on the moon, we never went back? We just decided to go to the moon once and then we decided, "Oh, we're going to concentrate on going into Mars, deeper into space. Let's go into deep space." Come on. It's not even logical."
Logan, who said she is one of many who "falls for these things," can visibly be seen making air quotes when referencing Neil Armstrong and the 1969 moon landing.
In regards to technology and defense, Logan talked about the Foreign Emergency Support Team (FEST) – which she called the "Foreign Emergency Response Team."
The U.S. State Department describes FEST as the "U.S. government's only interagency, on-call, short-notice team that can rapidly respond to critical incidents worldwide." That includes responding to terrorism incidents and significant threats, or to provide support during large events like the Olympic Games or World Cup.
"I had simply never heard of it before Benghazi. ... There was a lot of back and forth and arguing and theatrical performance, quite frankly in some respect over whether the United States could have done anything to save Christopher Stevens," Logan said, seeming to imply there was some backstory or reason as to why the FEST unit was not properly deployed in time to save Stevens and other Americans.
When asked by Bushnell if she could mention an occasion when the FEST unit was activated and deployed, Logan replied, "I do have one but I don't think I can talk about it."
Bushnell did not ask again and the video concluded.
In January Logan was dropped by her talent agency after she compared Dr. Anthony Fauci to Josef Mengele, the Nazi doctor known as the "Angel of Death" for the experiments he conducted on Jewish concentration camp prisoners.
Logan was never actually employed by Fox News, although she hosted Lara Logan Has No Agenda and appeared on other network programming.
On February 3 she vowed to leave Twitter, Facebook and Instagram. She published one more tweet February 17 about child exploitation and human trafficking. Her Twitter profile says she is on the GETTR app.
Newsweek reached out to Fox News regarding Logan's current employment status, as well as her appearance on Bushnell's channel.