Lara Trump Slams 'Hypocritical' Kamala Harris, Michelle Obama for Silence on Afghan Women
Lara Trump, former President Donald Trump's daughter-in-law, blasted Vice President Kamala Harris and former first lady Michelle Obama over their "silence" on Afghan women.
"You haven't heard anything from Michelle Obama. And you haven't heard from our Vice President Kamala Harris," she said during her appearance on Justice with Judge Jeanine on Fox News Saturday. "The woke Democrat women are among the most hypocritical individuals to walk the face of the Earth."
She claimed that Harris and Obama only speak up when it is in their best political interest while also referring to how the lives of girls and women in Afghanistan will be different under the Taliban.
"It's silence from them and it is noted," Trump said.
She further spoke about the circumstances that Afghan women and girls will encounter under the insurgents' rule, saying that girls as young as nine years old are "subjected to marriage at that age and raped and tortured [and] killed in the streets if they don't follow the rule of the Taliban."
"They [Obama and Harris] are happy to be activists when it's politically advantageous. And the second they have nothing to gain, they don't care," Trump said. "These women in Afghanistan will never see another day like they did before the United States left. Their lives will be different forever."
Last month, Trump, who is married to the former president's son Eric, criticized the way Harris dealt with the situation in Afghanistan and other instances including the southern border crisis.
"She wants nothing to do with this [Afghanistan] situation because she knows as we all do this is a stain on America, it will stay forever and I guess she's just trying to run out the clock on this thing, and think we'll all forget about it. We will not forget about it, Kamala Harris. We have seen what you have done in this situation and it's absolutely nothing," she said on Fox News at the time.
Women in Afghanistan have been demanding protection under the Taliban as they fear that their rights will be violated under the group's rule.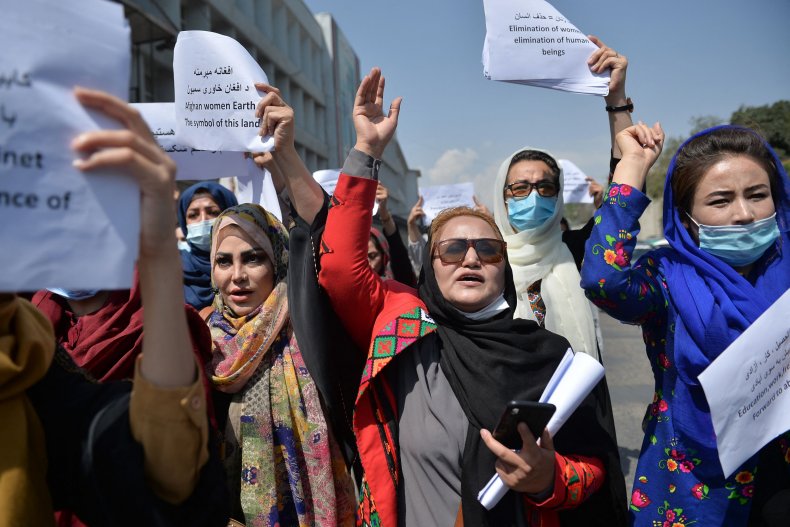 On Saturday, the Taliban fired gunshots to break up an Afghan women's march, protesting for equality for the second day in a row. Taliban officials reportedly began firing their guns into the air as the women's march approached the presidential palace, prompting protesters to separate and escape.
As the Associated Press reported, women during the protest demanded protection and the right to work, with one demonstrator saying: "We are here to gain human rights in Afghanistan. I love my country. I will always be here."
When the Taliban were previously in power between 1996 and 2001, women were not allowed to pursue work or education and had to wear a veil in public.
But a Taliban representative said that this will not be the case under the current leadership.
"There will be no issue about the women's rights. No problem about their education, their work," said spokesperson Suhail Shaheen on Fox News on Friday.
Newsweek contacted Michelle Obama and Kamala Harris for comments, but didn't immediately receive a response.