Taliban Break Up Women's March With Gunfire After Stating Women's Rights Will Be Respected
The Taliban fired weapons in Kabul on Saturday to break up a protest led by Afghan women demanding equality, just one day after the militant group insisted that "there will be no issue" regarding women's rights.
A women's march took place for the second day in a row on Saturday, as demonstrators took to the streets to peacefully demand human rights protections under the new Taliban leadership. Protesters placed a wreath outside Afghanistan's defense ministry to honor Afghan soldiers who died fighting the Taliban, while others gathered with microphones and demanded that they be able to work, according to the Associated Press.
"We are here to gain human rights in Afghanistan," 20-year-old protester Maryam Naiby told the news outlet. "I love my country. I will always be here."
But as women marched closer to the presidential palace on Saturday, a dozen Taliban special forces officials fired guns into the air and sent demonstrators fleeing out of fear. The AP reported that Taliban forces also fired tear gas into the crowds.
The move comes after the militant group has repeatedly promised that women's rights will be respected under a more inclusive and moderate form of Islamic rule. When the Taliban previously controlled the country from 1996 to 2001, women were barred from receiving an education, working, or being seen in public without a veil.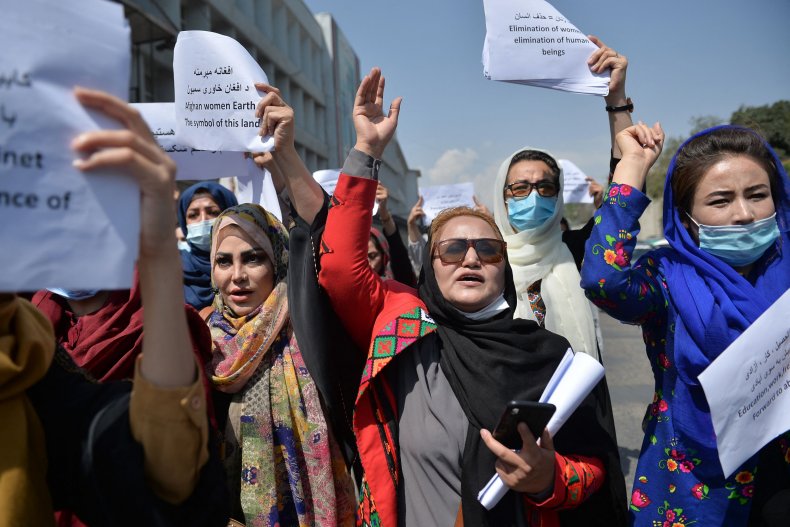 On Friday evening, a Taliban representative told Fox News that women will be given rights under the new leadership, despite widespread international skepticism.
"There will be no issue about the women's rights. No problem about their education, their work," said Taliban spokesperson Suhail Shaheen.
However, Shaheen told the news outlet that he opposes Western views that "women should have an education without [a] hijab."
"We should not be after changing each other's cultures—we are not intending to change your culture, you should not be changing our culture," he said.
Despite those promises, women in Afghanistan are concerned the progress they've made since the Taliban's previous rule will come to a halt. Earlier reports of the group's takeover of Afghanistan this month indicated that the Taliban have already carried out executions and abuses against women. Afghans have since been trying to flee the country, with women seen pleading for help outside Kabul airport gate.
The women's march comes as the makeup of the Taliban's interim government remains uncertain and whether hard-line ideologues will follow. On Friday, Reuters reported that the developing new government will consist only of Taliban members, and contain 25 ministries and a consultative council of a dozen Muslim scholars.
Farhat Popalzai, a 24-year-old university student, told the AP on Saturday that she marched in the streets in order to be a voice for Afghanistan's voiceless women.
"I am the voice of the women who are unable to speak," she said. "They think this is a man's country but it is not, it is a woman's country too."