Largest Union Federation Says Republican Stimulus Plan 'Totally Fails' and Will Harm Economy
The president of the nation's largest federation of unions said Wednesday that the new GOP economic relief proposal "fails to recognize the magnitude of the crisis" and would actually harm the economy.
Senate Majority Leader Mitch McConnell on Monday unveiled his party's HEALS Act proposal for another round of economic aid, which was put forward in coordination with the White House. The $1 trillion bill aims to cut the extra $600 per week in federal unemployment benefits provided in the bipartisan CARES Act, which was passed in March. Republicans want to reduce that extra amount to $200 until states are able to calculate payments based on 70 percent of a worker's previous earnings, with a maximum weekly payout of $500.
"There are 14 and a half million people, well less jobs than people who are out of work," said Richard Trumka, who leads the American Federation of Labor and Congress of Industrial Organizations (AFL-CIO), which represents some 12.5 million workers.
Speaking to CNN on Wednesday, he said, "So if people want to get back to work, they couldn't find jobs anyway. That $600 is actually keeping the economy going right now."
Trumka noted that a major part of the U.S. economy is driven by consumer spending, which the extra unemployment benefits have subsidized during the coronavirus pandemic. "When this expires, 35 million people are going to have $600 less a week to spend," he said. "Can you imagine the shock that is going to go through our economy?"
The union federation president argued that the GOP plan "totally fails to recognize the magnitude of the crisis, and it directs money to people who don't need it and takes money away from people who do need it."
Trumka and his organization have urged the Senate to pass the $3 trillion HEROES Act, which the Democrat-controlled House approved at the end of May. That bill would extend the $600 payments while providing other assistance to Americans as well as state and local governments. But leading Republicans have complained for months that some low-wage workers have been paid more to stay home than they were making at their jobs.
Newsweek reached out to McConnell's press secretary for comment, but he did not respond in time for publication.
Some economists have also said that the GOP plan is inadequate and that the bill could actually cost more jobs.
"Aside from the reckless and unconscionable delay, the HEALS Act fails miserably on two crucial objectives: supporting the people most harmed by the coronavirus recession and ensuring a robust economic recovery," Thea Lee, president of the Economic Policy Institute, said in a Tuesday statement.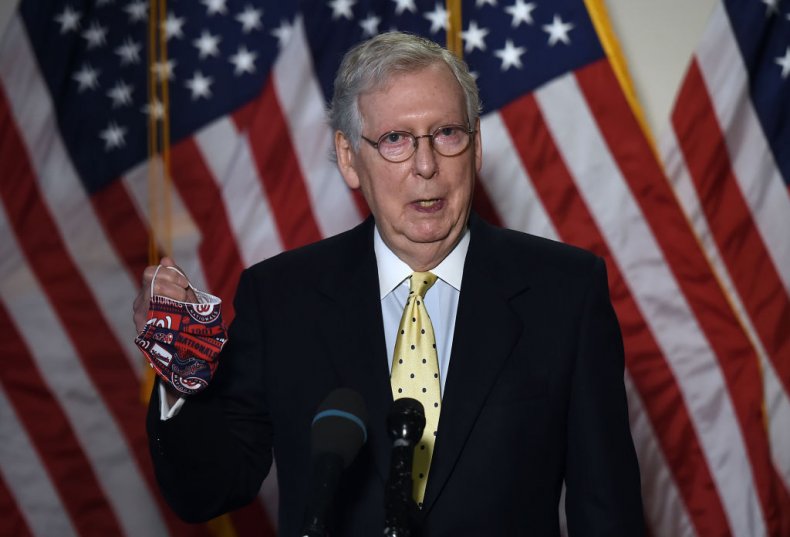 Speaking of the effort to cut the $600 unemployment benefit, Lee said it "represents a major drop in living standards for millions of Americans, forcing people to survive on far less than they had been earning prior to the pandemic and cut spending on necessities—with negative ripple effects throughout the economy, a gut punch to small businesses and communities."
On Tuesday, Nobel Prize–winning economist Paul Krugman said in a series of Twitter posts that Republican concerns that people are staying home from work because they earn more money while being unemployed are not grounded in reality.
"The bottom line is that all those concerns that we were keeping unemployment high by making it too comfortable had zero basis in reality. UI was helping employment, not hurting it—and the massive fiscal contraction now being perpetrated will be a disaster," Krugman tweeted.